Although he's spent about five years performing on Ann Arbor's music scene, Theo Katzman is finally throwing his own musical coming-out party. Katzman's U Of M music school project, Toolbox, planted the seed that would become local favorite My Dear Disco (and, eventually, Ella Riot) back in 2006. After splitting from the dance-oriented band in 2009, Katzman began exploring different musical territory, releasing the self-describing Solo Acoustic EP in 2010. The EP's sunny folk tunes helped snag Katzman a gig opening up this year's Ann Arbor Folk Festival. But through the years and various projects, Katzman still hasn't yet released a full-length of his own. That will change on Nov. 15, when he drops his new LP, Romance Without Finance, which he's been fine-tuning for about a year. In advance of his show Saturday at The Ark in honor of the new album, The A.V. Club rapped with Katzman about his new album, his old band breaking up, and hanging backstage with The Avett Brothers.
The A.V. Club: You used to be in an electro-rock band. You've played the Ann Arbor Folk Festival and recorded a pretty folky EP. Your Facebook profile identifies your style as "Indie/Soul." How do you explain your music to a newbie?
Theo Katzman: I think when you're starting out as an artist, and you don't have your sound identity very well established, and you're trying to describe it to people, it's difficult. I definitely was trying to keep it open, because I have a lot of influences, so I don't want people to be like, "Wait a minute, I came to see a folk band, but this guy's playing electric guitar." I think people will really understand my sound much more once I release my first album. I like to think of myself somewhere between Feist, Jamie Lidell, Wilco, Led Zeppelin, and old soul music. There's some sort of rootsy angle, too. But it's hard because if I say "roots music," I think people are going to think it's something that I'm not. I grew up listening to classic rock and soul music, and I'm not trying to be throwback as a thing. I'm not trying to be a retro artist. So I have problems with the word "soul," because sometimes you say, "Yeah, I make soul music," and people think that means you're trying to sound like Otis Redding, and that's not the case. So I guess I feel more comfortable in a rock or rock-slash-pop arena. [Laughs.] If it's possible, how about no adjectives describing the songs? It's just the songs themselves.
AVC: So how did you capture that sound for the new album?
TK: The new album is—I really like it, which is cool, because it's usually pretty hard for me to like it. I'm a pretty hard critic on myself. The new album is a cool blend of high-fi and low-fi recording technologies. It was recorded with a mix of analog tape and digital technology. We were able to use it as an instrument on this album, to really craft the sounds we were going for. I'm also playing most of the instruments on it. I play drums on the whole album, as well as guitar on the whole album, bass on most of it, and I sing most of it. My first instrument is drums, so it showcases that. It's allowed me to really craft the songs the way I want to, and I think everything has a really strong feel to it.
AVC: Does it feel like a milestone, recording your first solo full-length after working as a musician for so many years?
TK: Total milestone. It's cool, because now it seems like, "Oh yeah, musicians record all the time, so this time I'll record a few of my own songs and put 'em on a disc, and that makes an album." But it's a lot more than that. I've been working on it for the last year, and working on it really intensely for the last four to six months. But it's cool, because it really does feel like a milestone. And it feels like, "Wow, I'm at the beginning now." And it gives me enhanced respect for artists who have put out like 10 albums. I'm like, "Wow, that is crazy." A band like The Beatles, who did what they did in just a few years, is just insane. It feels good.
AVC: Ella Riot, the band that evolved out of your old band My Dear Disco, has just gone on hiatus after considerable success. How do you feel about that?
G/O Media may get a commission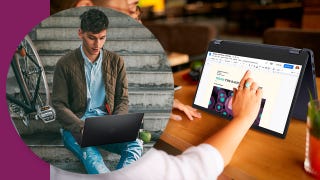 Ends August 15
Best Buy Anniversary Sale 2022
Ends August 15
Best Buy has a number of different promotions happening all for its Anniversary Sales Event. Laptops, tablets, TVs, you names it. Whether you're heading back to school or just trying to fill your home with some new tech, there is something here on sale that you've likely been waiting for.
TK: I guess I feel good about it. I feel like it's a good idea for them, because they all have great individual talents. I can't really speak on why exactly they're going on hiatus, because I don't really know, but I know they are really incredible musicians who have their own projects going on, and I think it will be a really nice opportunity for them to grow as musicians and people. They can come back to that, but it's important for them to do that. They're all really good friends of mine. No bad blood there. We're all really tight.
AVC: What was it like playing the Ann Arbor Folk Festival? Did that feel daunting at all?
TK: The Folk Festival was definitely the most crazy, huge performance space of my life. So in that respect, it was a little daunting, but it was more exciting than anything. It was awesome. It was just amazing to be in a room of 3,500 people, and you could hear a pin drop. When I started playing, I hit the strings of my guitar with my pick and the volume was off. I wanted to swell the volume on with the volume knob, and I could hear it so loud in the room even with the guitar off. It was crazy, man. It just reverberated through the whole room, and it just took my breath away. It was a 15-minute performance. Everyone clapped really hard, and it seemed like people enjoyed it. It was a great experience. The Folk Festival is an amazing thing. Between The Ark and the Ann Arbor Folk Festival, Ann Arbor just has some great, world-class performances.
AVC: Do you have any good stories from backstage?
TK: I ran into The Avett Brothers, and they were really nice dudes—super down-to-earth. We hung out for a minute while we were all eating. They were like crazy humble. I was like, "Everyone says you're the best live band they've ever seen." And they were like, "Oh, well, you're gonna be disappointed." I kicked it with Citizen Cope a little bit, and he was a very nice guy as well. We had a fun time talking. Glen Hansard from The Swell Season—great dude. He actually had us all up onstage with him to sing "Forever Young," which was great. I talked to Mavis Staples' guitar player. Everyone was so nice. My night, Friday night, I was the only artist on the bill who didn't live in Brooklyn. So I met a lot of people who live in New York now. And, believe it or not, I ran into one of the performers from that night here in New York. She works at the coffee shop, my favorite coffee shop in the neighborhood here.
AVC: What do you have planned for touring and promoting the new album?
TK: I'm actually not really touring at all. Just three dates so far, which are in Chicago, Ann Arbor, and New York City. I just moved to Brooklyn, and I'm trying to use the album to open a few new doors and hopefully create an opportunity for me to start touring and go on the road. But at this point, there isn't any current infrastructure set up to do that. Hopefully I'll be opening the doors to an opportunity to tour more and play more music. I'd love to record another album. I've already got a bunch of songs for the next album. I guess that's how it goes. I'd really love to have a career as a performing artist, so I'll just hope that's how it goes. Right now I just moved, so I'm just living off my savings until I get a job. I was a music teacher for the last two years, which was awesome. I'd like to come back to teaching, but I'm going to see what I can do with the performing thing. I feel good about the spot I'm in, having just moved here, getting the album out, meeting a lot of people here.