Joel Hodgson wants feedback about the new Mystery Science Theater 3000. We're in the lounge at the Music Box Theatre, the historic Chicago movie house where Hodgson has just screened the first episode of the movie-riffing series' 11th season, which comes to Netflix on April 14. If the laughter seemed especially robust (and underlined by relief), it's because the audience has more than their enthusiasm for the cult TV comedy on the line: They're a small fraction of the 48,270 donors who contributed a combined $5,764,229 to the Kickstarter that brought Mystery Science Theater 3000 back after an 18-year absence. The crowd came in formal wear and cosplay, some even toting replicas of Hodgson's (and Mike Nelson's, and now Jonah Ray's) robot friends. Hodgson and the show's new cast—Ray, plus Baron Vaughn and Hampton Yount—are milling about, posing for photos and chatting with backers. But at this precise moment, the guy who started it all on a Minneapolis-area UHF station wants to hear how the press responded to the first MST3K episode produced in the 21st century.
It's all a bit improbable, and only partially because I never expected the creator of my favorite TV show to ask me, "What'd you think?" There's the matter of Hodgson returning to the show—which he exited in 1993, in the middle of the its fifth season—at all. And then there's this: Mystery Science Theater 3000 was dead. The pioneering comedy series had been pulled back from the brink twice before, but in 1999, its luck had run out. The cable outlet then known as The Sci-Fi Channel ordered a 10th and final season. And despite grassroots efforts—like an ad in Daily Variety with the headline "Wanted: An Entertainment Executive Who 'Gets It.'"—the Satellite Of Love stayed grounded this time. Reruns aired until January 31, 2004, and a steady stream of DVD releases (first from Rhino, then from Shout! Factory) kept the show in circulation afterward. But for all intents and purposes, Mystery Science Theater 3000 was a thing of the not-too-distant past. In live performances and home-media releases, MST3K alumni mocked films in the style of MST3K—but it wasn't MST3K, you know? "We were able to go and play venues and sell them out and people were happy to go," Hodgson says of his own effort in this arena, Cinematic Titanic. "We did 100 live shows in 1,000-seat or more venues, and people would just keep coming." Around 2010, the notion to get the band back together began to be kicked around.
---
"The most obvious idea—and I think the idea that everyone was at—was a reunion show," Hodgson says the afternoon before the screening. We're at the Onion Inc. offices with Ray, Vaughn, and Yount, who've all registered mock consternation that Yount's character—the puckish, basket-headed Crow T. Robot—is the sole MST3K representative on The A.V. Club's conference room mural. Of course, the role didn't originate with Yount; the number of players who cast shadows against the series' cavalcade of B-movies and toiled in its mad scientists' lairs complicated the reunion-show premise. "When I really laid it out and thought about it, it's just completely impractical, but also it just seemed unmanageable," Hodgson says. He'd seek out new talent for host and robot duties, with the hope that the show's original cadre of mad scientists—"Mads" in MST3K parlance—would return to foist cinematic dreck on our heroes.
The appeal of a Mystery Science Theater 3000 revival was not lost on Jonah Ray. In the first meeting that the Hawaiian-born comedian took after moving to Los Angeles, he was asked what type of TV show he'd like to make. His response: He wanted to host MST3K. Later, Ray and Hodgson met when the latter was interviewed on The Nerdist Podcast; they'd continue to run into one another on the convention circuit and around L.A. Naturally, the topic of an MST3K comeback would arise, and as Hodgson's concept evolved, so did his offers to Ray. Maybe a spot on the writing staff. What if he came on as a producer? Eventually, Hodgson called Ray and asked him to be "The Guy"—the human in the jumpsuit between the two robots, the test case in the experiment to find the worst movie ever made.
G/O Media may get a commission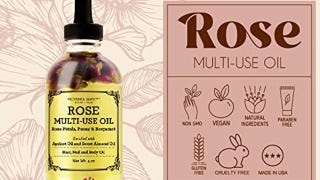 Provence Beauty Rose Multi-Use Oil
"It's kind of a scary feeling because it's like we all have that thing where it's like, 'Yeah, but I never got to do that one thing,'" Ray says. "And now I've gotten to do that thing that was seemingly impossible because the show was gone. And now to have it be a reality—it's really, really trippy. It also makes me think, 'Can I wish for anything?' Why didn't I say world peace? Fuck! I could have come up with a cure for cancer!"
"Jonah's the most successful version of someone wishing for something on the monkey's paw," jokes Vaughn, whom Ray picked to join the show as blustery 'bot Tom Servo.
Among Ray, Vaughn, and Yount's generation of comedians—one that came of age during the cable TV boom, but before widespread internet access—MST3K was both an influence and a gateway on the level of The Simpsons or Saturday Night Live. Its hybrid format peppered crummy movies with razor-sharp commentary, broken up by sketch-comedy interludes. Produced in suburban Minnesota and airing nationally on a succession of cable channels, it was early evidence that smart, scripted original content could be found outside the broadcast networks. The writers' omnivorous and encyclopedic knowledge of pop culture produced a show whose jokes hit in different ways during different viewings: My first time through episode 303, "Pod People," I had watched enough TV Land to appreciate the running "Chief? McCloud!" gag, but lacked the musical knowledge required to appreciate its riffs on Morrissey and Hearts Of Space. It's a sense of humor that grows with the viewer ("Like a fine wine that ages," Vaughn says), one that rewards and encourages their curiosity. "'Oh, you can make jokes like that,'" Yount recalls thinking of this "super formative" viewing experience.
"When I was growing up, I really enjoyed that it was a show that could play to the top of your intelligence," Yount says. "Even as a kid, where you're like, 'I'm reading these very obscure comics and books and listening to music.' To have someone kind of dial into that was amazing."
It also inspires a sense of loyalty and ownership, the most intense examples of which are still spoken of in hushed, "don't mention the war" tones. Being fans themselves, the new principals don't take that legacy lightly. Hodgson had intended to dramatize the passing of the torch in season 11, with the Comedy Central- and Sci-Fi-era Mads—Dr. Clayton Forrester (Trace Beaulieu), TV's Frank (Frank Conniff), Pearl Forrester (Mary Jo Pehl), Professor Bobo (Kevin Murphy), and Observer (Bill Corbett)—inducting another Forrester into the family world-domination business. Murphy and Corbett declined, citing their work with the MST3K offshoot RiffTrax, but the production geared up for the launch of the "Bring Back Mystery Science Theater 3000" Kickstarter with Beaulieu, Conniff, and Pehl on board alongside Felicia Day as Dr. Forrester's daughter, Kinga.
"About six weeks before we did the Kickstarter, we were going to shoot the video," Hodgson says. "We were making travel plans for Mary Jo, Trace, Frank—and we were going to kind of have Felicia there. Right then, for various reasons, all the people from the original cast dropped out. It was really dramatic to me because I thought I'd have this kind of backup and it would be easier for the diehard fans to go, 'Oh, well, the old people are involved.'"
When the Kickstarter launched on November 10, 2015, the lack of returning names (beyond Hodgson's) was conspicuous. Some of the past writers and performers made their non-involvement known, and for all the enthusiasm (and money) the Kickstarter raised in its early days, it elicited some skepticism as well. Helping the campaign navigate that skepticism was Ivan Askwith, the consultant who'd previously helped the Veronica Mars movie, the Reading Rainbow revival, and Super Troopers 2 reach their crowdfunding goals.
"It's like you're on a barge going down a river and there's a guy going, 'Well, listen, here comes some rocks, so here's what we have to do to get ready,'" Hodgson says of Askwith's role. "It was mostly just a lot of writing for me. The first day was most dramatic. We're on Slack, and [Ivan] goes, "Okay, here's the pushback. They're worried—where is everybody else? Why isn't Trace involved? Why isn't Frank involved? Why isn't Mary Jo involved? What's going on? Why is it just you? What are you not telling us?"
Hodgson addressed these and other questions in a Kickstarter post, relaying the message that former cast members had been invited to participate. He also laid out his reasoning for repopulating the show with a new host, new robots, and new Mads, explaining that he viewed Mystery Science Theater 3000 as a franchise that, like Saturday Night Live, Doctor Who, or James Bond, could "evolve over time, with each new generation of actors and writers finding their own take on the basic concept."
"That was the most scariest and most deliberate and honest time—that I had to say, 'This is why. This is what's happening. And this is what I think,'" Hodgson says. "And within 10 hours, it was gone."
And some of those original players wound up getting involved in season 11 anyway. Pearl, Bobo, and Observer drop by, and the movie-riffing includes contributions from Pehl, Corbett, and their fellow alum Paul Chaplin. The voices in the theater may have changed, but the voice of the show is still intact. There are two decades' worth of new reference points to work from, but some familiar topics recur—even within the opening 10 minutes of the first new episode. As I tell Hodgson the night of the Chicago premiere, the episode locked into place for me once the movie's expositional dialogue quieted down, giving Vaughn the space for a sideways Prince allusion. It's an instantaneous link to MST3K's past, the self-proclaimed cow town puppet show calling out to another proud cultural export from the Twin Cities.
---
Back at The A.V. Club, Hodgson is sharing a memory from his childhood, which involved overhearing two older kids describe a drive-in double feature of 2001: A Space Odyssey and Night Of The Living Dead. As he describes hearing about the final scenes of 2001—a sequence later parodied in the final Comedy Central episode of Mystery Science Theater 3000—the new guys riff on the anecdote. "Spoiler," Ray blurts out while Hodgson builds up to David Bowman's climactic transformation; drawing on the other end of the double feature, Yount says "zombie" before Hodgson can say "star baby." Vaughn compares Hodgson's story to the experience of watching MST3K. "You hear a reference that you get, it's like you heard it from a family member," he says. "And you learned it, and you're like, 'Oh, someone knows what I know? I know what somebody else knows?' There's that connectivity. It really does unify people."
"There's no stress," Hodgson says. "If you don't get it, don't worry—another one's coming."