Every day, Watch This offers staff recommendations inspired by a new movie coming out that week. This week: With Richard Gere playing a desperate derelict in Time Out Of Mind, and the excellent Heaven Knows What new to Blu-ray, we look back at other films about homelessness.
The Lovers On The Bridge (1991)
Drawing inspiration from the final years of silent film, director Leos Carax set out to make The Lovers On The Bridge as a bold, extravagant film on a modest, sensitive subject, and in the process created a one-of-a-kind romantic vision that has managed to outlast the bad hype that surrounded its release. A kind of French answer to One From The Heart—Francis Ford Coppola's costly, hyper-stylized not-quite-musical about working-class nobodies in Las Vegas—Carax's movie was rumored to be the most expensive ever made in France. (Nobody is sure exactly how much it cost; not coincidentally, both Lovers and One From The Heart were originally conceived as ultra-low-budget projects.)
At its center is a small, simple story about a troubled homeless couple—Alex (Denis Lavant) and Michèle (Juliette Binoche)—who fall in love while squatting on a 17th-century Paris bridge as it undergoes repairs. The setting ended up being the source of the movie's budget woes; the city would only grant a three-week permit for filming, and an on-set injury in the early days of production created delays, forcing Carax and his team to re-build the bridge and its surroundings from scratch along a river in the south of France.
The result was something at once gritty and outsize. Carax, a romantic of the doomed and disturbed variety, doesn't soften any rough edges, even as he stages massive fireworks displays and speedboat joyrides down the Seine that express his characters' heightened emotional states in a way that their words never could. Lavant—Carax's regular leading man, and arguably the most gifted physical actor of the last few decades—and Binoche inhabit their characters' body language, their tics and movements in sync with a world where everything seems to be communicated through gesture. (This is one of many respects in which the movie is at an advantage to One From The Heart, whose cast largely seemed out of place in Coppola's neon, sound-stage aesthetic.)
G/O Media may get a commission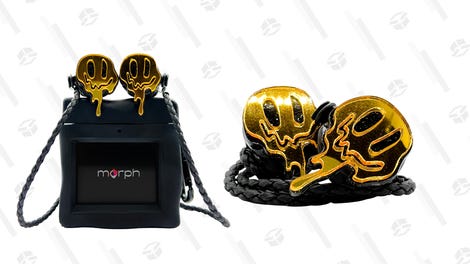 morph audio
Morph Earphones
When Lovers hit French theaters back in 1991, the main focus was on how much its investors stood to lose. Now, nearly a quarter-century after its debut, what stands out are the film's expressive power, elemental imagery, and bona fide poetry. It lives up to its influences while creating something unique and genuinely moving.
Availability: The Lovers On The Bridge can be streamed through Netflix. It is also available on DVD from Amazon and possibly your local video store/library.