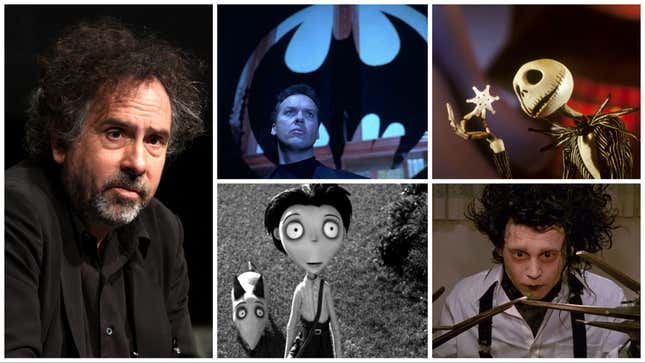 Director-animator-artist Tim Burton is known for creating memorable on-screen characters that appeal to outsiders, loners, misfits, goths, and anyone who feels out of step with the mainstream. Characters such as Edward Scissorhands, The Nightmare Before Christmas' Jack Skellington, Frankenweenie's Victor Frankenstein, and Beetlejuice's Lydia Deetz probably wouldn't exist had Burton had a happy, vanilla, traditional childhood. And as Burton officially reaches senior citizen age—he turned 65 on August 25—the isolation, the oddness, and the troubles he experienced in his youth still echo in his films. From Batman's struggle with duality to Edward Scissorhands' feelings of suburban loneliness to Jack Skellington's childlike enthusiasm for everything Halloween, Burton's essence is reflected in his characters. The result? An inspired career chock-full of iconic, aggressively unique fictional beings that resonate more than any other filmmaker.
George Clooney's Batman costume goes up for auction
Burton's embrace of weird and wonderful outcasts dates to his earliest days. Burton was born on August 25, 1958 in sunny Burbank, California, the family home sitting under the flight path of Burbank Airport. His father was a former minor league baseball player who worked for the Burbank Parks and Recreation Department, and his mother later owned a cat-themed gift shop. Burton has said that his parents were emotionally distant and that he felt isolated growing up in the suburbs. He was bullied at school, didn't have many friends, and spent a lot of his spare time exploring graveyards, reading Edgar Allan Poe, playing with his dog, and, yes, watching movies.
Burton prepares for reel life
At age 12, Burton's relationship with his mother became so strained that he moved in with his grandmother. He retreated into his imagination and started making 8mm shorts in his backyard. One of his first films, The Island Of Doctor Ago, was made in 1971 when Burton was 13. "I grew up watching the Universal horror movies, Japanese monster movies, and pretty much any kind of monster movie," Burton told The Hollywood Reporter. "That was my genre." Burton also said that his love of Ray Harryhausen's work got him interested in stop-motion animation at a young age.
At 16, Burton already had his own apartment and began working toward putting himself through the CalArts, the visual and performing arts university located in California. His CalArts short Stalk Of The Celery Monster got the attention of Walt Disney Productions' animation division, which offered him an apprenticeship. In 1982, Burton made his first short for Disney, titled Vincent. The six-minute stop-motion film is based on a poem by Burton about a little boy who fantasizes about being his hero, Vincent Price (who provided narration for the short). In Burton's 2000 book, Burton On Burton, he says, "Vincent Price was somebody I could identify with. When you're younger things look bigger, you find your own mythology, you find what psychologically connects to you."
Burton's next short was the stop-motion 1984 film Frankenweenie about a sad boy who brings his beloved dog back to life by using science and electricity, just like Dr. Frankenstein. In both shorts, the outsider protagonists are based upon Burton's own experiences and essentially represent him as a youth. "You have a dog that you love, and the idea of keeping it alive was the impulse for the film," says Burton in Burton On Burton. Even though Disney and Burton parted ways because the studio of Mickey Mouse and Donald Duck didn't know what to do with Burton's darkly gothic and unique work, they eventually got back together and Burton directed a feature-length Frankenweenie for the House of Mouse in 2012.
Heroes who are "strange and usual"
1988's Beetlejuice was only Burton's second feature-length film, but it showcased his signature style and the first Burton project to feature a character clearly inspired by Burton's childhood. Winona Ryder played Lydia Deetz, a mopey, goth teenager who seemed more interested in communicating with the ghosts living in her house than her living family who doesn't get her. "I was obsessed with death, like a lot of children," says Burton in Burton On Burton. "There was a graveyard right next to where I lived ... and I used to play there. It was a place where I felt peaceful, comfortable; a whole world of quiet and peace, and also excitement and drama."
Burton found even greater mainstream blockbuster success with 1989's Batman starring Michael Keaton. Although Burton obviously did not create the DC character—in fact, he was never a comic book fan—you can understand why the solitary Dark Knight would appeal to Burton more than other superheroes. In Burton On Burton, the director admits that Batman is "a character I could relate to. Having those two sides, a light side and a dark one, and not being able to resolve them … I also see certain aspects of myself in the character."
It's telling that so many of Burton's films were inspired by drawings and writings that he created either as a coping mechanism, a reaction to his perceived outsider status, or as a manifestation of his dark sensibilities. 1993's The Nightmare Before Christmas—which Burton co-produced and was directed by Henry Selick—is based on a poem Burton wrote in 1982. In the film, Jack Skellington (voiced by Depp) is the king of Halloween Town who unintentionally derails Christmas when he tries to apply his tried-and-true Halloween sensibilities to the people of Christmas Town. In what can be read as Burton's own justification for his career-long adherence to a darkly theatrical style, Jack learns that it's best to stick with what you know, even if it's spooky and macabre. Although Disney thought the movie was "too dark and scary" for children, time proved them wrong, and Burton's magical musical has become an enduring holiday classic.
A deep connection with Edward Scissorhands
Of all the oddballs in all of Burton's movies, is there any that better reflects who Burton is than the titular character in Edward Scissorhands? The character was born from a sketch Burton made as a teenager of a thin man with elongated scissor-like fingers. As the director explains in Burton On Burton, the image "came subconsciously and was linked to a character who wants to touch but can't ... and probably came to the surface when I was a teenager, because it is a very teenage thing. It had to do with relationships. I just felt I couldn't communicate."
In the film, Edward is created by a scientist played by Vincent Price, whom we know is one of Burton's personal heroes. Edward's tumbleweed of black locks mirrors Burton's own mop of mad-scientist hair. Edward tries to relate to the residents of the suburban community with manicured lawns in rows that resemble almost any street in Burton's hometown of Burbank, but at the end of the day he realizes he'll just never fit in. Edward, like Burton himself, knows that he's different but accepts that it's OK to not be like everyone else.
Many of Burton's other movies (such as Corpse Bride) feature outsider and misfit characters inspired by a childhood during which he found comfort—and inspiration—in retreating into his imagination. Although Burton is now 65, he still seems very much in touch with the bullied child from Burbank who just wanted to make movies. With any Tim Burton film, it's not hard to see a reflection of that creative, introverted child of suburbia in his characters' faces. Burton is currently working on Beetlejuice 2, which will feature the return of Winona Ryder as an adult Lydia Deetz. Here's hoping that all of these years later she still embraces being "strange and unusual," just like Burton.