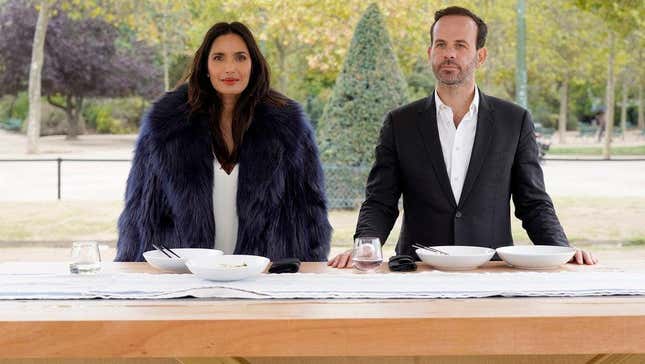 "It would suck to come this far and not make it," says Sara Bradley during tonight's episode of Top Chef: World All-Stars, echoing what everyone at home is thinking and what has no doubt been keeping the chefs awake and anxious at night. ("I don't even want to think of that," Ali worries.) The culinary competition has moved from its season-long London setting to Paris, France, where the Final Four players—Bradley, Ali Ghzawi, Buddha Lo, and Gabri Rodriguez—will duke it out over the burners for two weeks in hopes of snatching that All-Star crown.

Milo Ventimiglia on "The Company You Keep," "Gilmore Girls," and more
Of course, the second they touch down in the City of Lights, it's straight off to the Tour de Eiffel for the last Quickfire Challenge of the season. Given that it's the 300th episode of the series, it's a big one: the "infamous Wall Challenge," Padma Lakshmi announces. Each toque will be partnered up with a mysterious teammate, whom they'll have to verbally instruct, sight unseen, through a partition to create the same exact dish. None of the chefs encountered this particular comp during their respective seasons, but Sara's at least familiar: "You don't know who's next to you; you don't know how experienced they are. It's crazy!"
Those mystery teammates are none other than a quartet of Team USA Olympic and Paralympic champions, something to do with the upcoming 2024 Olympic Games in Paris and tests of endurance, oh, and Delta Airlines? Don't try to make it make sense. The duos will have thirty minutes to cook, coach their teammate, and impress Padma and guest judge Grégory Marchand, chef-owner of the Michelin-starred restaurant Frenchie.
Ali gets five-time medal-winning Paralympic swimmer Mallory Weggemann as a partner, Buddha is with Paralympic Track & Field runner Hunter Woodhall, and Sara's paired up with fellow Kentucky gal Sydney Mclaughlin-Levrone, a two-time Track & Field gold medalist. But the most winning pair, at least from a comedic standpoint, is Gabri and star gymnast Suni Lee, whose culinary correspondence quickly gets lost in translation. "It doesn't smell good. Have you ever cooked in your life?!" Gabri yells at one point, which has the athlete cracking up behind the partition: "He's so over me!" ("From the energy in this kitchen, I think we might be winning," Sara jokes to her teammate, cool and calm compared to her male counterparts.)
Upon judging, the chefs finally get to meet their sporty sidekicks—much to Gabri's mortification. "Oh my god, this girl has an Olympic gold medal, and I just screamed at her," he bemoans. "I feel so embarrassed right now!" Naturally, that lack of clear communication between Gabri and Suni means their roasted baby corn with pine nuts and poblano sauce is unsurprisingly not the judges' favorite dish of the Quickfire. Instead, this week's winners are Ali and Mallory, who smartly utilized precise measurements for everything from the cooking oil to the dish's seasonings to ensure that their potato-leek soups were identical. Immunity is no longer on the table, but Ali does get a $10,000 Delta gift card to travel anywhere in the world. (Tickets to the 2024 Olympics would have been cool; just saying.)
And now for the last Elimination before the finale. "We want you to create a Michelin-star worthy dish utilizing one humble ingredient in particular," Padma says: le Champignons de Paris, a.k.a. button mushrooms. (French fun fact: "They were found growing on horse manure in the Paris catacombs," Padma tells the chefs, to which Gabri gamely quips: "I want to taste that!")
The chefs take a field trip to Champignonnière les Carrières in Évecquemont to stock up on the premium 'shrooms (per Gabri: "You can still smell the freshness...and the horse shit") and also get €400 to shop for the rest of their ingredients, which they'll have to turn into a Michelin-level dish within three hours on a boat. "But not just any boat," of course, Padma says. It's the Ducasse Sur Seine, belonging to none other than Alain Ducasse, the iconic Monégasque chef whose restaurants hold a cool 21 Michelin stars.
The chefs initially can breathe a bit easier because Ducasse will allegedly not be there to taste their food—until, of course, he is, popping in with Tom Colicchio and Grégory Marchand to surprise the chefs in the kitchen. "Oh my god, I thought you were joking!" Buddha charmingly exclaims, in full-blown fan-boy mode. "Get this camera! It's Alain Ducasse! I'm shaking!" Indeed, the superstar chef won't be dining with the rest of the Michelin-starred cooks at the judges' table that evening, but he does get a spoonful of criticism in, taking a taste of Sara's soup, which he later calls "the perfect reduction" in private to Tom.
Despite Sara's initial insecurities ("I look around and Gabri's running and hustling and Buddha is making this whole intricate dish and I'm making mushroom soup with a couple of garnishes. So I always question if I'm doing enough"), her mushroom soup with beef leg marmalade, raw pears and pickled mushrooms is a hit with the diners, who include Mauro Colagreco of three-Michelin-starred Colagreco, Alexandre Mazzia of Am Par Alexandre Mazzia, and Alessandra Del Favero from Carpaccio at Le Royal Monceau. "I really taste the Champignons de Paris. Very simple, very pure," praises Adeline Grattard, chef-owner of Yam'tcha.
Also in the top two is Buddha's "super classic and really well done" mushroom Wellington, a Champignons de Paris en croûte with chicken farce, mushroom puree and pommes puree. "How he worked with the different textures of the mushroom is very interesting," says Mauro.
At judging, Padma announces that both Sara and Buddha have made it to the grand finale, but it's Sara who takes the win this week, earning her first elimination challenge victory of the season. "I've waited all season to say, I've won one!" Sara cheers. "I'm in the finale, baby, top three! Did it again!"
That sadly leaves Gabri and Ali in the bottom two, though the judges are quick to praise the efforts of all four competitors. Gabri suffered some induction-burner issues during his cook, which left him scrambling during plating, leaving off the mushroom cookie and herb mix on his "potato nest" with chile morita Champignons de paris purée, shiitake broth and cured egg yolk And Ali's mushroom croquette with za'atar and goat cheese is dubbed "gritty" by Tom, though it did impart a more robust 'shroomy flavor than Gabri's plate.
In a shocking end, El Gatto survives yet again and has officially made it into the finale. "It's a bit hard…but you need to embrace the win, you need to embrace the loss and you take it from there," Ali says of his elimination. "This is a true lesson in life...if you are persistent enough, you can make it, even when facing all of these obstacles."
Stray observations
Speaking of El Gatto, Gabri has officially introduced his Parisian alter ego. "Don't call me El Gatto anymore. I'm Le Chat!"
The chefs showing their families their views of the Eiffel Tower and Notre Dame over FaceTime was wholesome AF.
Would definitely watch a show of Olympians attempting to cook on their own, if only for more TV gems like Hunter's cooking commentary: "I hope this is a leek? Cheese and rice!" "Parsley is pointy, parsley is pointy!"