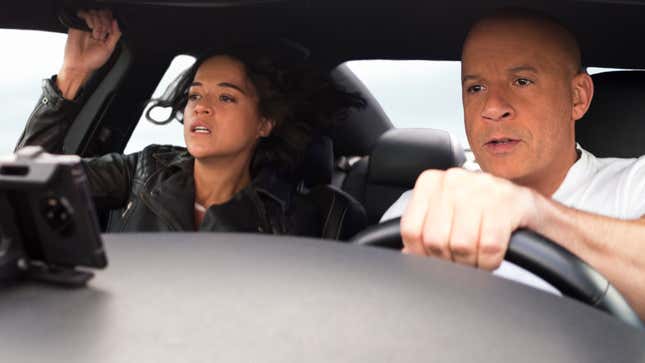 When the first trailer for Fast X dropped in February, one balls-to-the-wall scene stood out among the rest of the standard turbo-mode fare: the moment when two helicopters, after dropping a car from the cockpit onto the car protagonist Dom (Vin Diesel) is driving, crash into each other and explode while trying to drag Dom from the highway. The upcoming tenth film in the franchise, Fast X has ludicrously capacious shoes to fill: but when, exactly, did they get so capacious?
Naturally, Twitter is on the scene. Over the past few days, a tweet probed the underlying question behind much of the Fast & Furious franchise: how the hell did we get so far off the mortal coil?
The original call for a think tank on the franchise's surrealism came from actor and comedian Kevin Fredericks, who uses the handle @KevOnStage. His original Tweet read as follows: "What was the moment Fast and the Furious abandoned reality? I was trying to think of the exact point."
The responses rolled in fast (and furious... come on, laugh!). There's the moment when Tej (Ludacris) and Roman (Tyrese Gibson) literally leave Earth in F9 (another F9 highlight: that Spiderman-style rope swing that somehow both Dom and Letty (Michelle Rodriguez) survived.
There's the F7 highlight when Luke Hobbs (Dwayne "The Rock" Johnson) breaks a full arm cast with just a simple flex of his bicep. Even earlier down the line, there's the infamous safe-stealing palooza in F5.
But the true origin of the insanity might go back even further: more than a few users opined that the series lost them after Tokyo Drift, which was released all the way back in... 2006. As Jesse Pinkman might say: They can't keep getting away with it!
Fast X premieres in theaters on May 19, 2023.