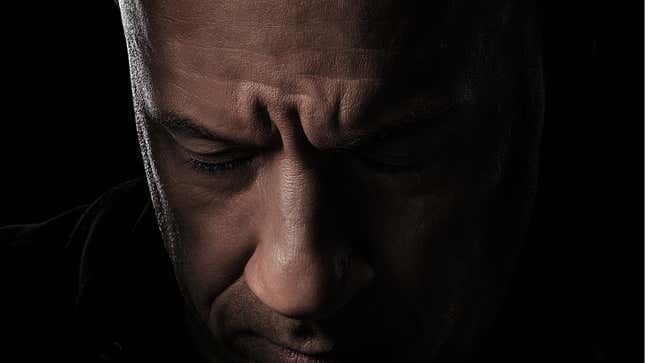 It's been almost six months since, to the excitement of both Fast & Furious superfans and protestors, filming wrapped on the long-awaited 10th installment of the series. Titled Fast X (frankly, a downgrade from The A.V. Club's proposed moniker, FasTen Your Seatbelts), the first half of the two-part finale has been in the works for years now— but a new trailer just kicked the rollout into high gear. Released today, the film's first teaser promises lots of explosions, lots of booty shorts, lots of heartfelt glances, and of course: lots of Dom.
The trailer finds Dom looking over trophies and photos from his early career. Now preparing his young son to join the family business, Dom is torn: he wants to pass on his craft, but also wants to protect those closest to him. As the trailer demonstrates, that's a tall order in Dom's line of work, which can involve anything from evading a plane dropping a car on another plane to wearing sleeveless shirts. All in a days work!
The A.V. Club's weekly film round up
The clip also offers a glimpse of Paul Walker— although Vin Diesel previously hinted that a CGI performance from the late series staple could be a part of Fast X, the clip could just be archival footage. Series veterans like John Cena, Michelle Rodriguez, Jordana Brewster, Tyrese Gibson, Ludacris, Jason Statham, and Sung Kang also all return.
"That's the problem with having such a big family," Jason Momoa's villainous Dante warns Dom at one point as they prepare for a race. "How do you choose the ones you save?"
Although some of the extensive series' greatest stars will be a part of Fast & Furious' final ride, there's also some late-game additions. Longtime director Justin Lin is out, with the reins going to Incredible Hulk and Now You See Me's Louis Leterrier. There's some new faces in front of the camera, as well: Jason Momoa's "quirky and androgynous" Dante hasn't met the family before, and the indomitable Rita Moreno joins the cast as Dom's (Vin Diesel) abuela. Reacher's Alan Ritchson is also making his Fast & Furious debut as, presumably, another one of Los Angeles' biggest boys.

Fast X arrives in theaters on May 19, 2023—just over three months to perfect your movie theater parking lot Tokyo Drift.