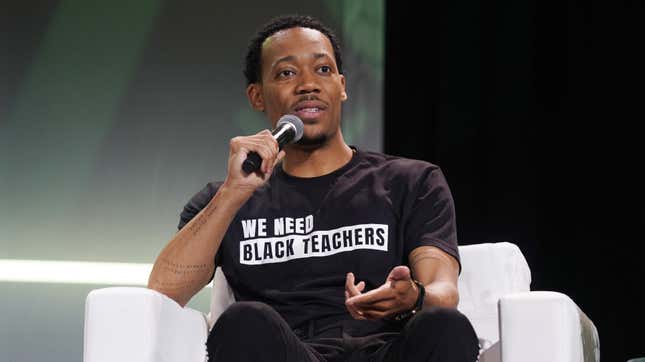 Leave it to Tyler James Williams—and really the entire Abbott Elementary team, if we're being honest—to be as wonderful in real life as they are on the show. In a move that would make even Melissa's gruff union leader pal Vinnie (a.k.a. The Tire-Iron) crack a smile, Williams recently voiced his strong support for the ongoing WGA strike.
Tyler James Williams talks "Abbott Elementary" and "Everybody Hates Chris"
"I think our writers' room has been very active in the strike. We've been talking about this since before we wrapped up season two, so we were very prepared. Brittani Nichols, who's in our writers' room, is a strike captain on the line... so we stand behind them a hundred percent, completely," he told People.
Abbott Elementary is one of the many shows that have already been impacted by the strike. Writing for the show's third season was supposed to begin on May 2, what would become the first day of the now-two-month-long picket.
This delay is of no real concern to Williams, however. "We're in a place and position in our success where we know that whenever this is rectified, we will be back. But by no means are we in any rush for that to be the case," he said. "The writers need to get what the writers need to get. And until they do, we will stand behind them and we'll be waiting."
Nichols recently took to Twitter to explain the gross disparity between the streaming and broadcast residuals she receives in a much-shared Tweet. "For me right now, new media residuals pay '5.5% of the applicable minimum,'" she shared. "So for the applicable period, people can stream an episode I wrote an UNLIMITED amount of times and I will only receive 5.5% of what I get paid if they replay it one time on broadcast."
Now that's some math even Greg's first graders would realize doesn't add up.