TV upfront season officially got underway this morning, as FX president John Landgraf sauntered onto a new work stage and declared "BOOM! Three networks!" In so many words: The centerpiece of Landgraf's presentation to advertisers and journalists was the announcement of FX's expansion into a fleet of three channels, each catering to a different segment of the advertiser-preferred demographic of adults 18 to 49. Sorry, olds: FX's new Christopher Columbus-esque strategy has no interest in colonizing your cable package, unveiling untold riches from the likes of The Coen Brothers, Charlie Kaufman, and Shawn Ryan in the process.
The shiniest and potentially most-lucrative of the ships under Landgraf's command is FXX, the previously rumored plan to chase the soccer-playing, indigenous peoples out of their ancestral homes in order to start a new world made in the image of It's Always Sunny In Philadelphia and The League. Targeted at the 18 to 34 viewership base, the network—which, given its two tentpoles, doesn't count it's extra "X" as an extra X chromosome, though It's Always Sunny apparently performs well among viewers of both sexes—will launch in 74 million households on September 2. It's Always Sunny's 10th and 11th seasons will air on the new network, along with the fifth and sixth years of The League. Joining them in this young-male-courting utopia will be Legit (renewed for a second season), Totally Biased With W. Kamau Bell (expanding to five night's a week, as if to say, "You're not considering anyone of color to replace Jimmy Fallon on Late Night? Really?"), and reruns of Arrested Development, Freaks And Geeks, and other acquired series. The last piece of the puzzle should be a warm reminder to the settlers of this new land, harkening back to a time when the motherland was all M*A*S*H repeats and Batman marathons—before Ryan Murphy came along to boldly slash a path to the future with a plastic surgeon's scalpel.
Acknowledging that you can lead a horse to a bevy of viewing options, but you can't make them drink it from a TV at a predetermined time, the presentation's other major announcement involved the creation of streaming service FX Now. The solution for catching up with the latest Justified after you notice the TiVo managed to drop the ball yet again (And how are you ever going to find out who Drew Thompson is at this rate?), the platform will be available to al FX, FXX, and FXM subscribers—though fast-forwarding will not be an option. What, you think you can just skip through this brave new world willy nilly with no regard to running length and commercials? You do realize Landgraf made this announcement to a room full of advertisers, right?
Other programming notes from the presentation:
Justified is officially coming back for a fifth season of hats, scowls, foot trauma, and eloquence-tempered-by-Kentucky-colloquialism; Raylan Givens returns to the beat—looking for revenge, if this week's cliffhanger is any indication—in January of 2014.
Speaking of winter and next year: The big get that will lay the groundwork for FXM's forthcoming stream of miniseries is the 10-episode TV adaptation of Fargo, which will not be shoved into the wood-chipper like previous attempts to bring Joel and Ethan Coen's Midwestern noir to the little screen. The Coens will be on hand as executive producers, making sure My Generation creator Noah Hawley doesn't start stuffing flashbacks to a previously filmed Fargo documentary into the narrative.
Preliminary research on FXM indicates that it "has the movies," and it will continue to "has the movies" in its future incarnation as the place where the FX viewer with a college degree, a savings account, and maybe a few kids hangs out. But it sounds as if FXM will also be the home of the spawn of Fargo, several miniseries with big names working behind the scenes: Paul Giamatti (the Plymouth-colony drama Mayflower), Sam Mendes and Pippa Harris (terrorism thriller Grand Hotel), Shawn Ryan (Mad Dogs, which, frustratingly, has nothing to do with Terriers), and former Onion editor-in-chief/friend of The A.V. Club Rob Siegel (Sutton, based on the true-crime novel by J.R. Moehringer).
In new series pickups, keep an eye and an ear open for future details about Charlie Kaufman's How And Why ("The story of a man who can explain how and why a nuclear reactor works, but is clueless about life"—and anything else that doesn't happen in a Charlie Kaufman script, the press release does not continue) and Chozen, an animated comedy with an Eastbound & Down pedigree.
Did we know the border-patrolling mystery The Bridge was premièring in July? It feels like we knew The Bridge was premièring in July. If so, The Bridge is still premièring in July.
And what's propping up all of these groundbreaking-sounding shows that will, demo-baiting premises aside, probably draw the same modest number of eyeballs as an Americans or a Justified? Why more acquired series, naturally, as Anger Management continues its Bataan Death March toward 100 episodes. Elsewhere, the humor of Archer's Pam Poovey—body-positive, don't-give-a-fuck, dairy-farm-raised, underground-fighting-ring-trained Pam Poovey—will be contrasted and partially funded by Mike & Molly's broader, sourer "fatty fall down go boom" style of comedy come 2014.
G/O Media may get a commission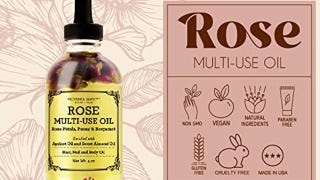 Provence Beauty Rose Multi-Use Oil