After decades of producing some of pop music's most challenging works, Björk gave us perhaps her most difficult record in 2015 with Vulnicura. It traced in painful detail the dissolution of her 13-year relationship with artist Matthew Barney, with leaden string arrangements and Björk's spirit as black as the lake at the album's center. "I am one wound," she sings on "Black Lake," with "no hope of ever recover." Though deeply moving, it was not an easy journey to take with her. Vulnicura wasn't easy on Björk either: In August 2015, she cut the album's tour short partly because performing it was so draining.
The tour was also interrupted because she found herself unexpectedly inspired and writing new songs with a polar-opposite energy. One silver lining to contending with a record as heavy as Vulnicura is that, in its production, Björk discovered a "once-in-a-lifetime" collaborator in Venezuelan artist Arca (Kanye West, FKA Twigs). The two sparked creatively, and their giddy exchange has carried over to Utopia, Björk's ninth studio album, as a near-complete partnering.
Arca's presence on the record is undeniable, but part of the magic of their collaboration is its seamlessness with Björk's back catalog. Wondrous and intense, Utopia is as Björkian as it gets. It functions as a strong rejection of Vulnicura's darkness, drawing more from the warm, futuristic "folktronica" of 2001's Vespertine, inspired by her then-nascent relationship with Barney. It's no coincidence that on Utopia Björk is dating again, and a breathtaking lightness permeates its 72 minutes. Part of that is expressed in Björk's lilting, baroque choral and flute arrangements, as well as the Icelandic and Venezuelan birdsong that chatters throughout; part of it is in the album's lyrical themes of possibility and detoxification.
Continuing Björk's departure from traditional pop song structures, Utopia favors long, wandering walks through lush sonic flora with scarcely a chorus to lean on; you must inhabit its powerful vocal melodies alongside Björk to find your way. Arca's visceral, geologic beats, nodding to techno and R&B, merge with Björk's classical-inspired arrangements to forge spectacular genre hybridizations. But the duo's experiments never come off as indulgent; they feel like physical, necessary expressions of the album's elemental emotions.
G/O Media may get a commission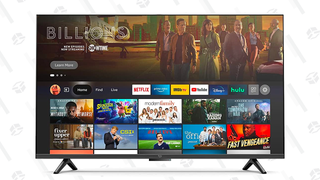 22% off
Amazon Fire TV - 50" Omni Series 4K - Early Access Deal
Just as the inspiration for Utopia's songs came on quickly, the album begins with the jolting sensory overload "Arisen My Senses," the first song written of all 14. It acts as a sledgehammer to the void of Vulnicura, with layers of harp and vocal melodies multiplying and overlapping in a chaotic expanse. The only completely intelligible lyric is at the last moment—"He sees me for who I am"—and it feels like starved lungs filling with air. The tenderly ecstatic "Blissing Me" follows, a love song about "two music nerds" trading MP3s in which Björk finds her way back to "the interior of these melodies" where she belongs. On first single "The Gate," which Björk calls the bridge from Vulnicura, her wound transmutes into a portal for giving and receiving love. When she sings, "I care for you," it's not just a sweetly direct admission but a reclamation of her capacity to do so.
Many of Utopia's songs would function as centerpieces on other artists' records, but here it's the nearly 10-minute war cry "Body Memory," an answer to "Black Lake," that claims the title. Backed by a swarm of flutes (her all-female flute club) and epic choral arrangements (Iceland's Hamrahlid Choir), Björk wrestles with her fate, her will to survive, and it's her intuition that will always carry her through: "Then the body memory kicks in / I mime my home mountains / The moss that I'm made of / I redeem myself."
At the halfway mark, "Loss" nods to Vespertine's "Pagan Poetry," but the passionate union of "Pagan" has split, and two opposing forces—represented by soothing, pastoral woodwinds and glitchy, obliterative rhythms—vie for control. The reconciliation isn't pretty (it literally sounds like an ambulance arrives at the end), but Björk has already come out on the other side, singing, "Loss of love, we all have suffered / How we make up for it defines who we are." From there, "Sue Me," "Tabula Rasa," and "Saint" dig into a more maternal love, expressing a protective need to "break the chain of the fuck-ups of the fathers," not just of Björk's ex, whose affair disrupted their family, but of patriarchal society at large. Finally, brilliant, wintry closer "Future Forever," the closest any track comes to a standard pop song, asks us to be bold in envisioning our future and reminds us "courage isn't elsewhere."
As with most Björk records, Utopia is a lot to take in, and we'll be absorbing it for a long time. It is musically heady and rawly autobiographical, translating the most intimate moments into towering, skywritten love notes. It's ruled by a divine feminine energy that interrogates toxic masculinity and, more subliminally, environmental issues. Björk says that spiritually she envisions Utopia as an exotic, woman-run island of generosity and freedom—not a place to live forever, necessarily, but somewhere to get in touch with our purest, most radically optimistic selves. In other words, it's a journey that's easy to want to take with her.
---
Purchasing Utopia via Amazon helps support The A.V. Club.