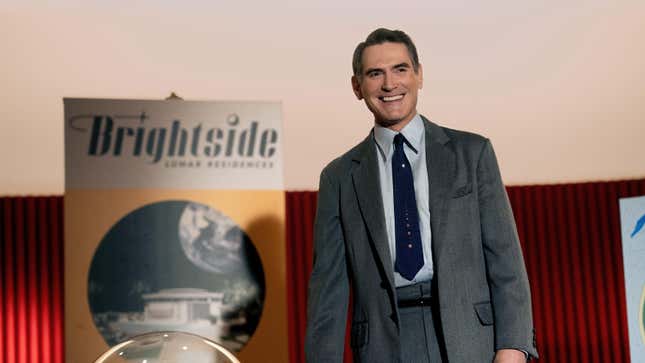 Living on the moon isn't all it's cracked up to be in the new trailer for the Apple TV+ series Hello Tomorrow!, starring Billy Crudup. The Almost Famous actor plays Jack, a charismatic and ambitious traveling salesman who's in the lunar timeshare business.
"We live with miracles at our fingertips," Jack says in his sales pitch. "We got robots taking out the trash, we fly to the stars, and that's what I want for you and your families. That's the dream you all deserve. Soon, you folks will be saying, 'Wow! I love living on the moon!'"
Hello Tomorrow! takes place in a world that looks a lot like the mid-century modern aesthetic of the space age, except with jetpacks, flying cars, and robot dog walkers and bartenders. Despite all these modern conveniences, something is clearly not quite right at Brightside Lunar Residences, and Jack can't hide the truth from his coworkers, or an unhappy customer played by sci-fi mainstay Alison Pill, who's ready to burn it all down—forever.
Could it be that those timeshares on the moon may as well be for oceanfront property in Arizona? Is the moon haunted? It's also stated that there's no such thing as aliens, which is absolutely not ominous at all.
The half-hour dramedy also co-stars Haneefah Wood, Nicholas Podany, Dewshane Williams, Hank Azaria, Matthew Maher, and Jacki Weaver. Crudup has otherwise recently been occupied with another Apple TV+ series; he's part of the cast of The Morning Show and won an Emmy for his role in 2020.
Hello Tomorrow! launches on Apple TV+ on February 17 with a three-episode premiere, followed by weekly installments for a total of 10 episodes.