Will Lee was a Brooklyn-born Broadway actor who appeared in movies by Nicholas Ray, Howard Hawks, and Sidney Lumet. He served during World War II, putting on shows for the troops. He was blacklisted for five years in the 1950s for being an uncooperative witness in front of the House Committee On Un-American Activities.

And when he died, on December 7, 1982, he made Big Bird very, very sad.
No matter Lee's previous credits, he will best be known as Mr. Hooper, the curmudgeonly Sesame Street grocer with a soft spot for the birds on his block. Mr. Hooper was one of the four original humans to take up residence on Sesame Street. His death, at the age of 74 from a heart attack, was certainly not welcome, but it provided Sesame Street with one of its greatest teaching opportunities: how to explain death to children. "I think it was one of the best things we ever did," Caroll Spinney, the man inside the Big Bird costume, has said about "Farewell, Mr. Hooper," in which his yellow, feathery alter ego learns that his friend will not be coming back to make him birdseed milkshakes.
Mr. Hooper's death was revolutionary because of its frank discussion of a complicated subject that does not fit squarely into the box of children's entertainment. "Farewell, Mr. Hooper" was ultimately the entire mission of the series boiled down into one episode. It defined what Sesame Street was for most kids: using everyday moments—be they silly or sad—as teachable ones, without being patronizing about the subject matter. Sesame Street had enough confidence in its audience to learn from the scenario they presented, even if that audience was still learning its ABCs. If vaguely Eastern European royalty could teach kids to count or a woolly mammoth could teach them about imagination, what was stopping Big Bird from allowing them to understand death?
"Farewell, Mr. Hooper" became a hallmark for Sesame Street, winning accolades and awards, including a Peabody and a Daytime Emmy. Death was not the only difficult subject Sesame Street dealt with; the show has also tackled hurricanes, divorce, and parental incarceration. But "Farewell, Mr. Hooper" set the precedent for tacking those topics. The episode's importance was reiterated in the Internet age. In the wake of the tragedy at Sandy Hook Elementary School in 2012, experts implored parents to tell children "the truth, in their language." Sesame Street had done just that 29 years earlier, and the five-minute clip resurfaced throughout the Internet, ostensibly as a guide for parents to teach their children about, but also as a source of comfort during a particular difficult and confusing time for everyone, regardless of age.
G/O Media may get a commission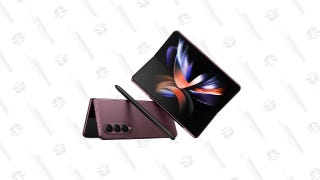 Save Up to $300
Galaxy Z Fold4
"Farewell, Mr. Hooper" aired on November 24, 1983, Thanksgiving Day. It was a coincidence that the episode took place on a holiday, but it also allowed more parents to watch with their children so they could field any questions. When Lee died, he had already shot several episodes set to air in 1983, so his absence did not have to be immediately explained. Options were bandied about to explain why Mr. Hooper would no longer be sweeping his stoop in the episodes to come: tell the kids he retired and moved to Florida, go the Bewitched-route and replace him with another actor, or simply not mention Mr. Hooper's absence from Sesame Street at all. But if Sesame Street could teach a kid about the world without those same kids have to leave their living rooms, it would be a disservice to its audience to skip the aspects of that world that don't make for a fun sketch. Executive producer Dulcy Singer pushed against the non-discussion of the absence of a character many children counted as a regular presence in their lives. "If we left it unsaid, kids would notice,'' Singer told the Associated Press in 1983. ''Our instincts told us to be honest and straightforward." It wasn't the popular decision. "[Singer] got a lot of negative reaction from her superiors at the time," Sonia Manzano said, who has played Maria on the show since 1971.
So instead of pretending that Mr. Hooper had decamped to Boca, the writers of Sesame Street got together with child psychologists to look at how kids view death, boiling down their specific grieving process into bullet points they addressed during the episode. What they learned is reflected in then-head-writer Norman Stiles' script. Other scenes in the episode subtly hint at the centerpiece scene in which Big Bird must deal with the reality of death, especially the importance of expressing emotions: Forgetful Jones feels happy but he doesn't remember why, Ernie performs in a feelings pageant representing love, Bert loses his paperclip collection and feels angry and sad. To symbolize the circle of life, Big Bird meets a new baby on the block.
When children are young, their world views revolve around themselves. Concepts like Mr. Hooper's advancing years or cause of death are never mentioned because they are too large for the target audience to understand. So what matters? First, children have to comprehend that there is a permanence to death. To usher in the discussion of Mr. Hooper's death, Big Bird gives out pictures that he's drawn (done by Spinney himself) to his friends on the block. Big Bird already knows about Mr. Hooper's death but he does not understand that death is for forever. "Big Bird, don't you remember, we told you. Mr. Hooper died. He is dead," Maria says. "Oh, yeah. I remember. Well, I'll give it to him when he comes back," Big Bird replies. There's no philosophical explanation from the other characters as to why Mr. Hooper won't return, no afterlife, no complications of spirituality. He's just dead. It's blunt, but it's true.

Part of the reason this scene is particularly potent, especially from an adult's perspective, is the hesitance and unspoken sadness shared between the block's grownups. "Farewell, Mr. Hooper" was one of the few episodes where all eight non-puppet actors appeared throughout the episode, and watching them struggle with how to tell Big Bird about Mr. Hooper's death feels intensely genuine, much like the emotions a child would see mirrored in their own parents when the discussion of death arises. That's in part because those emotions were true. "It was probably the most sensitive show we have ever done. When we finished there were tears on all the actors' faces. When I came out of the suit, I had to have a towel because I had been crying," Spinney said. But the sadness expressed by the actors, especially from from Spinney's delicate portrayal of Big Bird, demonstrated was yet another lesson to children: It's okay to be sad sometimes.
The most telling reaction belying the amount of meticulous research that went into the episode from the approximately 6-year-old Big Bird comes when he starts to grasp the concept that Mr. Hooper will not be returning to the store. Big Bird worries and fears don't turn toward his own mortality, as an adult would. Instead, he worries about who will be able to do for him what Mr. Hooper used to provide. "He's gotta come back," Big Bird laments when he's told that he won't see Mr. Hooper again. "Who's going to take care of the store? Who's gonna make me birdseed milkshakes and tell me stories?" This is how Big Bird mourns at age 6: He's sad that he will not see Mr. Hooper again, but he processes that information by what Mr. Hooper did for him. Essentially, for a 6-year-old, those actions are akin to survival. Big Bird needs his birdseed milkshakes (nourishment) and someone to tell him stories (love and affection). Mr. Hooper provided those things and that's what Mr. Hooper meant to Big Bird.
Big Bird's acceptance of Mr. Hooper's death comes at the scene's climax, but it calls back to the beginning of the episode when Big Bird walks into the frame backward with his head between his legs. When Gordon (Roscoe Orman) asks why he's walking like that way, Big Bird responds. "Because. Just because." Later, Big Bird angrily says, "Well, I don't understand! You know, everything was just fine! I mean, why does it have to be this way? Give me one good reason!" Gordon responds in the only way he knows how:
Gordon: Big Bird, it has to be this way… because.

Big Bird: Just because?

Gordon: Just because.

Big Bird: Oh.
Sometimes the best, and only, answer is because. And that's okay too.
To cope, the adults in the episode tell Big Bird that they will always have their memories of Mr. Hooper. That's how he drew all of their portraits, right? Mr. Hooper's portrait gets a spot of honor on Big Bird's nest. Spinney's same original drawing hangs in that place of honor today.