Though it's portrayed as ground zero in Breaking Bad's deadly methamphetamine war, Albuquerque, New Mexico has certainly embraced its status as the show's home. Visitors to The Duke City can take in the landmarks of the Heisenberg empire via trolley or limo, sample a rock-candy facsimile of Walter White and Jesse Pinkman's wares, and dine at the restaurant that served Gustavo Fring's second-most addictive product. The anthropomorphized birds of the Los Pollos Hermanos logo still beam down at the patrons of Twisters Burgers And Burritos, but the calling card of "the chicken brothers"' real-life equivalent is a stuffed tortilla smothered in salsa verde and topped melted cheese and curly fries. It doesn't quite live up to the "old ways are still best" promise made by one of the show's most memorable cold opens—but in true Breaking Bad fashion, it takes an existing commodity and improves upon it.
The city's pride in the acclaimed series is reciprocal: Few television productions have utilized their settings as well as Breaking Bad has in the past five years. Albuquerque became such a central component of the series that it's bracing to learn that creator Vince Gilligan's original Breaking Bad pilot took place in Riverside, California. (Mike White would later set Enlightened in that Inland Empire burg; in a parallel universe, there's a crossover event where Amy Jellicoe attempts to heal Walter White's lung cancer through the power of positive thinking—all the while attempting to expose him as Heisenberg.) According to Christian Diaz De Bedoya, who served as the show's location manager for seasons four and five, it was a generous tax rebate that made Gilligan and crew consider a move to New Mexico. The booster shot the local filmmaking industry received from that move had such strength that New Mexican lawmakers dubbed the most recent updates to the state's film incentive program the "Breaking Bad Bill."
Pragmatic considerations aside, Breaking Bad would be a wholly different series without the big-sky vistas and Southwestern architecture of Albuquerque. During our time with Diaz De Bedoya, he brought up the old saw that the city itself is a character within the show, and given the distinctive look and feel Albuquerque gives to Breaking Bad, there's no disputing that statement. Cinematographers like Michael Slovis and directors like Rian Johnson can take some credit for that visual signature, but were it not for Diaz De Bedoya, his fellow location managers, and their intimate knowledge of ABQ, Slovis and Johnson would be shooting against a less idiosyncratic canvas.
Of the many locations we toured with Diaz De Bedoya, the one he had a direct hand in selecting was the structure that stood in for season five's Vamanos Pest Control. A garage adjacent to Voc O's Auto And Transmissions, the building's current state embodies Breaking Bad's mark on Albuquerque: Its weathered, yellow exterior is not the work of Sherwin-Williams and time, but rather the show's production design. For a spell, the razor wire topping the property's fence was merely a rubber prop—though as Diaz De Bedoya tested with his own fingers, it's since been replaced by the real deal.
An ideal location for the show—an exterior that could also be built-out as a standing set—the garage also illustrated that the relationship between Breaking Bad and Albuquerque wasn't always cooperative. With only six lanes of Gibson Boulevard separating the garage from space shared by Albuquerque International Sunport and Kirtland Air Force Base, scenes at Vamanos were occasionally disrupted by the sounds of aircraft departing and arriving.
G/O Media may get a commission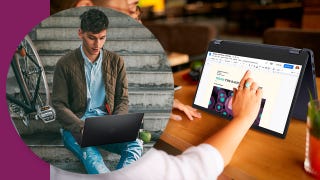 Ends August 15
Best Buy Anniversary Sale 2022
Ends August 15
Best Buy has a number of different promotions happening all for its Anniversary Sales Event. Laptops, tablets, TVs, you names it. Whether you're heading back to school or just trying to fill your home with some new tech, there is something here on sale that you've likely been waiting for.
Due to my own aircraft-related disruptions—but really, given Breaking Bad's history with flying machines, who's to quibble with missing a connecting flight?—I only ended up spending four or five hours in Albuquerque. Yet four-and-a-half seasons of Breaking Bad have put so much of the city and its personality on screen that the surroundings felt oddly familiar. I may have no personal acquaintance with Albuquerque-ubiquitous fast-food chain Blake's Lotaburger, but cups and bags from the place are such a set-dressing fixture in the White and Pinkman houses that the smiling, top-hat-clad "Blake's man" hardly felt like a foreign presence. There's an inherent comfort and hospitality to Albuquerque, but the city retains a bit of Wild West edge. After synthesizing these qualities into searing TV drama, it's nice that Breaking Bad's been able to give back to Albuquerque as much as (if not more than) it got out of its adopted home.