Here's what's up in the world of TV for Wednesday, November 9. All times are Eastern.
Top picks
Speechless (ABC, 8:30 p.m.): Speechless is getting a top pick tonight for the episode, "D-a-t-e— Date?" That's right, y'all—lovable JJ's looking for love. "JJ meets a new girl at school, an injured gymnast, who must learn to adapt to school life in a wheelchair. JJ shows her the ropes and soon forms a crush." Meanwhile, Ray embarrasses himself with a "sext" gone wrong. But at least JJ's got a shot at love.
Lethal Weapon (Fox, 8 p.m.): Lethal Weapon is on at 8 p.m.? That feels… wrong. But as it turns out, sexting gone wrong isn't just an ABC family comedy thing tonight: "Murtaugh is shocked to hear that his daughter is sending promiscuous photos to her new boyfriend." Obviously, there's a criminal case—dead young model, Los Angeles' wealthiest families, dark Los Angeles secrets—but the children are sexting. Before 9 p.m. Something must be done.
Twirl Life (TLC, 10 p.m.): What is Twirl Life? If you're a not a big NBTA head—you know, a fan of the National Baton Twirling Association—that's the question you're asking. Tonight, you'll get to meet the Dazzling Divas, "a competitive and performance-based baton twirling squad located in Houston, TX," in this TLC special. Now that is some wholesome youth behavior on a Wednesday night. At 10 p.m. All of these time slots are baffling.
G/O Media may get a commission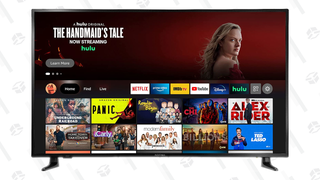 38% Off
Insignia 50" 4K UHD Smart TV
Premieres and finales
Total Bellas (E!, 8 p.m.): Tonight, the Bellas and their fellas say goodbye with the first season finale of Total Bellas. And the show ends its first season in true wrestling fashion (and Total franchise, as every season of Total Divas ends the same way): with a wedding. It's "Wedding Mania," brother, and Momma Bella and John Laurinaitis are tying the knot.
Hero House (FYI, 8 p.m.): In this FYI special: "John Weisbarth from Tiny House Nation teams up with Purple Heart Homes to construct houses for military veterans who have returned home to living situations that are no longer suitable for them and their families." We really have nothing much to say about that other than: "Aww." This is one of the good ones.
Below Deck (Bravo, 9 p.m.): Meanwhile, Bravo's Below Deck shows up with a new episode on a special night with something absolutely crazy. First of all, the episode is titled "Bombed By A Care Bear," which is… something. But in case you're wondering if that title is supposed to be serious, here's a bit from the episode synopsis: "Meanwhile, Ben's galley work has a near lethal impact on one staffer." Because of the Care Bear bomb, we assume.
Worst Cooks In America (Food Network, 9 p.m.): It's the "Best Of The Worst," as "sixteen hapless home cooks begin culinary boot camp in the Season 3 opener." What do they have in store for these terrible, horrible, no good, very bad cooks? "First, the recruits prepare signature dishes, which are then critiqued by hosts Anne Burrell and Bobby Flay. Later, they learn the basics of cooking breakfast." How much do you want to bet one of these awful cooks makes an "I can pour cereal and milk" quip?
Little Women: L.A. (Lifetime, 9 p.m.): Yes, it's another reality show reunion, as part one (of two) of the Little Women: L.A. season five reunion begins tonight. "Matt is confronted about his disloyal behavior; Christy tries to make amends with Terra and Briana; and a sneak peek of Little Women: Dallas is shared." Oh, we think Little Women: L.A.'s synopsis forgot to add this reminder: "Please watch Little Women: Dallas."
Wheeler Dealers (Velocity, 9 p.m.): All you motor heads, Wheeler Dealers' 15th season premieres tonight with "1970 Ford Bronco." And yes, much like Below Deck, the episode title really does say it all. It's actually even clearer: "Mike tries to save a rust-riddled 1970 Ford Bronco." Hopefully by the time this episode rolls around, we'll figure out just what Velocity and Wheeler Dealers are in the first place.
Jay Leno's Garage (CNBC, 10 p.m.): Now this is a car thing we know a thing or two about. It's Jay Leno's Garage, and it's back with its second season "fall premiere," "Love Stories." Whose love stories? Vice president Joe Biden, former secretary of state Colin Powell, WCW/WWE's Goldberg, and comedian Gabriel Iglesias, that's who. That's a lot of car love to handle in one hour, now isn't it? You always know what we want, Jay. Wait. You usually know what we want, Jay.
Regular coverage
Survivor (CBS, 8 p.m.)
Arrow (The CW, 8 p.m.)
Modern Family (ABC, 9 p.m.)

Frequency (The CW, 9 p.m.)
Designated Survivor (ABC, 10 p.m.)
American Horror Story (FX, 10 p.m.)
You're The Worst (FXX, 10 p.m.)
Stan Against Evil (IFC, 10 p.m.)
Rectify (Sundance TV, 10 p.m.)
Streaming pick
Law & Order: Special Victims Unit, "Crush" (Amazon Video/Hulu/iTunes/VUDU): Of course Law & Order: SVU has an episode about the horrors of sexting. If it's the only episode about the subject, we'll be shocked. But The Flash—the movie one, not the one who keeps messing things up—is in this episode, so that's something.