Box-office receipts are often sobering reminders for critics that our opinions maybe aren't as powerful as we like to think they are. But it's tempting to wonder if the underperformance of Hellboy at the domestic box office this past weekend had anything to do with the gleeful dunking Rotten Tomatoes (and, therefore, critics) gave Neil Marshall's comic-book reboot—or the minimal promotion Lionsgate, perhaps anticipating said dunking, did for the film. Regardless, Hellboy debuted at No. 3 this past weekend with a $12 million haul, $3 million short of No. 2 film Little.

Now, Little's opening-weekend performance is right in line with the last few films backed by producer Will Packer: What Men Want debuted at No. 2 back in February, and while Night School was No. 1 in its opening weekend, Breaking In and Girls Trip debuted at No. 3 and No. 2, respectively. In short, expect Packer's reign to continue now that a top three debut bolstered by Packer's core audience of African-American women—the audience for Little was 65% female and 43% Black, according to Cinemascore—is all but guaranteed for one of his films. Little's performance also bodes well for director Tina Gordon, who hopefully won't have to wait six years (her first film, Peeples, came out in 2013) to get her next movie financed.
And speaking of ongoing filmmaking concerns, lightening up continues to pay off for the DCEU, as Shazam! came in at No. 1 for the second weekend in a row. The film fell 53% between its first and second weekends, which sounds bad, but's actually about normal for a blockbuster film. And even with the drop, Shazam! made $25 million last weekend, $10 million more than No. 2 film Little. Pet Sematary experienced a similar trajectory in its second weekend, as did Dumbo in its third.
Meanwhile, its weirdly off-putting title didn't stop Her Smell from taking home the weekend's highest per-screen average, raking in $13,019 on each of its three screens. That's more than 10 times Mary Magdalene's debut numbers, as that film only made $1,007 on each of its 62 screens. But the biggest disappointment of the weekend came from Laika studios and Missing Link, which opened wider than Little, Hellboy, or No. 8 film After, but made less money than all of them with a No. 9, $5.8 million debut. Does no one appreciate hand-crafted stop-motion animation anymore?
But one thing audiences do still love is a good old-fashioned technological achievement-cum-artistic triumph, as evidenced by the fascinating performance of Bi Gan's Long Day's Journey Into Night at the Chinese box office. It did fine in its limited American debut, making $27,896 on three movie screens. But the film, which features an unbroken, hourlong 3-D tracking shot that must be experienced to really be appreciated, was a massive hit at home in China, racking up $15.5 million in presales and making $38 million on its opening day. That's more than Venom made in China, an especially remarkable achievement considering Long Day's Journey Into Night is a slow-burn art film with an uncompromising, Mulholland Drive-esque puzzle box approach to narrative.
G/O Media may get a commission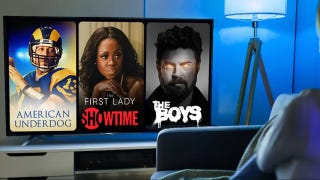 UNDER $1
99¢ Prime Video Channels
Perhaps that's why the film fell to $1.5 million on its second day—right around the time a hashtag translated roughly as "Can't Understand Long Day's Journey Into Night" began trending on Chinese social media, as Variety reports. It all seems to be part of a wider cultural conflict between the gentrified hipster class referred to as "literary youth" and the Chinese working classes, a dynamic that we're plenty familiar with here in the U.S.
For more detailed information, see Box Office Mojo.