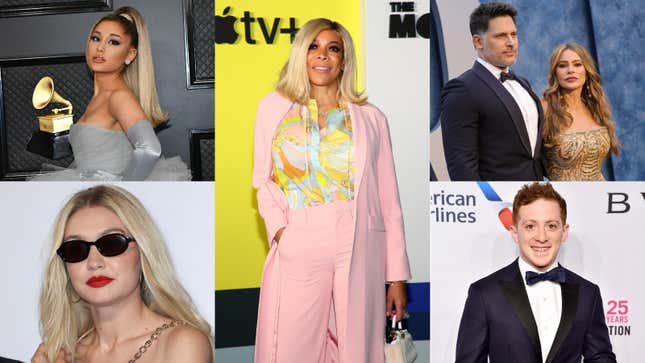 It's peak summer. Actors and writers nationwide are on strike, and, as of today, pretty much all of the big summer movies have arrived. It feels like things are slowing down, if temporarily, as we rest in the season's dog days. And when news is slow, people like to gossip. This truth is self-evident; just look at this past week.

Billy Bush caught being gross on hot mic (again)
To recap the week in celebrity: On Monday, the news broke that Ariana Grande and Dalton Gomez, her real estate-agent husband who she married during the pandemic, were separating. Sofia Vergara and Joe Manganiello's split was announced the same day as the couple reportedly disagreed on having children. On Tuesday, Gigi Hadid was busted for bringing weed to the Cayman Islands. Yesterday, TMZ reported that Grande was already dating her Wicked co-star Ethan Slater, a man best known for portraying SpongeBob SquarePants on Broadway and who, at least until recently, had a wife, with whom he welcomed a child last year. Also, Jennifer Lopez apparently got locked out of a gym.
It's messy, it's frivolous, none of us know these people, and the particulars of their lives probably don't—or rather shouldn't—matter much to us. They're distractions, if welcome ones, from Slack messages and traffic and figuring out what to eat for dinner. It's information that we receive that we're not really supposed to do anything with. It's the giving and the receiving of the information that's the fun part, and no one has more fun doing that than Wendy Williams.
A lot of celebrities rightly hate Wendy Williams. She's not a reporter; she talks shit, and there are a lot of people who'd like to see her get hit. Williams would openly speculate on celebrities' drug use or sexuality or relationship status on national TV. And as gross as it is to admit, that's the appeal. Consuming celebrity news elsewhere comes with at least a facade of respectability, as if invading a stranger's privacy politely makes it more appropriate. There was no pretense on The Wendy Williams Show; it was the gossip you wanted, quick and dirty.
The show ended in 2022 as Williams dealt with health and financial battles, plunging her into the kind of tabloid battle she used to make meals out of. Since then, no one has really taken up her daytime mantle; Drew Barrymore leads the way for surreal, viral moments, but the celebrity gossip industrial complex has largely moved off television and onto social media, with Instagram account Deux Moi becoming the supreme source of unsubstantiated gossip during the pandemic.
But social media is largely faceless, soulless; getting a TMZ notification that an A-lister is getting divorced lacks the personality that Williams was able to imbue every topic with. Sure, few others would have the guts to wish death on Britney Spears' parents at 10 am, but more importantly, no one else would have thought to.
As so, as we close out a week of inconsequential drama, of A-list betrayals and petty slights, I'm missing The Wendy Williams Show a bit more than usual. ET and TMZ just don't hit the same; Page Six can get the footage of Jennifer Lopez being locked out of a gym and yelling "Fuck you!" And as funny as that footage may be, they can't make it into a story the way Williams could have. It's not the information that matters; it's the presentation. And no one, yet, has been able to fill that plush, purple throne.