Jonny Greenwood, "House Of Woodcock"
I've yet to see Paul Thomas Anderson's latest, Phantom Thread, but over our holiday break, I found myself obsessed with a short musical excerpt from the film's score that Nonesuch Records published ahead of tomorrow's full digital release. As with every Anderson film since There Will Be Blood, the soundtrack was composed by Radiohead's Jonny Greenwood. His compositions, which fluctuate from ethereal and spacious to neck-wringing tension, have consistently been a perfect companion for Anderson's string of meandering, mystifying films. But "House Of Woodcock" hits a tone that Greenwood hardly ever develops: romance. The elation and longing of fresh love is there in the fluttering piano and elegant, oscillating strings, in the dramatic pauses and life-giving releases. It's the complete opposite of There Will Be Blood's discordant steamroller of a score, which got me obsessing with Greenwood as a composer, and I can't wait to immerse myself in whatever else he cooked up for this one. [Matt Gerardi]
---
Trippie Redd, "Blade Of Woe"
We're in that glorious season of the year, long enough after I've filed all my year-end lists that I can guiltlessly enjoy discovering all the things I totally slept on last year. One of those has been Trippie Redd, whose pair of 2017 albums, A Love Letter To You and A Love Letter To You 2, have been on repeat for me for a few weeks. Redd fits into a lot of boxes already out there—he splits his time between emo caterwauling and nimble rapping over in-the-red, blown-out beats, like a lot of other young dudes that crawled out of Soundcloud recently. But he's got a much better ear for melodies than many of his peers, and a starry-eyed taste for melancholy, cyberpunk production. Anyway, one of the tracks I keep returning to is "Blade Of Woe," a track that makes good on the neo-RZA promise of its title with a bunch of melancholy synthesizers rolling over spidery melodies. It's moody, paranoid shit, despite all its tunefulness—good walking-around-in-the-winter rap. [Clayton Purdom]

---
"You Are The Everything," Peter Buck, Mike Mills, James Mercer, and Jenny Conlee
I have a lot of unpopular music opinions (just ask my co-workers) but one of the biggest is how much I hate R.E.M.'s Automatic For The People, which I consider a soppy sapfest. I take no enjoyment in hating it, either, because I was a fan for a long time, and my favorite R.E.M. album is one that probably no one else in the world would pick: Green. Of course my nostalgic affection for this record is steeped in a certain summer, and a certain long-lost boy, but there are a ton of great songs on Green I never hear anyone call out: "Pop Song 89" and "Turn You Inside Out," for example.
G/O Media may get a commission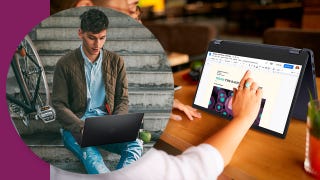 Ends August 15
Best Buy Anniversary Sale 2022
Ends August 15
Best Buy has a number of different promotions happening all for its Anniversary Sales Event. Laptops, tablets, TVs, you names it. Whether you're heading back to school or just trying to fill your home with some new tech, there is something here on sale that you've likely been waiting for.
That's why I was pleased to see/hear one of my favorite Green songs go viral this week, when Peter Buck, Mike Mills, The Shins' James Mercer, and The Decemberists' Jenny Conlee covered it at a benefit concert last Friday at the Star Theater for Portland musician Scott McCaughey, who suffered a stroke last November. (The next night at the Wonder Ballroom, Bill Berry even stepped behind the drum kit, resulting in three-quarters of an R.E.M. onstage reunion.)

At one point on Friday night, Buck launched into Green's "You Are The Everything" on the mandolin. A girl in the audience loudly yelled out, "No way!" which would have been my reaction exactly. Mercer ably stands in for Michael Stipe on vocals, Mills does those backups he knows so well, and Conlee's accordion is poignant and delightful. Somehow the song works even better as a devoted ode to a friend than as a lovelorn lament—"You are here with me / You are here with me / You have been here and you are the everything"—kicking off a whole new appreciation for an album I've loved for a long time. (You can donate to McCaughey's medical fund here.) [Gwen Ihnat]
---
Sur Back, "Valentino"
If you're of a mind to start of 2018 with some pop-damaged orchestral art rock, as I apparently am, you might want to give a serious listen to Sur Back's "Valentino." The new single from forthcoming EP Kitsch II, Sur Back is the alter ego of Caroline Sans, a dancer-musician who marries stutter-stop rhythms and jagged eruptions of instruments in a surprisingly harmonic and catchy manner, delivering arresting and attention-demanding music. Comparisons to St. Vincent are understandable (though I prefer Turntable Kitchen's description of her sound as "simultaneously blasting singles from Mitski and St. Vincent"), but Sans has a more intense and frenetic edge to her music that gives it an air of danger, like everything is two seconds from collapsing in a heap, and is held together through sheer force of will and her expansive, shape-shifting voice. It's a brilliant calling card for the new EP and an intriguing new artist. [Alex McLevy]