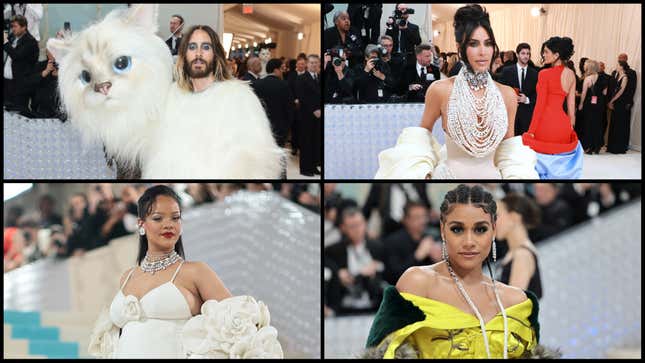 By the time Rihanna arrived at the Met Gala at 10 p.m. on Monday night, the last red carpet guest of note, the WGA was already gearing up for the inevitable: the Hollywood writers strike was on. The timing felt strangely fitting—as fitting as the cascade of pearls draping Kim Kardashian's chest like the curtain pulls at Graceland. There were the requisite throngs of screaming fans and paps, many of whom had been standing there for more than four hours just for a glimpse of a very pregnant Riri and her partner ASAP Rocky, yet the moment felt incongruously subdued. Inside, there was still plenty of Veuve to pour, but the important part was over, and nobody had broken the Internet.
Jameela Jamil would prefer that we don't celebrate terrible people like Karl Lagerfeld
If a tree falls at the Met Gala and nobody cares, would it get invited back next year?
In fashion circles, the Met Gala long ago supplanted the Oscars as Hollywood's most important and exciting red carpet, a mashup of sartorial risk-taking and celebrity bravado that exists pretty much nowhere else. Remember Rihanna's audacious turn as Pope at the 2018 Met Gala? And Lady Gaga's vaudevillian transformation back in 2019? Only Anna Wintour, god bless her, could turn the first Monday night of May into an Instagram holy of holies. And yet, if we're being honest, it all felt a lot of the same, no?
There's a lesson here for studio execs, who'd be wise to take note.
But first, some background: Every year Vogue doyenne Wintour chooses a theme for the soiree, a loose dress code designed to both inspire designers and her invite-only A-list guests. Catholicism, tech and "camp" have all served as themes in the past. This year, though, Wintour chose to honor her old friend, legendary designer Karl Lagerfeld, who passed away in 2019. Forget that Lagerfeld has come under fierce criticism of late for his history of fat-shaming, racism and misogyny. ("No one wants to see curvy women," he commented back in 2009.) Either we are indeed in a post-optics culture or Lagerfeld, best known as the former creative director of Chanel, is too big to fail. In any event, by choosing Kaiser Karl as the night's motif, a cavalcade of diverse designers shoehorned their muses through a single lens: Karl's.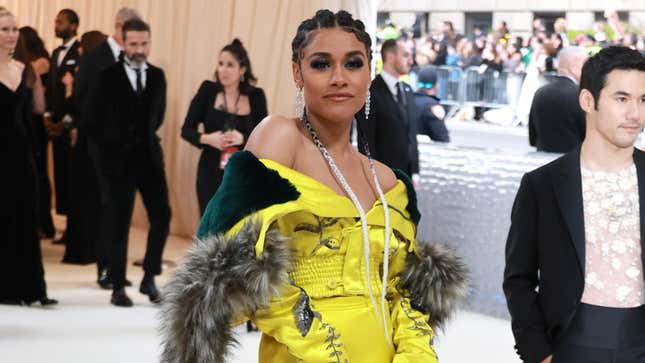 The net result was oddly monochromatic with few hits of exuberance. (One standout: Ariana Dubose in canary yellow Altuzarra, a look so vivacious it all but erased the cringe of "Angela Bassett did a thing." Such is the power of fashion!) Word is that Wintour personally approves something like 80 percent of Met Gala looks, which means it couldn't have been much of a surprise, the conformity of it all. Sure, some of it was reliably gorgeous, some of it less so, but beyond the performative theatrics of Jared Leto as a Fancy Feast mascot, the night was bereft of any authentically transcendent cultural moments.
But the bigger question for casual observers: What's with all the restraint? After nearly three years of little house of homebound hell, where was the color? Black velvet in May? It's florals for spring, remember?
The repetitiveness of this year's Met Gala gives us a good glimpse of what happens when a cadre of styles, voices, and personas are subsumed by one singular vision. It can all start to feel rather formulaic. We're seeing the phenomena in the TV business, which perhaps you've noticed, is awash in middling programming. (That includes the streamers, which were supposed to save us from all this junk.) Network television's limping toward a cliff, with cable not far behind. There are fewer scripted shows, which means fewer jobs, and smaller writing staffs thanks to budget cuts. Dated formulas used to calculate residuals don't account for new platforms, which means writers are getting screwed out of income. After all, who knows how many people really watched Stranger Things— Netflix doesn't share those metrics—making calculations, usually based on audience size, kinda fuzzy. But fuzzy doesn't pay the mortgage. Or the agent. Or the Final Draft upgrade.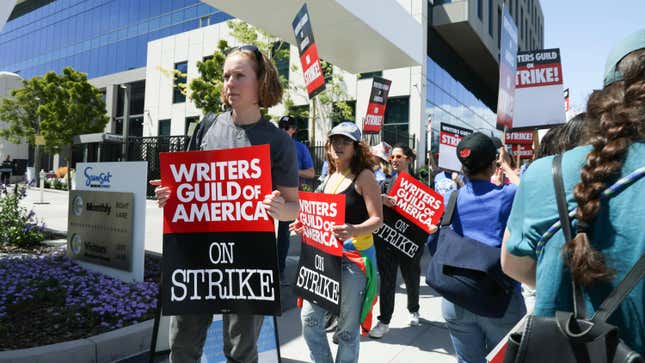 Hollywood's always been a tough place to make a buck, but talk to writers today and they'll tell you how utterly impossible it's become just to get by. Not that there's been an exodus of writers. Quite the contrary. There are perhaps even more writers now than ever, as media gets into the IP game and your favorite reporters start scoring agents and peddling their own scripts. (Full disclosure: I too am on the hunt for an agent and am peddling scripts.) That means fewer opportunities for novices to get their foot in the door, let alone learn from more experienced writers, which is how it's historically worked. Writing has never been more commodified. What's more, the threat of AI to "punch up" scripts, and inevitably write them, isn't a Blade Runner future fantasy. It's just a few years away realistically. Media vets like me have seen this movie before and—spoiler alert!—the ending is grim.
Fashion, it turns out, isn't all that different from Hollywood. (Perhaps that's why so many designers are jetting off to Los Angeles to stage their runway shows, unheard of a decade ago.) Both are creative industries effectively controlled by a handful of mega-companies with more losers than winners. And both are facing major headwinds upending their longstanding business models. For Hollywood, it's consolidation, social media, and streaming, while fashion wrestles with sustainability, counterfeiting, and, most concerning, a backlash to luxury writ large. (You have to wonder if that factored at all into Wintour's choice to canonize Chanel on such a global stage.) Wintour's approach was to love bomb the field with Chanel, to overwhelm our eyes and senses with this one super-id as though it were big enough, fresh enough, and daring enough to compensate for the absence of all else.
But that's the thing about fashion. It never stops. There are always people on the hunt for new and next. So it is with all creatives. The notion that one icon could embody Fashion on its biggest night was as naive as nickel and diming writers to save the entertainment industry. Silly gooses, they are the industry.