The TV show to watch
"After spending its first 10 episodes introducing a richly written, fully embodied quartet of main characters, Atlanta keeps aspiring manager Earn (creator Donald Glover), drug-dealer-cum-MC Alfred (Brian Tyree Henry), Alfred's stoner-sage sidekick Darius (Lakeith Stanfield), and Earn's off-again/on-again/forever-the-mother-of-his-child love interest Van (Zazie Beetz) off the screen for the extended prologue of what's been dubbed Robbin' Season. (Van isn't even around until episode three.) Patience is required by and rewarded in the three episodes screened for critics: Some stage-setting is necessary to illustrate changes in the characters lives, but it also fits with the moseying pace and under-the-influence tenor Glover and director Hiro Murai struck in the first season. This is the type of show that can kick off an entire episode of the second season with the payoff from a shaggy-dog story from the first."
Read the rest of our review here.
---
The album to listen to
"The Breeders are known for their dynamic, economical songs, and half here clock in under three minutes, with 'All Nerve' and 'Howl At The Summit' rivaling the quartet's best. Kim Deal's idiosyncratic songwriting remains central, as in the surreal 'Nervous Mary' and the unnervingly beautiful 'Walking With A Killer,' but the album's biggest surprises are in its ventures into brooding goth rock (the awesome, Wiggs-led 'MetaGoth,' based on a poem by her mother) and cosmic krautrock (a scorching cover of Amon Düül II's 'Archangel's Thunderbird')."
Read the rest of our review here.
---
The video game to play
"It's a fantastically clever twist on the concept of claw machines, forcing you to fight against gravity, balance, and momentum for every ounce of success. And like in BOXBOY!, another HAL Laboratory oddity, the designers do a great job of evolving the game from stage to stage, fully exploring the space for puzzles that involve little more than creatively lifting and dropping things. Plus, it helps that there's tons of character flowing out of the game's delightful visuals and that it features one of the catchiest menu themes in years."
Read about the rest of the games we're playing this weekend here.
G/O Media may get a commission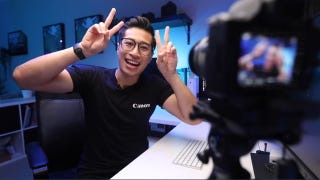 Up to 33% off
Canon Camera National Promotion
Webcam kits, lenses, & more
Since many of us adopted working from home, we've become accustomed to the crappy video quality output of our laptops' built-in webcams. Present yourself professionally with the help of a professional quality camera. Dress to impress now means set dressing and picture definition. Canon has made it easy to take your EOS camera and convert it to a webcam with the help of a variety of kits.
---
The comic to read
"After telling the story of Mama Cass in last year's rich, graceful California Dreamin', cartoonist Pénélope Bagieu returns to nonfiction with an expansive collection of biographical shorts. Bagieu chooses 29 women to give the comic spotlight to, and a major part of the book's success is the variety of her subjects, representing a wide range of experiences that takes readers from Ancient Greece to seventh-century Japan to present-day Afghanistan. With all of these time periods and geographic locations fostering different attitudes toward women, Bagieu provides a sprawling look at how they have long had to overcome adversity through their own ingenuity."
Read the rest of our review here.
---
The podcast to listen to
"Brought to you from the brilliant minds of the satirical website Reductress, this new podcast promises to take listeners through the week's 'most topical stories, messiest sex trends, and finest subscription boxes' while being 'short, sweet, hot, and to the point.' It delivers. Clocking in at around 20 minutes, it really is 'all the news you need to know in the time it takes to get from the hair salon to the pube salon,' and it's as endlessly quotable as any Reductress headline. Each episode is hosted by a rotation of Reductress staffers as they share the site's most popular headlines and invite comedians to drop in and read the best articles."
Read about the rest of the week's best podcasts here.
---
The movie to watch
"[Ashley] McKenzie shoots both actors tightly, often showing only part of their faces, or cutting off their heads with the top of the frame; even when they're just relaxing together, completely alone, the visual focus is apt to be on hands, feet, shoulders, thighs. It's a risky strategy, especially for a movie with admirably little interest in exposition or backstory (not to mention a willingness to disappoint horror fans with its strictly metaphorical title). But this formal claustrophobia sets Werewolf apart from the surfeit of other no-budget indies about recovering drug addicts."
Read the rest of our review here.