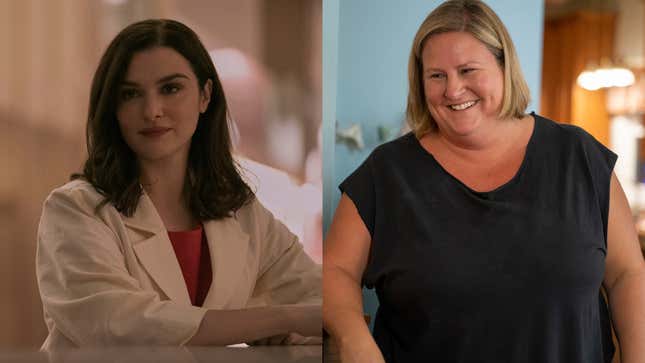 Welcome to the weekend edition of What's On. Here are the big things happening on TV from Friday, April 21, to Sunday, April 23. All times are Eastern. [Note: The weekly What's On will publish on Sundays.]

Keanu wonders if "John Wick" has gone too far
---
1. We're blessed with a double dose of Rachel Weisz in Dead Ringers
Prime Video, Friday, 12:01 a.m.: Inspired by David Cronenberg's 1988 film of the same name, Dead Ringers is a gender-flipped psychological thriller led by Rachel Weisz. She plays twin gynecologists Elliot and Beverly Mantle, who are on a mission to change how women give birth. Expect sex, drugs, and illegal medical research in this dark drama. Here's an excerpt from The A.V. Club's review:
The best way to enjoy Dead Ringers is to put the film out of mind. Cronenberg's flesh melancholy is there, filtered through multiple female perspectives and doled out (a bit leisurely) in six hours of elegant yet stomach-clenching narrative.
---
2. HBO adds to its ace Sunday lineup with Somebody Somewhere
HBO, Sunday, 10:30 p.m.: If Succession and Barry bring up your pulse rate on Sunday nights, an excellent way to balance that is to tune into the heartfelt comedy Somebody Somewhere, which returns for season two. Bridget Everett plays Sam, who returns to her hometown in Kansas after her sister's death. While she struggles to fit in, Sam finds an unexpected best friend, Joel (Jeff Hiller). The A.V. Club will recap the show weekly, and be sure to check out our interview with Everett and Hiller.
---
3. Chris Evans and Ana de Armas join forces again in Ghosted
Apple TV+, Friday, 12:01 a.m.: Knives Out stars Chris Evans and Ana de Armas reunite for Ghosted (and based on the trailer and clips released, they definitely shot the entire movie from that same location). Directed by Dexter Fletcher, the romantic action comedy follows Cole, who falls in love with a secret agent, Sadie, as the two are swept away on an international adventure. The cast includes Adrien Brody, Amy Sedaris, and Tim Blake Nelson.
---
4. Drops Of God promises international intrigue in the world of wine tasting
Apple TV+, Friday, 12:01 a.m.: Loosely based on a comic book, Drops Of God is a high-stakes international thriller that follows Camille (Fleur Geffrier), who lives in Paris and learns her recently deceased father has left her his extraordinary wine collection—the greatest in the world, according to experts—in Japan. However, to claim her inheritance, Camille has to battle it out with her dad's spiritual son, Issei Tomine (Tomohisa Yamashita).
---
5. David Attenborough's soothing voice narrates Wild Isles
Prime Video, Friday, 12:01 a.m.: Just in time for Earth Day, Prime Video drops the five-part series Wild Isles. It centers on the diverse animal inhabitants of the British Isles, revealing behaviors never before seen onscreen. The three-years-in-the-making project is narrated by Sir David Attenborough in what Variety says might be his last gig.
---
6. Sima Taparia returns in Indian Matchmaking's third season
Netflix, Friday, 3:01 a.m.: Indian Matchmaking is back for more ridiculous, mindless fun in its third season. Sima "I'm from Mumbai" Taparia matches more couples in the U.S., U.K., and India, each of which will probably have insane demands that she'll tell them calmly to curb. (Relationships, am I right?)