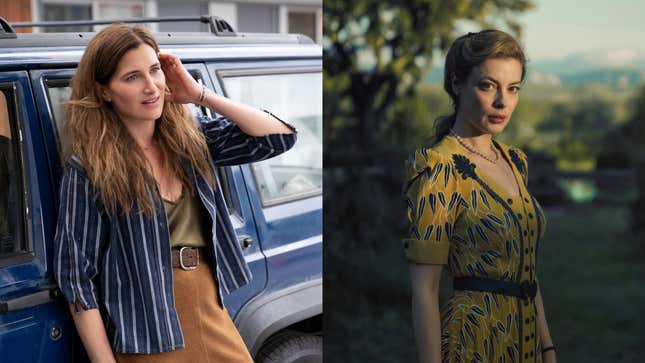 Welcome to the weekend edition of What's On. Here are the big things happening on TV from Friday, April 7, to Sunday, April 9. All times are Eastern. [Note: The weekly What's On will publish on Sundays.]

---
1. Kathryn Hahn will make you cry in Tiny Beautiful Things
Hulu, Friday, 12:01 a.m.: Based on Cheryl Strayed's book of the same name, Tiny Beautiful Things did not come to play. The tearjerking drama stars Kathryn Hahn as Clare, who takes up the mantle of advice columnist "Dear Sugar" and ends up being a salve to her readers while dealing with her own complex emotional problems. The cast includes Michaela Watkins, Sarah Pidgeon, Merritt Wever, and Quentin Plair. All eight episodes premiere on April 7. Here's a bit from The A.V. Club's review:
It's a devastatingly hopeful show. And just like the book, it reminds us that no matter how far we get away from who we intended to be, there's always the chance to try again.
---
2. Get ready for the period dramedy Transatlantic
Netflix, Friday, 3:01 a.m.: Gillian Jacobs, Corey Stoll, and Cory Michael Smith team up for the seven-episode miniseries Transatlantic. Created by Anna Winger, the 1940s-set show follows journalist Varian Fry, who arrives in France and creates the Emergency Rescue Committee to help artists and writers flee the Nazis. He finds a partner in an American heiress, but their efforts might be squashed by a man who sees the refugees as a threat. Look out for The A.V. Club's review this week.
---
3. James Marsden signs up for Jury Duty
Amazon Freevee, Friday, 12:01 a.m.: The universe has once again delivered James Marsden in a TV comedy, and that's reason enough to celebrate. After Dead To Me and a brief cameo in Party Down, Marsden stars in Jury Duty, a reality series that The A.V. Club has dubbed the first feel-good prank show. It chronicles the inner workings of an American jury trial through the eyes of one particular juror who has no clue that the entire case is fake, everyone except him is an actor, and everything that happens is planned.
---
4. The New York Times presents The Legacy Of J. Dilla
FX, Friday, 10 p.m.: The latest collaboration between FX and The New York Times follows the trajectory of rapper and producer James Dewitt Yancey, a.k.a. J Dilla, who left an indelible mark in the industry in his work with fellow 
artists like Erykah Badu, Busta Rhymes, A Tribe Called Quest, and D'Angelo. Directed by Christopher Frierson and Esther Dere, the film features exclusive footage that paints a portrait of his creativity, family, and legacy.
---
5. Molly Shannon returns to her roots on Saturday Night Live
NBC, 11:30 p.m.: The great Molly Shannon, who was on SNL from 1995 to 2001 and hosted in 2007, is back on the late-night show, promoting Netflix's A Good Person and the upcoming third season of HBO Max's The Other Two. She's joined by The Jonas Brothers, and The A.V. Club's recap publishes on Sunday.
---
6. Dennis Quaid leads a survival drama
Prime Video, Friday, 12:01 a.m.: Sean McNamara's On A Wing And A Prayer centers on pharmacist Doug White (Dennis Quaid), who gets stuck on a flight with his family after attending his brother's funeral. Ten minutes after their private plane takes off, the pilot dies of a heart attack, leaving Doug to coordinate with air traffic controllers who teach him how to fly it. Enjoy.