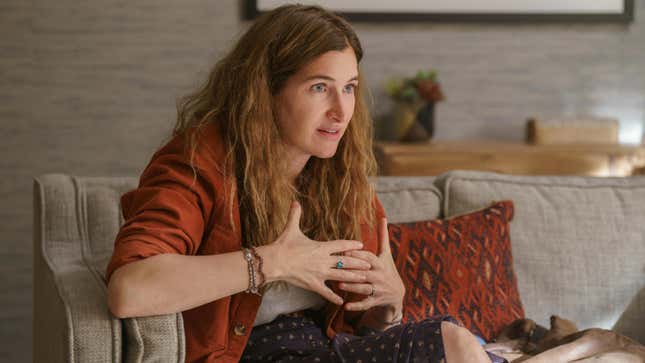 When a beloved book is adapted for television, we're always afraid the characters won't come to life the way we imagined or that it will be made bland and digestible for the folks who didn't get around to actually reading it. So when word got out that Tiny Beautiful Things by Cheryl Strayed was going to be turned into a show on Hulu, we gave a here-we-go-again shrug. How could this book, a collection of advice letters from the column "Dear Sugar," work on the small screen—and, more specifically, who would play Strayed? After a somewhat aimless premiere—the show kicks off on April 7—we're happy to report that the miniseries won us over, repeatedly reducing us to tears. (Just like with the book, you should absorb this while snuggling some boxes of tissues.)
We're also happy to report that the series isn't a reenactment of the letters that were written seeking advice or an exact replica of Cheryl Strayed's life. Instead, it's a confident blend of the original source material and a new fictionalized origin story of "Sugar" as an advice writer, all told over eight 30-minute dramas. It centers on Clare Pierce (Kathryn Hahn, fantastically messy) who has all but given up on her dreams of becoming an accomplished author until she gets the chance to try again.
So Clare isn't really Cheryl Strayed. She exists in an alternate (but very similar) plane of existence to the author, and her life looks … a lot different. There aren't just issues with Clare's lost dreams of being a writer, but also with the job she's settled for, her marriage, and her relationship with her daughter.

The new narrative created around Clare in Tiny Beautiful Things helps get around the whole "who did it better: the book or the show?" dilemma. It gives viewers a fresh take, so they're not constantly having to compare the two. What's more, it's a clever storytelling move considering that "Sugar" was an anonymous persona invented for the column. Clare doesn't have to be Strayed to fill that role, so long as she also resonates with viewers as a woman who has "been through it" and comes at the world fiercely with love. Of course, Clare is a little messier, a little less self-actualized. She isn't the writer who she dreamed she would be or the wife or mother. ("How did I get so far from the person I wanted to be?" Clare asks at one point.) She's a version of Sugar who is more like the letter writers seeking advice.
As we said, if the book Tiny Beautiful Things made you cry, then this show probably will too. Parts of the original "Dear Sugar" columns (slightly revised here) are read aloud during emotionally heightened moments of Clare's past and present, all backed by a sentimental piano score. Sometimes it can feel a bit saccharine (particularly early on, while the series establishes its rhythms) but more often than not, the scenes land.
Honoring the memoiry moments of the book, the show is full of stories from Strayed's life that will break your heart. Flashbacks to a younger Clare (Sarah Pidgeon) and her mother (played excellently by Merritt Weaver) are weaved throughout the show, informing the responses Clare writes as Sugar. This tracks with the real-life column, and it's done elegantly. Strayed didn't just give people advice as Sugar. She disclosed her own struggles, being just as vulnerable as the letter writers before delivering her signature move: bluntly calling things as they were, cussing, and speaking with radical empathy and love. (Of course, the show doesn't borrow all of the book's amazing zingers and sign-offs. Which is kind of a shame, as we think Hahn could have pulled off lines like, "Ask better questions, sweet pea. The fuck is your life. Answer it.")
For fans of the original, Tiny Beautiful Things is full of Easter egg-like nods, not only to the source material but also Strayed's essay "The Love Of My Life." Although her relationship with her mom is front and center, there are also references to her first marriage and the infidelity that broke it, as well as the essay on Gogol's "The Nose" that she was unable to write to graduate college. And in the end, it gives a pretty well-balanced taste of Strayed's strengths as a writer. It's a devastatingly hopeful show. And just like the book, it reminds us that no matter how far we get away from who we intended to be, there's always the chance to try again.
---
Tiny Beautiful Things premieres April 7 on Hulu