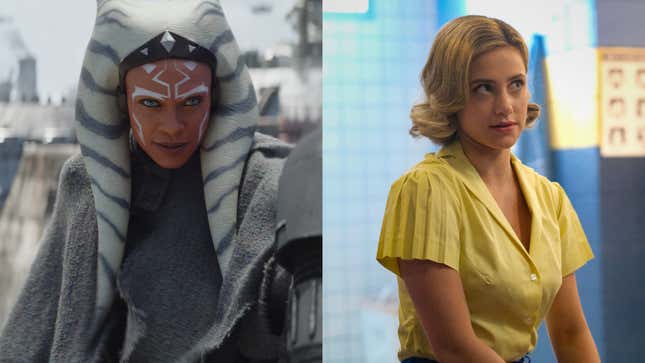 Welcome to What's On, our weekly picks of must-watch shows. Here's what you need to watch from Sunday, August 20 to Thursday, August 24. All times are Eastern. [Note: The weekend edition of What's On drops on Fridays.]

Mick Jagger says The Rolling Stones could give $500 million to charity
---
The biggies
Ahsoka (Disney+, Wednesday, 3:01 a.m.)
It's Rosario Dawson's time to shine in Star Wars land as Ahsoka finally premieres. Jon Favreau and Dave Filoni's show centers on Ahsoka Tano, who made her live-action debut in The Mandalorian's second season. She gets her own spin-off now in which she investigates an emerging threat to the galaxy following the fall of the Empire. Natasha Liu Bordizzo, Mary Elizabeth Winstead, Ray Stevenson, David Tennant, and Lars Mikkelsen co-star. The A.V. Club will recap the show weekly.
---
Riverdale (The CW, Wednesday, 9 p.m.)
Will television ever be as fun as it was during Riverdale's seven-season run? Say what you will about The CW's bizarre teen drama, but Riverdale always embraced the chaos and knew exactly how silly it was. For that and more, it will be missed because the show is finally ending. In the series finale, the gang is out of the '50s and back in the present day, with or without their memories restores. And in the future, an 86-year-old Betty (Lili Reinhart) wishes to relive her last day of senior year. Knowing Riverdale, which has survived a comet and multiple universes, anything can happen.
---
Hidden gems
The Winter King (MGM+, Sunday, 9 p.m.)
The British series The Winter King, based on Bernard Cornwell's novel The Warlord Chronicles, puts a brutal spin on Arthurian legend, finding the titular character (Iain De Caestecker) banished, Merlin (Nathaniel Martello-White) MIA, and Guinevere (Jordan Alexandra) scheming. Here's a bit from The A.V. Club's review:

Justifying its violence and doomy atmosphere through scenic location shots and root-worthy heroes, MGM+'s engrossing show presents Arthur as a moody savior in a fallen world.

---
BS High (HBO, Wednesday, 9 p.m.)
Co-directed by Travon Free and Martin Desmond Roe, BS High explores the cutthroat world of football prep programs by focusing on the nationally televised 2021 game between top-ranked IMG Academy and unknown Bishop Sycamore High School, a blowout match that had multiple injuries.
---
More good stuff
Untold: Swamp Kings (Netflix, Tuesday, 3:01 a.m.)
Speaking of sports docs, the fantastic docuseries Untold continues with Swamp Kings, which chronicles how legendarily ruthless football coach Urban Meyer turned the ragtag 2000s-era Florida Gators into a winning machine.
---
Who Is Erin Carter? (Netflix, Thursday, 3:01 a.m.)
The seven-episode thriller Who Is Erin Carter? follows an expat living in Spain (Evin Ahmad) who gets caught up in a supermarket robbery. The incident reveals that there's more to Erin than meets the eye, and the show slowly unravels the truth about her suspicious identity.
---
Can't miss recaps
Winning Time: The Rise Of The Lakers Dynasty (HBO, Sunday, 9 p.m.)
Only Murders In The Building (Hulu, Tuesday, 12:01 a.m.)
Reservation Dogs (FX on Hulu, Wednesday, 12:01 a.m.)
And Just Like That... (Max, Thursday, 3:01 a.m., season two finale)
What We Do In The Shadows (FX, Thursday, 10 p.m.)
---
Arriving now
Invasion (Apple TV+, Wednesday, 12:01 a.m., season two premiere)
---
Ending soon
The Bachelorette (ABC, Monday, 8 p.m., season 20 finale)
Nancy Drew (The CW, Wednesday, 8 p.m., series finale)
Grown-ish (Freeform, Wednesday, 10 p.m., season six summer finale)