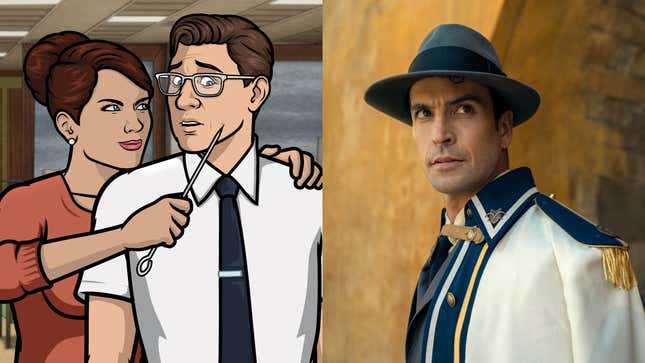 Welcome to What's On, our weekly picks of must-watch shows. Here's what you need to watch from Sunday, August 27 to Thursday, August 31. All times are Eastern. [Note: The weekend edition of What's On drops on Fridays.]

Only Murders in the Building gets a third season
---
The biggies
Archer (FXX, Wednesday, 10 p.m.)
It's almost the end of the road for Archer as the series starts its 14th and final season. Adam Reed's adult-animated gem about dysfunctional secret agents has been a bedrock of FX's comedy lineup since 2009, earning four Emmys along the way. H. Jon Benjamin, Judy Greer, Aisha Tyler, Lucky Yates, and Chris Parnell co-star. Look out for The A.V. Club's review of the season and other coverage of the show on the site this week.
---
One Piece (Netflix, Thursday, 3:01 a.m.)
It's a good time to be a fan of One Piece, the ongoing Japanese manga that debuted in 1997. Eiichiro Oda's creation finally gets a live-action adaptation, thanks to Netflix. The series follows the Straw Hat Pirates as they explore dangerous oceans and lands in search of the titular treasure. But they face competition from other crews and the Navy. The A.V. Club's review of the first season publishes next week.
---
Hidden gems
The Conversations Project (Hulu, Monday, 12:01 a.m.)
Inspired by Harlem Renaissance salons, The Conversations Project brings together Black guests from different professions (Michelin-star chefs, astronauts, entertainers, and the like) for half-hour episodes to discuss various topics over food and drink.
---
Spellbound (Hulu, Thursday, 12:01 a.m.)

Spellbound is a YA fantasy series about Cece Parker Jones (Hailey Roman), who moves from her small American town to France when she secures a spot at the Paris Opera Ballet School. But nothing is as it seems when she discovers a book of family spells in her Aunt Ginger's (Raven Dauda) apothecary.
---
More good stuff
Choose Love (Netflix, Thursday, 3:01 a.m.)
Netflix really wants you to participate in its interactive content. After trying it out with shows like Black Mirror and Unbreakable Kimmy Schmidt, the streaming platform taps into the rom-com genre, letting viewers decide who recording engineer Cami (Laura Marano) ends up with. Will it be her current boyfriend, the idealistic one who got away, or the British rock star she works with? We'll ... see. Avan Jogia, Scott Michael Foster, and Jordi Webber co-star as Cami's love interests.

---
Heart Of Invictus (Netflix, Wednesday, 3:01 a.m.)
Remember how Prince Harry and Meghan Markle struck a deal with Netflix? Well, Heart Of Invictus is a byproduct of that. Produced by Harry and Megan's Archewell Productions, the five-part docuseries follows six individuals on their healing journeys as they compete in the 2022 Invictus Games.
---
Can't miss recaps
Winning Time: The Rise Of The Lakers Dynasty (HBO, Sunday, 9 p.m.)
Only Murders In The Building (Hulu, Tuesday, 12:01 a.m.)
Reservation Dogs (FX on Hulu, Wednesday, 12:01 a.m.)
Star Wars: Ahsoka (Disney+, Wednesday, 3:01 a.m.)
What We Do In The Shadows (FX, Thursday, 10 p.m., season five finale)
---
Ending soon
Telemarketers (HBO, Sunday, 10 p.m., season one finale)
Stars On Mars (FOX, Monday, 8 p.m., season one finale)
Miracle Workers (TBS, Monday, 10 p.m., season four finale)
Justified: City Primeval (FX, Tuesday, 10 p.m., season one finale)