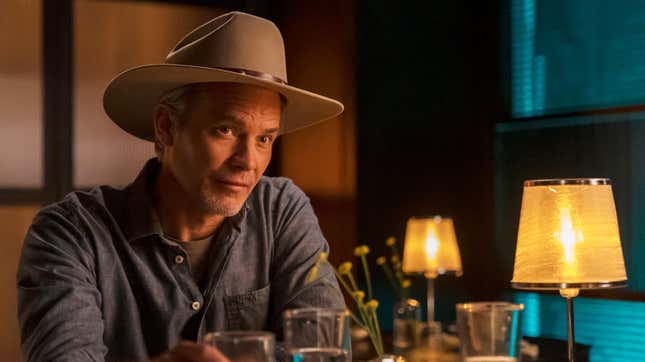 Timothy Olyphant is the kind of world-class actor who effortlessly slips into his character's skin. From a Scream 2 killer to a zombie's sweet, supportive husband in Santa Clarita Diet, he's carved out a career notable for its range. Yet nothing suits him better than cowboy hat-wearing U.S. Marshal Raylan Givens, the casually funny, remarkably dynamic role he essayed for six seasons on Justified, the FX drama that worked best when Raylan hunted criminals and sparred with frenemy Boyd Crowder (Walton Goggins). No other original cast members return for the gritty sequel, but Olyphant is enough to make Justified: City Primeval shine.
Justified didn't necessarily need to return after its 2015 ending, especially amid the current political climate and issues with policing. But City Primeval makes a strong case for its existence by subtly addressing those issues without making it the focus. The show's original formula that saw Raylan battling a different set of villains each season still lends itself well to a new round of episodes several years later. The approach this time is similar; the hero has evolved, but remains addicted to his job. Raylan is now a concerned father to a teenager, and a more harrowed Marshal because of it. He's also still a protective but charming lover with a new romantic partner. Olyphant, once again, delivers a terrific turn navigating Raylan's subdued yet firm worldview. He's joined by an exciting and capable ensemble, a slow-building suspenseful narrative, and excellent writing.
It takes less than two minutes into the premiere of City Primeval for Raylan and his daughter, Willa (played by Olyphant's real-life child, Vivian), to find trouble. The duo lives in Miami but gets caught up in Detroit when a case beckons. Raylan finds himself in the heat of a new mystery: catching notorious criminal Clement Mansel as both characters become embroiled in each other's lives. Clement is played to pitch perfection by Boyd Holbrook. The actor broke out as a moral DEA agent in Narcos, and has since effectively played antagonists in Logan and The Sandman. Here, he's a maniacal nuisance with a penchant for theatrics. It's tough to replace Justified's villains, mainly Boyd Crowder, but damn if Holbrook doesn't rank as one of the show's strongest. (Nothing compares to Margo Martindale, though, don't worry).
The entire reboot would've failed if Raylan didn't meet his match. And thankfully, Holbrook is up to the challenge. Like any reliable Western crime drama, Raylan and Clement's classic, gradually paced, good vs. bad guy face-off keeps up City Primeval's momentum even amid a few meandering subplots. Holbrook's intimidating attitude pays off tremendously, not only opposite a calmer Raylan but also alongside girlfriend Sandy (Adelaide Clemens), lawyer Carolyn (Aunjanue Ellis, an MVP), and friend Sweety (Vondie Curtis Hall)—three equally magnetic performers.
It's still the Justified universe, so there are other outlaws involved, including an Albanian mob, but they add little tension to the game. Another slight drawback is a lack of backstory for Clement, making his motivations sometimes feel half-baked. He often appears as evil for the sake of it, especially compared to the wealth of information available on Raylan's past. Speaking of, Justified isn't a must-watch before City Primeval (although it is highly recommended). Viewers who are new to the franchise will be just as riveted, but Olyphant's natural performance makes Raylan feel more lived-in either way.
Along with attempting to hunt Clement down, Raylan also finds himself a fascinating new partner. Olyphant flexing his rom-com side remains a sight to behold. It adds a softer edge to Raylan's personality and rounds out his reasons to capture his enemy. Clement, meanwhile, seems like he just wants to fight almost everyone he knows, but Holbrook keeps him interesting anyway. Raylan's daughter initially appears to be an unnecessary distraction and an Annoying Teen Trope—a common problem for TV dramas from Homeland to 24—but her storyline paves the way for a deeper arc about Raylan's priorities. And that's where City Primeval's success truly lies.
The show is an overall engrossing endeavor; an eight-episode season that stands on its own, with obvious potential to continue further—fingers crossed. There's enough to keep audiences old and new on tenterhooks. But City Primeval is primarily a triumph because of its flawless return to a beloved TV character. It doesn't miss a beat with Raylan—he's still the kind of Marshal who cunningly arrests someone but makes sure they're fed on the way to the station. Yet, the script and performance seamlessly depict his off-screen growth over time. When it comes to revivals, City Primeval is the exception, not the rule.
Justified: City Primeval premieres on FX on July 18