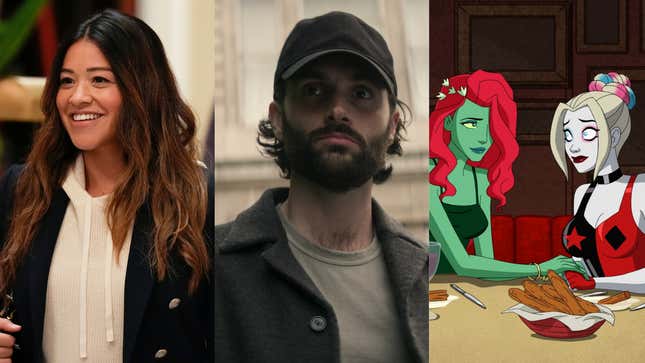 Welcome to What's On, our weekly picks of must-watch shows. Here's what you need to watch from Sunday, February 5, to Thursday, February 9. All times are Eastern. [Note: The weekend edition of What's On drops on Fridays.]

---
The biggies
Not Dead Yet (ABC, Wednesday, 8:30 p.m.)
Jane Villanueva who? Former Jane The Virgin star Gina Rodriguez returns to network TV to lead the new ABC comedy Not Dead Yet. Rodriguez plays journalist Nell Stevens, who returns from London after a failed relationship and gets assigned to a newspaper's obit beat. Of course, Nell starts "seeing" the dead people she writes about, and they give her advice about how to move on. The cast includes Hannah Simone, Lauren Ash, Lauren Gibbs, Rick Glassman, and Jay Banday. Expect a lot of celebrity cameos as the "ghosts" Nell chats up. The A.V. Club's review will be on the site on Monday.
---
You (Netflix, Thursday, 3:01 a.m.)
You are not ready for You's fourth season. Joe Goldberg is all set to stalk his next victim with the help of his trusty blue cap. This time, he's living in London as a professor and entangles himself with the elite college community. He's still on the hunt for Marienne (Tati Gabrielle), who ran away in the season three-finale after learning that Joe isn't as nice as he seems. The incoming cast includes Lukas Gage, Ed Speleers, Charlotte Ritchie, Tillie Keeper, and Amy Leigh Hickman. Netflix has annoyingly split season four into two parts, so the second batch of episodes will arrive in March. Look out for The A.V. Club's review of the first set this week.
G/O Media may get a commission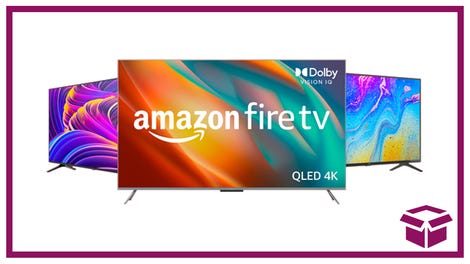 Ooh. stunning.
New Amazon Fire TVs
---
Harley Quinn: A Very Problematic Valentine's Day (HBO Max, Thursday, 3:01 a.m.)
No one deserves a Valentine's Day special as much as Harley Quinn's beloved titular character (Kaley Cuoco) and Poison Ivy (Lake Bell). (In this house, we support their chaotic criminal activities.) This holiday special follows Harley obsessing over celebrating the couple's first Valentine's Day. Meanwhile, Bane (James Adomian) tries and fails to impress a date, and Clayface (Alan Tudyk) engages in some self-love.
---
Hidden gems
Murder In Big Horn (Showtime, Sunday, 10 p.m.)
Directed by Razelle Benally and Matthew Galkin, this three-part docuseries examines the circumstances surrounding multiple missing and killed Native American women in Montana. The cases are told through the perspectives of those involved, including families, Native journalists, and local law enforcement officers. Here's a bit from The A.V. Club's review:
If the show's seismic revelations and recent precedent are any indication, maybe this could all result in a rare conviction. But in any event, Murder In Big Horn provides education on and promotes awareness of a pressing issue facing Native American women, and that feat alone makes it something of a must-watch.
---
All That Breathes (HBO, Tuesday, 9 p.m.)
Here's your chance to catch the Oscar-nominated documentary All That Breathes. Directed by Shaunak Sen, it follows two brothers who run a bird hospital dedicated to black kites, a staple in the skies of New Delhi, India. The doc examines environmental toxicity and how the neglected kites impact the city's collapsing ecology and deepening social fault lines.
---
Stolen Youth: Inside The Cult At Sarah Lawrence (Hulu, Thursday, 12:01 a.m.)
Zach Heinzerling's Stolen Youth: Inside The Cult At Sarah Lawrence attempts to chronicle Larry Ray's misdeeds and a cult's origins at the college. It will feature striking first-hand interviews with his victims and incorporate personal audio tapes and video recordings to tell the story of his grim decade-long influence over a group of young people at the elite school.
---
More good stuff
The Grammy Awards (CBS, Sunday, 8 p.m.)
Trevor Noah returns to host the 65th annual Grammy Awards, from Los Angeles with performers like Harry Styles, Lizzo, Bad Bunny, Brandi Carlile, Steve Lacy, and Sam Smith with Kim Petras. The artists battling for album of the year include some of those folks above, plus Adele, Beyoncé, Mary J Blige, ABBA, and others. The A.V. Club will report throughout the show and you can check out our takes on who will and should win.

---
Murf The Surf (MGM+, Sunday, 10 p.m.)
R.J. Cutler's Murf The Surf is a four-episode docuseries that looks at the tumultuous life of Jack Roland Murphy, better known as, yes, Murf the Surf, the jewel thief who was propelled into infamy after spearheading a heist at the Museum of Natural History. His meteoric rise included murder, deception, mob wars, prison riots, Cuban smuggling, Russian gulags, and acid trips.
---
My Dad The Bounty Hunter (Netflix, Thursday, 3:01 a.m.)
Netflix's animated My Dad The Bounty Hunter stars Priah Ferguson, Russell Hornsby, Yvonne Orji, Yvette Nicole Brown, Rob Riggle, and Jim Rash. It chronicles two children who accidentally hitch a ride into space and discover their farther is a tough bounty hunter. Check out The A.V. Club's review of the show later this week.
---
Can't miss recaps
Saturday Night Live (NBC, Saturday, 11:30 p.m.)
The Last Of Us (HBO, Sunday, 9 p.m.)
The Bachelor (ABC, Monday, 8 p.m., season 27 premiere)
Poker Face (Peacock, Thursday, 3:01 a.m.)
Shrinking (Apple TV+, Friday, 12:01 a.m.)
RuPaul's Drag Race (VH1, Friday, 8 p.m.)
---
Arriving now
The Real Housewives Of New Jersey (Bravo, Tuesday, 9 p.m., season 13 premiere)
The Flash (The CW, Wednesday, 8 p.m., season nine premiere)
Kung Fu (The CW, Wednesday, 9 p.m., season three winter premiere)
Vanderpump Rules (Brave, Wednesday, 9 p.m., season 10 premiere)
A Million Little Things (ABC, Wednesday, 10 p.m., season five premiere)
South Park (Comedy Central, Wednesday, 10 p.m., season 26 premiere)
---
Ending soon
National Treasure: Edge Of History (Disney+, Wednesday, 3:01 a.m., season one finale)
The 1619 Project (Hulu, Thursday, 12:01 a.m., season one finale)
Criminal Minds: Evolution (Paramount+, Thursday, 3:01 a.m., season one finale)
The Game (Paramount+, Thursday, 3:01 a.m., season two finale)
Velma (HBO Max, Thursday, 3:01 a.m., season one finale)