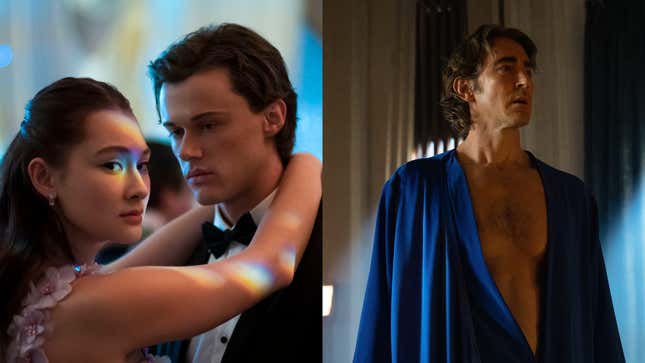 Welcome to the weekend edition of What's On. Here are the big things happening on TV from Friday, July 14, to Sunday, July 16. All times are Eastern. [Note: The weekly What's On will publish on Sundays.]

---
1. The vibes are good because The Summer I Turned Pretty is back
Prime Video, Friday, 12:01 a.m.: Nothing screams summer like a beachy, frothy teen TV show. Enter season two of The Summer I Turned Pretty. Based on her novels, Jenny Han's delightful drama returns for more love triangles, 'shipping wars, and Taylor Swift needle drops. The show follows Belly (Lola Tung), who's caught up in her feelings for her closest friends, brothers Conrad (Christopher Briney) and Jeremiah (Gavin Casalegno). Look for The A.V. Club's review and additional coverage on the site this week.
---
2. An often shirtless Lee Pace returns in Foundation
Apple TV+, Friday, 12:01 a.m.: What's a sci-fi drama without a nude action scene? Foundation wouldn't know. The Apple TV+ drama returns for season two by featuring Lee Pace in all his glory. Loosely based on Isaac Asimov's novel, the series spans 1,000 years and follows a band of exiles who want to save their Galactic Empire from destruction. Jared Harris, Lou Llobell, Laura Birn, and Terrence Mann co-star.
---
3. Bird Box heads to Barcelona in a movie spin-off
Netflix, Friday, 3:01 a.m.: Remember Bird Box, the Sandra Bullock-led post-apocalyptic drama that had everyone in a chokehold in 2018? Well, a good four years later, Netflix is expanding the franchise with a Spain-set sequel. The film follows father-daughter duo Sebastian and Ana and their crew as they try to survive a future where alien entities roam the planet.
---
4. Bid goodbye to John Krasinski's take on Jack Ryan
Prime Video, Friday, 12:01 a.m.: First Jim Halpert, now Jack Ryan. John Krasinski is saying adieu to another long(ish)-running TV character as he wraps up Jack Ryan. The spy drama will conclude its fourth and final season with the titular hero now battling government corruption in the U.S. after fighting international enemies.
---
5. Netflix drops another cooking show with Five Star Chef
Netflix, Friday, 3:01 a.m.: Your new Netflix binge is probably going to be this U.K. cooking competition. Five Star Chef sees up-and-coming chefs facing a series of challenges in an effort to impress resident chef Michel Roux Jr., pastry expert Ravneet Gill, and hospitality consultant and restaurateur Mike Reid. Their tests will include lavish banquets, late-night room service, and everything in between as the contestants see if they can survive the elite world of fine dining.
---
6. Tune into an Imagine Dragons concert
Hulu, Friday, 12:01 a.m.: Hulu and Disney's latest concert experience comes by the way of Imagine Dragons. In their docuseries, the band members trace their origins in exclusive interviews, and audiences will get a glimpse into their lives on the road during their latest tour. Whatever your feelings on Imagine Dragons, don't forget they recently secured a win by entertaining striking writers in their fight for a fair contract.