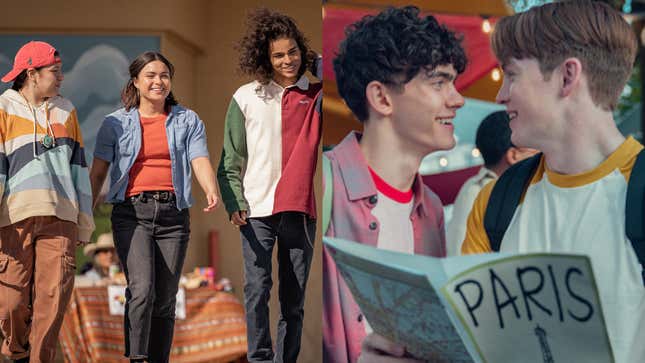 Welcome to What's On, our weekly picks of must-watch shows. Here's what you need to watch from Sunday, July 30 to Thursday, August 3. All times are Eastern. [Note: The weekend edition of What's On drops on Fridays.]

Mick Jagger says The Rolling Stones could give $500 million to charity
---
The biggies
Reservation Dogs (FX on Hulu, Wednesday, 12:01 a.m.)
The TV gods giveth (Reservation Dogs is back!) and they taketh away (it's the final season, sadly). FX's sublime comedy finds Elora (Devery Jacobs), Willie Jack (Paulina Alexis), Bear (D'Pharaoh Woon-A-Tai), and Cheese (Lane Factor) finally in California after the season-two finale. But their mission now is to get back to their Oklahoma community. Sarah Podemski, Dallas Goldtooth, Zahn McClarnon, and Jana Schmieding also star. The A.V. Club will recap the show weekly.
---
Heartstopper (Netflix, Thursday, 3:01 a.m.)

Could you use a strong dose of the feels? Heartstopper, Netflix's sweet British teen rom-com, is back for a second season with 10 new episodes that delve into the love story of Nick (Kit Connor) and Charlie (Joe Locke) now that everyone knows about their relationship. Look out for The A.V. Club's review on Thursday.
---
Hidden gems
Dark Winds (AMC, Sunday, 9 p.m.)
If you missed out on Dark Winds last year, catch up just in time for the six-episode second season. Loosely based on Tony Hillerman's Leaphorn & Chee novels, the gritty crime drama follows Navajo Nation police officer Joe Leaphorn (Zahn McClarnon) who, in season two, investigates a murder related to a mysterious cult. Kiowa Gordon, Jessica Matten, Elva Guerra, and Deanna Allison co-star.
---
Breeders (FX, Monday, 10 p.m.)

Reservation Dogs isn't the only FX comedy gearing up for its final season. Breeders, a joint collab between the U.K.'s Sky One and the American network, also wraps up with its fourth run. The scathing show centers on parents Paul (Martin Freeman) and Ally (Daisy Haggard), who struggle with their two kids. The new episodes continue the series' time-jump tradition, with the couple on the verge of splitting up while dealing with unexpected news about their son, Luke (now played by Oscar Kennedy). (Zoë Athena takes over the role of their daughter, Ava.) The A.V. Club's review of the final season publishes Monday.
---
Mixtape (Paramount+, Tuesday, 3:01 a.m.)
To mark hip-hop's 50th anniversary, Paramount+ drops Mixtape, which explores the importance of, yes, mixtapes on the genre. Directed by Omar Acosta, it features interviews with artists like 2 Chainz, A$AP Rocky, DJ Khaled, Mark Ronson, DJ Bobbito, Doo Wop, Fat Joe, Shaq, DJ Jazzy Joyce, and DJ Kay Slay.
---
More good stuff
WWE American Nightmare: Becoming Cody Rhodes (Peacock, Monday, 3:01 a.m.)
Matt Braine helms WWE American Nightmare, a documentary charting the rise of Dusty Rhodes' son, Cody. It goes behind the scenes to explore his 15-year career and includes never-seen-before footage of his journey, with Arrow's Stephen Amell, Rhodes' longtime friend, narrating.
---
Run The Burbs (The CW, Monday, 9 p.m.)
Kim's Convenience's Andrew Phung stars in The CW's Run The Burbs, a Canadian sitcom that's now getting its U.S. debut. The show follows a Vietnamese-South Asian family's unique approach to living life to the fullest in the suburbs.
---
Can't miss recaps
The Righteous Gemstones (HBO, Sunday, 10 p.m., season three finale)
And Just Like That... (Max, Thursday, 3:01 a.m.)
What We Do In The Shadows (FX, Thursday, 10 p.m.)
---
Arriving now
Bump (The CW, Monday, 10 p.m., season two premiere)
Physical (Apple TV+, Wednesday, 12:01 a.m., season three premiere)
---
Ending soon
Joe Pickett (Paramount+, Sunday, 3:01 a.m., season two finale)
Last Call: When A Serial Killer Stalked Queer New York (HBO, Sunday, 9 p.m., season one finale)
Goliath (Showtime, Sunday, 10 p.m., season one finale)
Cruel Summer (Freeform, Monday, 10 p.m., season two finale)
Hijack (Apple TV+, Wednesday, 12:01 a.m., season one finale)
The Lincoln Lawyer (Netflix, Thursday, 3:01 a.m., season two, part two)