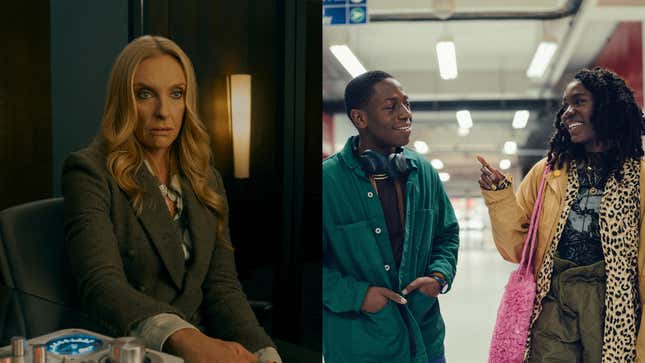 Welcome to the weekend edition of What's On. Here are the big things happening on TV from Friday, March 31, to Sunday, April 2. All times are Eastern. [Note: The weekly What's On will publish on Sundays.]

Never Have I Ever's Poorna Jagannathan and Richa Moorjani on working with Mindy Kaling
---
1. The Power lies with women in a new sci-fi drama
Prime Video, Friday, 12:01 a.m.: Based on Naomi Alderman's 2016 novel of the same name, The Power drills down on quite a sci-fi- concept: Teenage girls suddenly develop the ability to electrocute people at will. It's hereditary, and the jolt on their fingertips turns power dynamics upside down, especially once it's awakened in older women too. Toni Collette and John Leguizamo lead the impressive cast, which also includes Auli'i Cravalho, Toheeb Jimoh, Ria Zmitrowicz, Josh Charles, Rob Delaney, and Daniela Vega. Here's a bit from The A.V. Club's review (and be on the lookout for our video interviews with the cast):

It's compelling to envision a world in which tables are suddenly turned on awful men who would, and do, harm women: no car keys gripped tight, no fear of nighttime walks, just a built-in taser at the ready whenever the situation calls for a little jolt. But it's not necessarily that simple, and that's what makes this show most rewarding to watch. 

---
2. British rom-com Rye Lane hits Hulu
Hulu, Friday, 12:01 a.m.: After premiering at Sundance to rave reviews, Rye Lane makes its streaming debut. Set in South London, the film follows Yas (Vivian Oparah) and Dom (David Jonsson), who immediately bond over their shared connections and heartbreaks after a meet-cute in a gender-neutral toilet. Over time, they bond as they bring each other out of their comfort zones.

---
3. Apple TV+ builds the real story of Tetris
Apple TV+, Friday, 12:01 a.m.: If you think Super Mario is the only game getting a movie adaptation this year, think again. Jon S. Baird's drama Tetris stars Taron Egerton as Henk Rogers, who was involved in the high-stakes legal battle to secure the intellectual property rights to the titular phenom. Toby Jones, Nikita Yefremov, Anthony Boyle, and Roger Allam co-star.
---
4. Netflix double dips on silly with Murder Mystery 2
Netflix, Friday, 3:01 a.m.: Of course, Netflix made a ridiculous, star-studded movie led by Jennifer Aniston and Adam Sandler and then thought, let's give it a sequel. So, folks, Murder Mystery 2 is here. The crime caper follows couple Audrey and Nick Spitz, who are now trying to set up their private-detective agency. They travel to their friend Maharajah's (Adeel Akhtar) wedding but become prime suspects when he's kidnapped. The ensemble includes Jodie Turner-Smith, Mark Strong, Mélanie Laurent, Annie Mumolo, Tony Goldwyn, and Wilmer Valderrama.
---
5. Quinta Brunson hosts Saturday Night Live
NBC, 11:30 p.m.: Abbott Elementary's Quinta Brunson is moving from ABC to NBC for one night. The actor, writer, and producer takes her skills to SNL as a first-time host for the first episode after the show's editorial team reached a deal to avoid striking. (Hell yeah!) Musical guest Lil Yachty will join her, and The A.V. Club's recap of the episode goes up Sunday morning.
---
6. It's time to bid adieu to Party Down (again)
Starz, Friday, 9 p.m.: As Party Down's third season winds down, let's hope it's not a permanent goodbye. The Starz comedy, which became a cult phenomenon over the years, returned after 13 years for an all-too-brief six episodes. Our favorite hopeless caterers are still struggling to make it big in Hollywood and deal with the consequences of fame. Be sure to dig into The A.V. Club's finale recap on Friday.