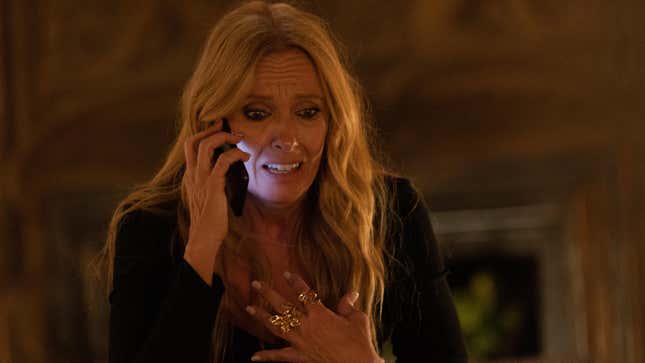 Kristin Balbano Jordan's life sucks, and the men in her life suck even worse. Her useless husband—with whom she's not had sex in three long years—cheats on her. Her self-sufficient son is heading off to college. And at her pharmaceutical marketing/advertising job, Kristin's male boss and male co-workers utterly ignore or dismiss every suggestion she makes. Kristin—a self-doubting but sunny woman who always puts the needs of others above her own—is at her wit's end when fate intervenes.
Why Christian Bale just can't quit David O. Rusell
Her estranged grandfather, Giuseppe Balbano, has died and she must fly to Italy immediately to run the family business. Thinking of it as nothing more than a vacation escape, during which she'll indulge in nothing but wine, sex, pasta, and delicious desserts, Kristin hops on a plane. Her mantra for the trip? "Eat. Pray. Fuck." Little does she realize that the family business involves far more than a vineyard and winery. Giuseppe was Don Balbano, which makes Kristin … the old man's handpicked Dona Balbano.

From the moment Kristin touches down in Italy, people want her dead. This includes Giuseppe's enemies and possibly some Balbano family members, too. And at first, we're not quite sure about the motivations of Giuseppe's formidable consiglieri, Bianca, who seems to take a bemused liking to the befuddled newcomer. Soon enough, Kristin finds her groove, as she comes to terms with the family's enemies, transforms the winery (a front for the family's real business) into something special, does some genuine good for people, unleashes her libido on a hunky pasta maker, and kills just enough people—accidentally, of course—to earn the respect and fear of everyone around her, including her Central Casting mafia bodyguards (Francesco Mastroianni and Alfonso Perugini).
If it all sounds silly, it is. But it works, far, far better than it should, for one main reason. Well, two, actually. The mighty Toni Collette (who also co-produced the movie) stars as Kristin, and she delivers a funny, touching, and effervescent performance that sweeps you along in its wake. Monica Bellucci plays Bianca oh-so-drolly and bounces beautifully off of Collette. Director Catherine Hardwicke (Twilight, Thirteen) wisely keeps her camera trained on Collette, Bellucci, and some great Italian vistas, and leans into Michael J. Feldman and Debbie Jhoon's at-times surprisingly dark script. Kristin's kills are ultra-violent, and Hardwicke doesn't cut away, which both helps sell the fear factor among her enemies and underlings and serves to amplify the jokes, notably, "Bits of his scrotum were in his eye socket."
Of course, we also get the requisite fish-out-of-water quips, sexual innuendos, grape-picking and stomping scenes, dull-to-glam makeover sequences, and multiple Godfather references. Try not to laugh when Kristin asks, "Is that a cannoli in your pocket?" or when Kristin tries on a spinsterish outfit, prompting someone to remark, "You look like a librarian from a library… and not a porno." And, speaking of requisites, let's not forget the loyal best friend back home—in this case, Jenny (a winsome Sophia Nomvete)—whom you just know will turn up later, when it really counts.

Mafia Mamma will not be remembered at Oscars time. Hell, you'll mostly forget about it by the time you get back to your car. It should have been better, with more dimensionality for several supporting characters (particularly Bianca) and more (and sharper) jokes, as well as fewer clichés, stereotypes, and predictable scenes. And, not one single moment of it even remotely resembles reality. Still, it's stupid-silly and breezy fun, with a welcome feminist spin, and a committed, top-tier performance from Collette. All hail the Godmother.

---
Mafia Mamma opens in theaters Friday, April 14