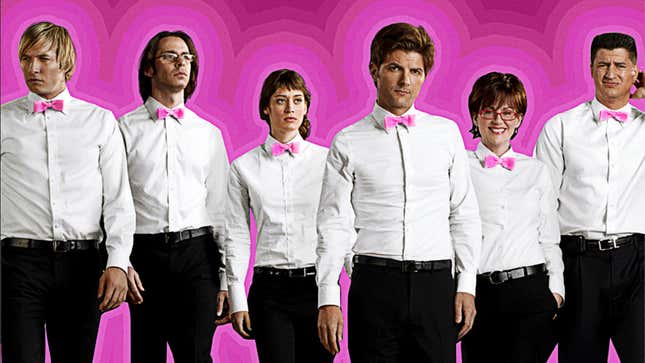 Starz's Party Down—a scathing comedy about Hollywood wannabes working as caterers—was woefully underappreciated when it aired in 2009 and 2010. It ironically suffered a fate similar to its protagonists, who wanted to make a splash in the industry with their craft. As hard as the show's cast and crew tried, the audience wasn't having fun yet (to borrow a phrase used to great comedic effect on the show). Despite biting humor and critical acclaim, the two-season run ended with a pitiful 74,000 live viewers. (For context: That number matches the capacity of some of Los Angeles' biggest venues. A series finale watch party could've been held at SoFi Stadium.)

The tables have fortunately turned 13 years later. Party Down's surprising six-episode return, which kicks off February 24, has become an anticipated TV event. On the surface, it might not seem like an ideal show for a comeback, even though rumblings of a potential movie arose back in 2012. Reboots, revivals, sequels, and spin-offs are usually devoted to recapturing the glory days of old hits, as seen in Fuller House, Gilmore Girls: A Day In The Life, The Conners, That '90s Show, and Night Court, to name a few. So does it make sense to bring back a show that wasn't a viewer favorite, aired on a lesser-known cable network, and delivered just 20 episodes before getting canceled? Hell yeah, it does.
Party Down has become a sleeper success and it deserves a revamp now that a bigger audience is on board (hopefully way over SoFi Stadium's limit). And luckily in the upcoming third season, co-creators John Enbom, Rob Thomas, Dan Etheridge, and Paul Rudd retain the show's acerbic energy while updating it to reflect how Hollywood has changed in the past decade (but our heroes necessarily haven't). To that end, it's important to understand how Party Down evolved into a sly crowd-puller to merit this revival in the first place.
The streaming era led to a Party Down resurgence
Simply put, the show gained popularity after Hulu began streaming it in 2014, with Party Down eventually gaining a "cult classic" status (more on that in a minute). An emerging passionate fanbase, including yours truly, has mourned the Starz series' flitting lifespan ever since. Who knows, if it had launched a bit later as streaming platforms took off, it might've gained more eyeballs and survived longer, akin to Netflix's Unbreakable Kimmy Schmidt or Prime Video's Transparent.
However, the rise of peak TV and streaming wars has already switched things up again. It's tougher to reboot a short-lived cult show and capture the specificity that audiences fell in love with in a binge-watching vacuum. The results can be downright disappointing (Netflix's Arrested Development reboot) or controversial (Showtime's Twin Peaks revival, nonsense that I personally really enjoyed). Thankfully, Party Down doesn't face that issue. Season three keeps its old-school spirit intact.
G/O Media may get a commission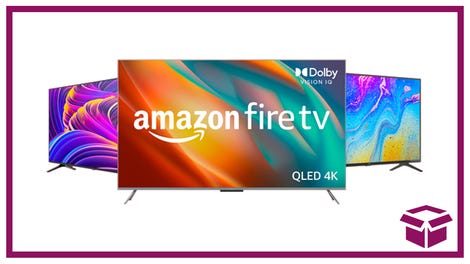 Ooh. stunning.
New Amazon Fire TVs
The vibes that make Party Down a cult fave
The show accurately and hilariously captured the peculiar banality of trying to make it in showbiz. It's easy to correlate that experience to any creative field, giving Party Down a slightly broader appeal. And it provided a satirical but sharp analysis of the gig economy, a timely issue after a nationwide recession in 2008. Unfortunately, none of the deadpan wit managed to generate mainstream appeal on a platform like Starz, which hadn't found a content sweet spot yet.
Instead, Party Down's floundering characters discovered a niche fandom over time that could resonate with their defeatist attitude. Let me explain. As the show begins, Henry Pollard (Adam Scott) gives up on his acting goals after multiple rejections. Comedian Casey Klein (Lizzy Caplan) continually struggles for her big break. No one's interested in Roman DeBeers' (Martin Starr) sci-fi screenwriting. Kyle Bradway (Ryan Hansen) is an overconfident musician and aspiring star. Constance Carmell (Jane Lynch) starts off as an ex-actor. Lydia Dunfree (Megan Mullally) wishes for fame for her teen daughter. Even Ronald "Ron" Donald's (Ken Marino)'s entrepreneurial venture keeps failing.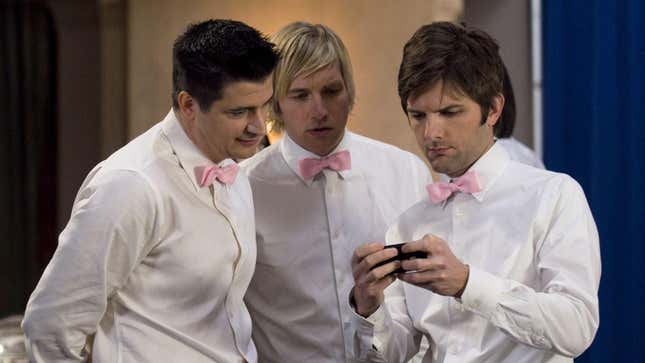 Amid the chaos and catering all kinds of parties—an orgy, a funeral, a high-school reunion, a suburban-mom meetup—Henry and Casey ignite a crackling romantic arc. Kyle and Constance form a weird mentor-mentee bond. Roman becomes less of a dick to his colleagues. Ron breaks his sobriety but finds his place again. None of this evolution is laugh-out-loud funny, but it's sardonic and relatable. While Party Down didn't find that wide viewership, it's a time capsule that remains relevant. Aspiring actors, writers, and comedians may have more avenues today (thanks to social media), but the struggle endures.
The original felt like a real workplace with more of a droll dynamic than the breakout sitcoms of the time, like Ugly Betty, The Office, and yes, even Parks And Recreation. Thankfully, season three moves from its 2009-2010 era to 2023 without losing the dry humor, industry analysis, or character study that made it special.
Party Down primarily boasts an enviable ensemble
One of the main reasons Party Down's third season works is its returning stars don't miss a beat. Fervent demand was enough to bring Scott, Marino, Lynch, Starr, Hansen, and Mullally back into the fold. (Caplan is MIA because she was filming FX's Fleishman Is In Trouble and Paramount+'s Fatal Attraction.) They build on a well-established cast dynamic, with Marino and Scott as MVPs.
Funnily enough, the cast did bigger projects after Party Down's end—so at least their alter egos would've appreciated the irony. Lynch's move to Glee and Scott's addition to Parks And Rec contributed to the show's allure. Caplan, already famous from Mean Girls, went on to lead Masters Of Sex. Mullally returned to Will And Grace's reboot (and recurred on Parks). Starr, who also appeared in cult hit Freaks And Geeks, went on to become a regular on Silicon Valley. Scott later joined Big Little Lies, is co-starring in Sony's Madame Web, and earned an Emmy nod for his role on Severance in 2022. Meanwhile, Marino and Hansen have appeared on notable TV shows like Brooklyn Nine-Nine and Portlandia.
They've surpassed the modest Starz comedy, but their fame probably prompted viewers to check out their previous work. This applies to guest stars like Jennifer Coolidge, Kevin Hart, J.K. Simmons, Jimmi Simpson, and Ken Jeong, too. The series premiere itself reunites Hansen with his Veronica Mars (another niche fave) co-star, Enrico Colantoni, and Kristen Bell cameos in two later episodes. I bet people have exclaimed, "Oh, what a solid cast this show has" in hindsight. It's one of the factors that gave rise to Party Down's cult status, pulling in viewers who missed it before but could appreciate its tonal and narrative risks now.
It's the best time for Party Down to return
TV is obviously thriving on the reboot trend, just as 30 Rock predicted. But that's not only why it's time for Party Down's homecoming.
Since 2010, when Party Down was on the cable network, Starz's programming has evolved from forgettable shows like Gravity, Glen Mazarra's Crash, and comedies like Head Case and Hollywood Residential. This was no HBO. The cable network crafted its path after Outlander became a global triumph starting in 2014. Starz has since served up other underrated gems like Ash Vs. Evil Dead and P-Valley, but its experimental rewards lie in the wacky comedies. They include the ongoing Courteney Cox-led Shining Vale, the Blindspotting series, and Run The World. Party Down is the perfect addition to this lineup.
Our favorite actors (Caplan is missed) regroup and slip into old habits quickly, and bring along new faces for the ride as Jennifer Garner, Zoë Chao, James Marsden, and Tyrel James Williams hop aboard. Don't worry, the new season is chock-full of guest stars (Quinta Brunson! Nick Offerman! Judy Reyes!). Is it the same without Henry and Casey's sexy will-they-won't-they? No. Is it sad that none of the protagonists made it big? Yes, but believably so. The absurdity in its storytelling is still compelling and witty. It's a cult classic that's ready to transform into a more recognized brand as it continues to ask: Are we having fun yet?
---
Party Down season three premieres February 24 on Starz. Seasons one and two are streaming on Hulu.