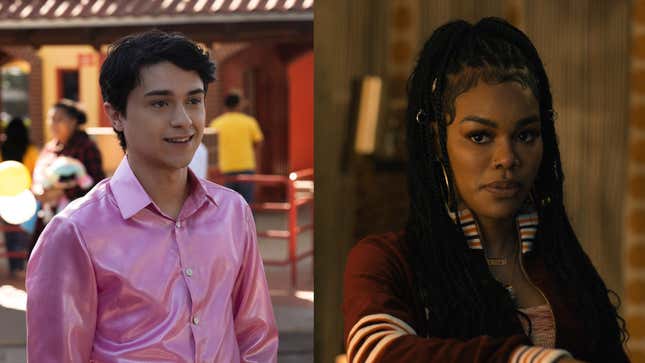 Welcome to the weekend edition of What's On. Here are the big things happening on TV from Friday, May 19, to Sunday, May 21. All times are Eastern. [Note: The weekly What's On will publish on Sundays.]

---
1. The Good Place creator and Shea Serrano roll out Primo
Amazon Freevee, Friday, 12:01 a.m.: Created by author and journalist Shea Serrano, Primo is his sweet, semi-autobiographical comedy that's co-produced by Mike Schur (The Good Place, Parks And Recreation). It centers on 16-year-old Rafa (Ignacio Diaz-Silverio), who balances college aspirations and a hectic home life, which includes dealing with his single mom and five uncles. All eight episodes will drop on the same day. Here's a bit from The A.V. Club's review:

Serrano has carefully built a wry love letter to his upbringing, turning what surely felt like nagging family obligations into sitcom-ready plots and concocting a comfort watch that puts a Mexican-American family front and center along the way. 
---
2. Well, here's a remake of White Men Can't Jump
Hulu, Friday, 12:01 a.m.: Based on the 1992 film of the same name, White Men Can't Jump is written by Black-ish's Kenya Barris. Sinqua Walls and Jack Harlow take over from Wesley Snipes and Woody Harrelson in this remake as two men playing basketball who, against all odds, find they have more in common than they think. The cast includes Teyana Taylor, Laura Harrier, and Vince Staples, and the film also features one of Lance Reddick's final onscreen performances.
---
3. It's time to feel envious, thanks to Selling Sunset
Netflix, Friday, 3:01 a.m.: Who doesn't love to watch from afar as the realtors of Selling Sunset engage in top-notch drama while selling affluent homes across Los Angeles? Netflix's reality series is back for a sixth season, with even more relationship chaos for those working at the Oppenheim Group.
---
4. HBO drops the Cold War thriller Spy/Master
HBO Max, Friday, 3:01 a.m.: The multilingual espionage thriller Spy/Master covers a week in the life of Victor Godeanu (Alec Secăreanu), the right-hand man and advisor to Romanian dictator Nicolae Ceaușescu (Claudio Bleont). Oh, he's also a secret agent for the KGB who is on a mission to escape before his cover is blown.
---
5. Showtime adds to its espionage slate with Ghosts Of Beirut
Showtime, Sunday, 10 p.m.: It's apparently a spy weekend, what with Ghosts Of Beirut joining Spy/Master on the list of series premieres. Showtime's thriller is a four-part limited series about 21-year-old Mughniyeh, a.k.a. The Ghost, an elusive Lebanese terrorist who evaded the CIA and Mossad for two decades. The show is told from American, Israeli, and Lebanese perspectives, and is based on extensive interviews with prominent officials.
---
6. Indian dramedy Kathal debuts
Netflix, Friday, 3:01 a.m.: In the Hindi-language satirical dramedy Kathal, Mahima (Sanya Malhotra) is a young cop eager to prove herself in her small village. Despite knowing how ridiculous it is, she takes up the bizarre case of a local politician's missing jackfruit trees. Her investigation, though, takes unexpected turns, and soon she's uncovering truths no one was meant to discover.