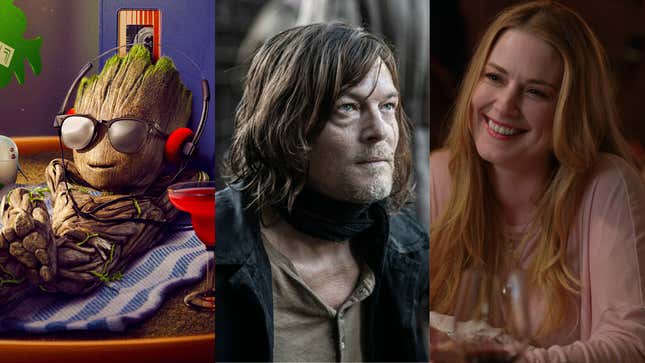 Welcome to What's On, our weekly picks of must-watch shows. Here's what you need to watch from Sunday, September 3 to Thursday, September 7. All times are Eastern. [Note: The weekend edition of What's On drops on Fridays.]

Taylor Swift went on a date with an NFL player and is now both cheer captain and on the bleachers
---
The biggies
I Am Groot (Disney+, Wednesday, 3:01 a.m.)
Baby Groot fans, your time has come. Disney+'s I Am Groot returns for five more brand-new shorts with Vin Diesel reprising his role as the little tree bugger continues his travels across space, encountering new creatures and environments. Hopefully, I Am Groot provides a comical reprieve to Marvel fans still getting over the surprisingly sentimental Guardians Of The Galaxy Vol. 3.
---
The Walking Dead: Daryl Dixon (AMC+, Thursday, 3:01 a.m.)

The day has finally come: After 11 seasons of running around in The Walking Dead, Daryl finds himself in a spin-off set in Paris, where the zombie virus originated. He has no idea how he got there, and as he tries to find his way back home, he makes connections that complicate his plans. Clémence Poésy, Adam Nagaitis, and Anne Charrier co-star. The A.V. Club's review publishes this week.
---
Virgin River (Netflix, Thursday, 3:01 a.m.)
Netflix's saccharine Virgin River returns for its fifth season. And yes, it's divided into two parts, so be patient. The show follows nurse Melinda "Mel" Monroe (Alexandra Breckenridge), who moves to the titular, picturesque small town after her husband's death. But, of course, things are not as peaceful as she expected. In the new round of episodes, Virgin River battles a terrifying wildfire as Mel and Jack (Martin Henderson) get ready for their baby.
---
Hidden gems
Predators (Netflix, Wednesday, 3:01 a.m.)
Tom Hardy narrates Netflix's six-part docuseries Predators, which chronicles how five predator species—cheetahs, polar bears, wild dogs, pumas, and lions—survive in their natural habitats while fighting to maintain dominance.
---
Gamera-Rebirth (Netflix, Thursday, 3:01 a.m.)

One of Japanese manga's most popular characters, the fire-breathing Kaiju turtle Gamera, gets its own anime series in Gamera-Rebirth. In the show, the monster returns to protect the world from other Kaijus who are hell-bent on destroying the planet. Check out The A.V. Club's review this week.
---
More good stuff
Never Let Him Go (Hulu, Wednesday, 12:01 a.m.)

Hulu and ABC News team up for true-crime series Never Let Him Go, which tells the story of Scott Johnson, a brilliant U.S. mathematician whose untimely death in 1988 became shrouded in controversy. Filmmakers Jeff Dupre and Jacob Hickey captured a breakthrough in the case in real time when, 35 years after his death, a killer confesses in court.
---
Dear Child (Netflix, Thursday, 3:01 a.m.)
Based on Romy Hausmann's novel, Dear Child is a six-episode German psychological thriller that follows Lena, who is held in complete isolation with her two children in a high-security house, until she manages to escape one night.

---
Can't miss recaps
Winning Time: The Rise Of The Lakers Dynasty (HBO, Sunday, 9 p.m.)
Only Murders In The Building (Hulu, Tuesday, 12:01 a.m.)
Reservation Dogs (FX on Hulu, Wednesday, 12:01 a.m.)
Star Wars: Ahsoka (Disney+, Wednesday, 3:01 a.m.)
---
Arriving now
American Dad (TBS, Monday, 10 p.m., season 18 premiere)
The Real Housewives Of Salt Lake City (Bravo, Tuesday, 9 p.m., season four premiere)
Star Trek: Lower Decks (Paramount+, Thursday, 3:01 a.m., season four premiere)
Ride With Norman Reedus (AMC+, Thursday, 3:01 a.m., season six premiere)
---
Ending soon
Special Ops: Lionness (Paramount+, Sunday, 3:01 a.m., season one finale)
The Afterparty (Apple TV+, Wednesday, 12:01 a.m., season two finale) 
Project Runway (Bravo, Thursday, 9 p.m., season 20 finale)