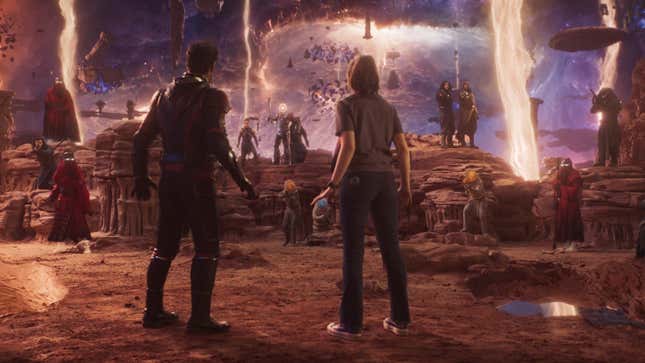 Moviegoers turned out for Marvel's latest adventure this past weekend, propelling Ant-Man And The Wasp: Quantumania to a respectable $105.5 million opening (not including the Monday holiday). That's better than the opening weekends for the first two Ant-Man films, and Quantumania is the first release in 2023 to break the $100 million mark, an impressive achievement for most movies—but expectations are different when it comes to Marvel.
To put this number into context, each of last year's Marvel entries—Doctor Strange And the Multiverse Of Madness, Thor: Love And Thunder, and Black Panther: Wakanda Forever—performed better in their opening weekends. The Doctor Strange sequel which, much like Quantumania, failed to wow critics, actually had the best opening of any film last year, beating some titles that ultimately proved to have longer legs, like Top Gun: Maverick and Avatar: The Way Of Water. But this is not a story about box office numbers.

Whatever happens with Quantumania during its theatrical release isn't likely to fix the growing systemic problems at Marvel, or ease concerns that the hit factory is in danger of becoming a victim of its own success. In fact, the film exemplifies many of the issues the studio is struggling with right now. Quantumania is less cohesive than earlier MCU successes, with a paint-by-numbers approach to storytelling, too many characters to service any of them properly, an overreliance on visual effects, and no emotional core for viewers to hang onto. It feels like Quantumania was reverse engineered to introduce Kang as the next big bad of the Marvel Cinematic Universe. And while Jonathan Majors gives his all, everything else seems like an afterthought.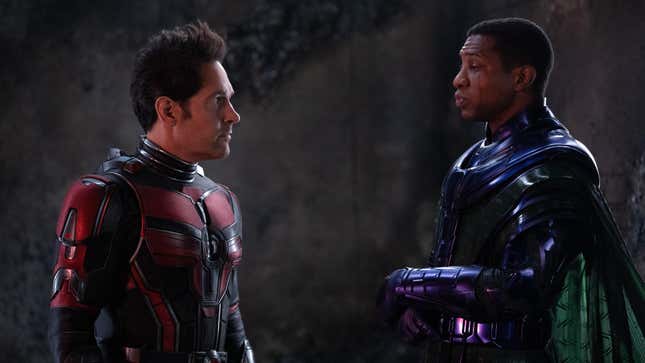 From "Avengers assemble!" to Avengers assembly line
Marvel's adventures in Hollywood are as complicated as any superhero's origin story, with just as many twists and turns. To this day Marvel Studios still has to negotiate around licensing deals made long before Kevin Feige was put in charge. Back in 2008, Iron Man was the first building block of a shared cinematic universe unlike any that had existed before. Not every film during this early period was a winner, but the universe felt contained. Each film was an event, leading up to an even bigger event—first The Avengers, then Avengers: Age Of Ultron, Captain America: Civil War, and finally Infinity War and Endgame. These were films with mass appeal that required little investment on the part of audiences. But as the universe grew with each new project, that began to change.
Here we are, 15 years later, and Quantumania is the 31st MCU release. That means if you've seen them all you've spent almost two full work weeks in front of the screen, and that's not even counting all the Marvel TV shows. It's a significant commitment, with diminishing returns of late. The most dedicated fans will always come back, but Marvel is starting to leave everyone else behind under the weight of its ever-growing lore. You can't expect the average moviegoer to keep track of which "phase" is which, or when these phases begin and end (we just entered phase five, by the way). No one loves the idea of entertainment that feels like homework. Especially when Marvel has had more creative misses than hits since Endgame. The phrase, "It's all connected" used to be a promising mission statement; now it sounds like a caveat.

A crowded battlefield
Remember the portals scene at the end of Endgame, and how busy everything got when all those returning heroes joined the fight? In the four years since that film came out, Marvel has introduced at least a dozen more leading characters in its films and TV projects, including Shang-Chi, the Eternals, Photon, Kate Bishop, Echo, Moon Knight, Ms. Marvel, She-Hulk, and Ironheart. They have varying levels of appeal, but none of them could be considered marquee characters. Marvel has already used them up.

One of the biggest advantages comics have over live action is that you can keep telling stories with the same characters for decades. They might need a little updating from time to time, but they don't age (unless you want them to) or get bored doing the same thing again and again. They don't renegotiate their contracts. By the end of phase three, half of the original Avengers in the MCU had been killed off, and with the final installment in James Gunn's Guardians Of The Galaxy trilogy on the way, more deaths are almost certain to come.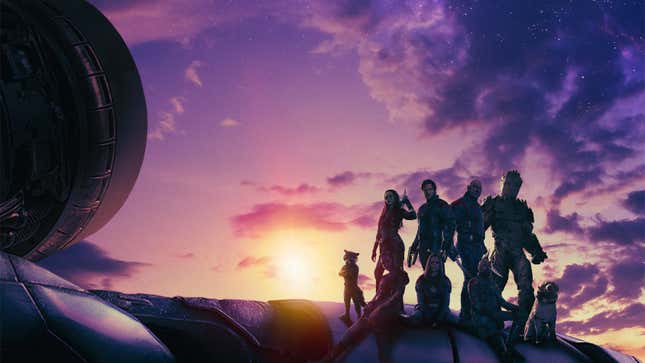 Those characters haven't been easy to replace, and quantity over quality may not be the best strategy. The big team-ups to come later this year and next—like The Marvels and Thunderbolts—don't have the same level of excitement surrounding them as the films from the "Infinity Saga." It probably won't be until this new "Multiverse Saga" reaches its climax with The Kang Dynasty and Secret Wars (in 2025 and 2026, respectively), that we'll see anything as epic as Infinity War and Endgame. Even with the introduction of Deadpool and The Fantastic Four into the MCU, how many fans will the franchise have lost by then?

As Marvel declines, DC rises to meet it
There's something else on the horizon that's got to have Marvel executives looking over their shoulders (though they'd never publicly admit it). Now that DC has taken a page out of Marvel's book and installed Gunn and producer Peter Safran to lead the company out of its creative morass, the big-screen competition between these two historic rivals is going to be more intense than ever. DC Studios' newly announced "Gods And Monsters" slate will follow the MCU blueprint in creating a more cohesive universe and mixing big names with lesser known characters. Once the DCEU gets past the remaining vestiges of the old regime, it figures to be a force Marvel will have to reckon with.

After years of divisive missteps from DC, it's now Marvel showing signs of disarray behind the scenes. This year's President's Day weekend slot formerly belonged to The Marvels while Quantumania was set to come out in the summer, but the two were swapped. Last week, The Marvels was pushed back again to November. No one really knows the internal logic that goes into these decisions, but it's not a great look from the outside. It's also pretty telling that DC—which not too long ago shelved a completed superhero film as a tax write-off rather than releasing it in theaters—now seems to have a clearer trajectory than its rival.

Unlike the Avengers, we'll never be able to go back in time to those days when the MCU was still shiny, new, and manageable. There were only a few heroes to keep up with, and even a mega team-up like The Avengers seemed relatively compact. The studio empowered directors who were legitimately fans of the material to bring their own creative voices to it. The films weren't all perfect, but they didn't have to justify their existence. They were fun, and fit into a greater universe without any clumsy jury-rigging. Each post credit scene felt like a gift from the future, a hint of where we were going next. Now they only remind us that the story isn't over yet. And it never will be as long as these films are profitable, because in the great American clash between art and commerce, commerce always wins.