Pop culture can be as forbidding as it is inviting, particularly in areas that invite geeky obsession: The more devotion a genre, series, or subculture inspires, the easier it is for the uninitiated to feel like they're on the outside looking in. But geeks aren't born; they're made. And sometimes it only takes the right starting point to bring newbies into various intimidatingly vast obsessions. Gateways To Geekeryis our regular attempt to help those who want to be enthralled, but aren't sure where to start. Want advice? Suggest future Gateways To Geekery topics by emailing gateways@theonion.com.
Geek obsession: Lee Hazlewood
Why it's daunting: A maverick songwriter-producer, Lee Hazlewood helped establish a rock 'n' roll recording scene in Phoenix in the '50s, topped the charts with Nancy Sinatra, and discovered Gram Parsons in '60s Los Angeles. In the '70s, Hazlewood packed up for Stockholm to make a Swedish export of his soft-psych pop music. Beck and Spiritualized's Jason Pierce often cite him as an influence, and today, his moody country-soul sound is on the rise again, co-opted by Nashville artists like Jessie Baylin and Nikki Lane. But unlike Parsons, who was on a similar path toward reinventing country music in the early '70s, Hazlewood produced a boatload of material rather than just four or five classics.
The task of figuring out just who the psychedelic cowboy really was has lately been left to the quirky Seattle/L.A.-based record label Light In The Attic, through a series of reissues of Hazlewood's recordings. But Hazlewood seems just as much an enigma today as he was in his own time. As if in defiance of modern tastes, when he died in 2007 at the age of 78, he seemed to care little for his own musical legacy.
Possible gateway: Cowboy In Sweden (1970)
Why? Though his work with Nancy Sinatra is always memorable and sometimes transcendent, the best place to start with Hazlewood is his unlikely foray into expatriate country music (originally written as a soundtrack to a Swedish TV special starring Hazlewood). While Hazlewood could be as cloying as any other pop songwriter, his lyrical shortcomings ("I may not look right but I sure do feel fine / You hang around me and I'll undo your mind") on "Hey Cowboy" are trumped by the sheer weirdness of the boy-girl storyline (always one of Hazelwood's strongest set-ups), as well as the ace production.
Featuring a Swedish singer named Nina Lizell, "Hey Cowboy" is pure pop bliss, adding some bounce to the dark, brooding duets with Sinatra Hazlewood had become known for. (Lizell earns bonus points on the record for the way her Swedish accent renders "cowboy" as "chowboy.") The song trails out with Hazlewood telling her, "You get that straight, little Swedish girl?" "Ah ha," Lizell replies, and the exchange almost sounds lifted from a porno movie. Another cut from the album, "No Train To Stockholm"—with its churning B3, finger-picked classical guitar, plucky bass, flute interlude, and whispered chorus—showcases the type of minimal, atmospheric production that inspired Beck's Mutations and Sea Change.
Next steps: To understand Hazlewood more fully, however, means going back to Phoenix in the '50s, when rock 'n' roll was just beginning to bloom. Hazlewood got his start in radio, as a DJ for KCKY in Coolidge, Arizona, then moved to the bigger KRUX in Phoenix, where he learned the ropes in the studio as well as got a firsthand look at what moved records. Hazlewood's most important contribution to the early days of rock 'n' roll came in the form of his production work for Phoenix's Duane Eddy, famed for his languid, echoing electric guitar tone and single-string melodies played in a low register. The opening notes of 1958's "Rebel Rouser" lay the groundwork for the rest of Hazlewood's musical career. Eddy's guitar is slow and pensive, the drums ramshackle but driving, and a skronking sax and a series of key changes keep the song lively.
As a songwriter, Hazlewood scored his first hit with "The Fool," recorded by Sanford Clark in 1956 (though Hazlewood's wife at the time, Naomi Ford, got the songwriting credit for legal reasons).
Coming off his success in Phoenix, Hazlewood relocated to Los Angeles. By the mid-'60s, he'd been tapped by Reprise Records to work with Nancy Sinatra, and in 1966 they struck gold with "These Boots Are Made For Walking." Hazlewood found a brassy moodiness in Sinatra that others had missed, and gave an L.A. pop makeover to his country influences.
Sinatra's "Sugar Town," from 1967—"sh sh shhh, sh sh shhh… sugar town!"—is in the mold of bubblegum pop, but its B-side, the brooding "Summer Wine," introduced the first of Hazlewood and Sinatra's now-famed duets. Hazlewood had previously recorded the song as a duet with LHI producer/staffer Suzi Jane Hokum, but with Sinatra he discovered a volatile chemistry not evident on the first version.
The pair knew they were on to something, next tackling Jerry Leiber and Billy Edd Wheeler's "Jackson" in 1967, mere months before Johnny Cash and June Carter would run off with it. But the real pinnacle of the Hazlewood and Sinatra duet era is the beguiling "Some Velvet Morning."
Though most of these songs appear on the soundtrack to 1967's Movin' With Nancy TV special, the album to get is Nancy & Lee, released on Reprise in 1968, which also includes the psychedelic masterpiece "Sand," with its backwards guitar solo and tambourines.
From there, dig a little deeper into Hazlewood's output from the Cowboy In Sweden era by moving on to Light In The Attic's inaugural reissue effort The LHI Years: Singles, Nudes, & Backsides, a collection of Hazlewood cuts from 1968-71 that mostly draws from four albums issued on his own Lee Hazlewood Industries label: 1969's Forty and The Cowboy & The Lady (the latter a duet album with Ann-Margret), 1970's Cowboy In Sweden, and 1971's Requiem For An Almost Lady. A pair of other compilations—These Boots Are Made For Walkin': The Complete MGM Recordings and Strung Out On Something New: The Reprise Recordings—offer near-thorough overviews of the rest of Hazlewood's '60s work as a solo artist, but his great debut, Trouble Is A Lonesome Town, currently remains out of print.
G/O Media may get a commission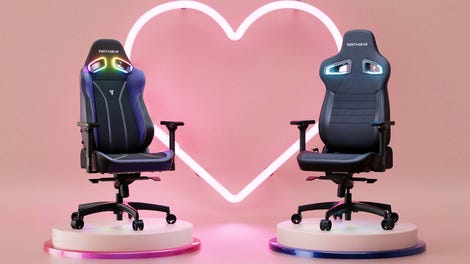 Up to $150 off
Vertagear Gaming Chairs
Where not to start: While Singles, Nudes, & Backsides provides an excellent entrée to the Hazlewood oeuvre, A House Safe For Tigers, a super-obscure film soundtrack only pressed on vinyl in Sweden and recently reissued by Light In The Attic, is probably not the best place for newcomers to start their odyssey. More miscellany is on its way, too: Light In The Attic has found 400 reels of tape in the back office of Hazlewood's publisher in North Hollywood and is planning more than a dozen releases over the next few years.