If there's a standing notion of "making it" as a band, Austin's White Denim has made it—but it may not be the romanticized "made it" you're thinking of. The band sells records and is playing to fans on headlining tours—the most recent of which comes home Saturday, July 9 at Antone's. But there are no hotel after-parties or "Mr. Driver" escorting the members of White Denim from city to city. (Unless the band's frontman James Petralli counts as "Mr. Driver"—or, more accurately, "van driver.") But a job is a job, and Petralli and his bandmates are happy to be employed in the business of rock 'n' roll. The A.V. Club caught up with Petralli while he was on the road to talk the pros and cons of two major aspects of that business—recording and touring—as well as the fan betrayal of the century.
The A.V. Club: It seems that there are two sides to being a band—the recording side and the touring side. After three full-length albums with White Denim, are there fewer downsides to being in the studio now than there were when you first started out?
James Petralli: It's different for me than it is for the other guys, I know. Everybody likes making records—I really like making records. So there aren't really downsides. The only downside to the record-making process is that you lose the touring income. And that's a pretty major downside. We made basically three records in 2010 and we only did four weeks of touring, so we spent a lot of money and didn't really make any—but we're trying to make up with that with tours right now.
AVC: So no woes of the musician shut in the studio?
JP: No, no. I'm completely comfortable there. I could spend every day in the studio.
G/O Media may get a commission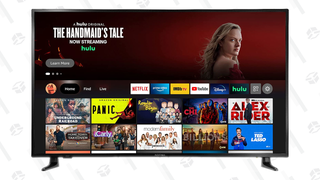 38% Off
Insignia 50" 4K UHD Smart TV
AVC: Is being a shut-in something you personally like?
JP: Yeah, I think that's safe to say. I really like the protection and isolation the studio environment provides.
AVC: How about before you're ready to go to the studio—is there ever a pressure of needing to write because you need to put out an album?
JP: Not really. It goes from song to song. Every business relationship that you enter in with a new record company, they have certain expectations of what you're going to do. And as a writer, I think you have to consider those things. But just as a general rule, I write so much that I make room for myself to do those things and have fun with it. I'm not too concerned about one piece of music being the definitive thing that I do. I don't put that much pressure on myself. I naturally write things and listen to what people have to say afterwards.
AVC: So touring is kind of the payoff to all of that recording. But is promoting an album something you particularly enjoy?
JP: I like being onstage, and I love playing in this band. But I do not like promoting records at all. I look at it like a necessary part of the job, really. I'm always thinking about two projects ahead of where we are. To me, the touring and promotion schedule slows my creative process down. But I'm just one person in this band, and I think that it's different for everybody else. I know that we definitely get better when we're touring, which always makes the recording process a lot easier. So, to me, there are a lot of ups and downs with touring. I mean, scheduling is crazy—radio shows and interviews kind of tend to make you feel like an alien. So I don't really love that part of it. But it's something that we all have to do, you know? And that we're ultimately very fortunate to be doing. So I try to be as gracious as I can—but honestly, I don't love it.
AVC: Does touring develop into monotonous traveling?
JP: Yes, especially in the U.S. The drives are so long. If you're doing just a major-market U.S. tour, you're driving an average of seven hours a day. And on a day off, it's typical to be driving 13 hours or so. You're always in a hurry; you never get enough sleep. And your circumstances from night to night can vary dramatically onstage. So it's always a little bit of a crapshoot out there. Just the irregularity becomes super monotonous.
AVC: It's not a vacation, per se.
JP: No. Not at all. I've never been on a tour-vacation. I love that perception, though. Like after shows, we'll meet people and they're like, "Oh, you're living the dream. You're doin' it. You're a rock star." It's like, "Oh my God. Yeah, thank you." I don't know how to take that. I know that nobody really wants to hear the real deal, but it's not always peachy, so to speak.
AVC: How about leaving Austin? Is that a pro or con?
JP: I like Austin a lot. But I'm happy to leave it—most of the time. I hate leaving my house and my neighborhood and my wife, because we have a really great routine—but I don't really consider myself a part of the Austin music scene so much. I haven't been out to a club in like two or three years. So I have this inaccurate perception of how it is. I'm happy to get out, because I get to play for people on a regular basis. It's really nice to play for people, and I can only do that so much in Austin.
AVC: Touring can also be a great, out-of-this-world experience, especially in Europe. Is that a type of tour you enjoy?
JP: There are downsides to that as well. Honestly, I would be happiest if I toured four months out of the year, tops. And then just live a regular 9-to-5 life outside of that—like studio life for the other eight months of the year. Europe's great, but it's a really long flight, and it's expensive to stay in touch with family and stuff like that. So there's also a crazy, alienating aspect to doing that. But it is really great—for us, at least, the crowds are a lot more receptive. And the U.S. is coming around, for sure. But people know the words to the songs and they mosh [in Europe]. We sell records over there. And we're going to do a festival run there next month, and we'll probably play to an average 5,000 people every night. Basically that late-summer European festivals—I think it's 12 festivals or something like that.
AVC: That sounds kind of cool, maybe kind of tiring.
JP: It's super cool. And, you know, the drives are so much shorter in Europe—that's another thing. You wouldn't think that, but it's so much easier to navigate Europe. The longest drive we have is, I think, 10 hours, and the average drive is three hours. So, we're just boppin' around, country to country.
AVC: Back to touring in the U.S., there's also the chance that your merch money might get stolen, like what happened to you guys in Chicago.
JP: Oh yeah. A couple of people—a couple of fans actually—took it. [Bassist] Steve [Terebecki] was working the merch table and there were four people left in the room, like it was the end of the night. There was some kind of weird diversion, and Steve turned around and somebody had taken [the money] from us. It was a substantial amount, like sold merchandise from six days. It was a real bummer. And we love playing in Chicago; it's one of our favorite cities in the U.S.—and that doesn't change that, obviously. But it was kind of gross to imagine somebody that paid for a ticket and stayed through the whole show and was being really nice to Steve about the music—and then [they] walk off with our merch money. But I definitely believe in karma. I think that that person will get their share, if they haven't already.
The thing that stings is that it's somebody who actually bought a record and a T-shirt. But I don't know their story, obviously. Stealing is obviously bad, but maybe they just have a horrible, horrible situation that we helped them get out of, or something. Trying to look at the positives there.
AVC: Whether it's touring or recording, band members are probably in close contact with one another at all times. Is that a pro or a con?
JP: In the touring context, it gets a little more difficult. Because when we're in the studio, we just go home to our families. So you have a good 12 hours of reality before you have to get back in close quarters and talk at length about ideas and stuff like that. So it's a lot easier to deal with when you can kind of go back to your normal life at the end of the day. It's pretty difficult on the road because we're in hotels together; we go from one small environment, in each other's faces, to the next. So after a few months, we do start to look at each other and think, "Oh my God, I can't wait to have a month off from having to see you." No matter how things go, it's just natural for people to need space and feel like an individual. The whole group mentality gets pretty exhausting, especially on tour.