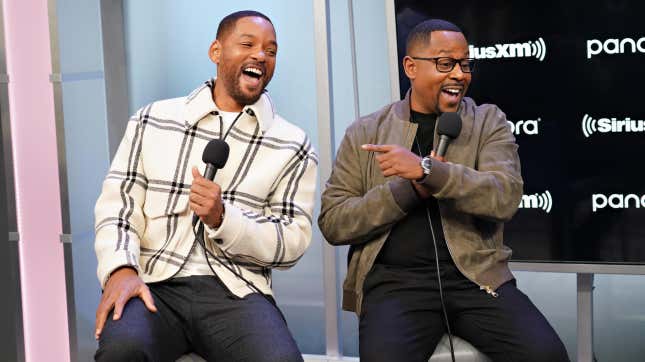 Okay, so the prestige fare didn't make you forgive Will Smith, so how about another classic action-comedy blockbuster? Smith and co-star Martin Lawrence announced on Wednesday that they'll be returning to the beloved Bad Boys franchise for a fourth installment following the pre-pandemic success of the third film, Bad Boys For Life.
Smith broke the news in what has become his typical fashion, in a breathless first-person video format wherein he brings the audience on a ridealong to Lawrence's house. (Smith, one of the biggest blockbuster stars of all time, was for some reason already a blossoming YouTuber even before The Event That Shall Not Be Named.) "That's my jawn," the Philadelphia native says as he turns on "Shake Ya Tailfeather" from the Bad Boys II soundtrack. "I wish I was you, not knowing what I'm about to show me!"
It's pretty clear what he's about to show us, especially once Lawrence answers the door. However, the pair address some critical confusion right off the bat: this will be Bad Boys 4, even though they've already done Bad Boys For Life. This unfortunate shortsightedness will not halt the momentum of Bad Boys 4, which will have to settle for some lesser pun. (Bad Boys 4Ever? Bad Boys 4Good?)
The latest installment will once again be directed by Adil El Arbi and Bilall Fallah (of Batgirl infamy) and produced by Jerry Bruckheimer, Smith for Westbrook, Doug Belgrad and Chad Oman, as well as Martin Lawrence, James Lassiter, Mike Stenson, Barry Waldman and Jon Mone as executive producers, per Deadline.
One can't help see Smith's return to a fan-favorite nostalgia-fest (with a proven track record: the third film had the second-best MLK weekend ever at the box office, according to Deadline) as a calculated move for his post-[redacted controversy] career. Of course, Bad Boys 4 was in development before That Incident, and Lawrence previously said Smith's scandal wouldn't stand in the way of the Bad Boys getting back together. Seeing as Emancipation premiered on streaming—and failed to generate awards buzz for Apple TV+—it remains to be seen whether audiences will return to theaters to see Smith in action. Still, Bad Boys seems like a good bet.