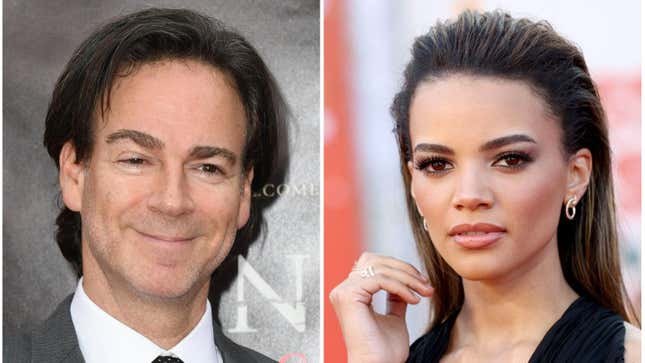 Erstwhile Batgirl star Leslie Grace recently said she hopes the film will live on in "comic folklore," but the legacy of the film extends beyond disappointed superhero fans. The cancellation of a nearly-completed film by new Warner Bros. Discovery boss David Zaslav was (to borrow a phrase from another Batgirl star, Brendan Fraser) the canary in the coal mine for a new era, in which projects are scrapped after being wrapped or disappeared from platforms entirely. It's an ominous state of affairs for the entertainment industry, and Batgirl will go down in history as being at the beginning.
Ezra Miller may still return to the DCU
James Gunn is one of the filmmakers who reached out to directors Adil El Arbi and Bilall Fallah to express condolences after the cancellation. But if you thought that meant he would be softer on the film now that he's in charge over at DC, think again. During the presentation of a new slate of films on Monday, Gunn's DC Studios partner Peter Safran agreed with Zaslav that the film was "not releasable," according to Variety.
"I actually think that [David] Zaslav and the team made a very bold and courageous decision to cancel it, because it would've hurt DC, it would've hurt those people involved. I think they really stood up to support DC, the characters, the story, the quality and all that."
We'll have to take Safran's word for it, since he is one of the few who actually saw the film. It is interesting, however, to frame this as a "courageous" move based on the creative integrity of the studio and characters (Martin Scorsese is somewhere rolling his eyes) without mentioning the hefty tax break the company took for permanently locking away the work of hundreds of industry professionals.
"I spoke to Adil and Bilall—the directors—last week, we were chatting. We'd love to be in business with all those folks. Christina Hodson wrote it. Some people are already back in business with us," Safran said. "As I said, a lot of talented people were involved, but the film just was not releasable."
In fairness to El Arbi and Fallah—who are now turning their attention to Bad Boys 4—they've said that the film was incomplete and lacking VFX, so of course the version that Safran saw was unreleasable. But Safran supported another of Zaslav's talking points on the subject: "It would not have been able to compete in the theatrical marketplace; it was built for the small screen. So, again, I think it was not an easy decision, but they made the right decision by shelving it."
Only time will tell if Safran's opinion is correct or if the Batgirl cancellation opened up a Pandora's box for the film industry that can never be closed. As for the new regime's plans, "Batgirl's a character that inevitably we will include in our story," Safran stated. Just not that Batgirl.