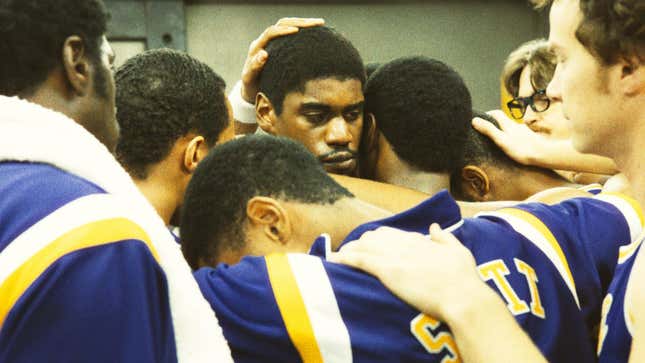 In a heart-to-heart with her dad from Winning Time: The Rise of the Lakers Dynasty's second season, team owner Jeanie Buss reprimands her old man, saying, "You want the picture in the frame, to pick it up when it's convenient for you, and to put us down when it's uncomfortable." Now, HBO is putting something else down; the channel has announced that it will be ending Winning Time's winning streak after just two seasons.

Why Robert Rodriguez still loves "Spy Kids"
Winning Time—adapted from Jeff Pearlman's 2014 book Showtime: Magic, Kareem, Riley, and the Los Angeles Lakers Dynasty of the 1980s—has thus far charted the '70s and '80s renaissance of the beloved NBA team, starting with Jerry Buss' '79 purchase of the franchise and moving through their 1980 NBA finals win to the 1984 matchup of Magic Johnson vs. the Boston Celtics' Larry Bird in the show's second season.
In what is now the series' final shot, Magic Johnson sits in his uniform beneath a running shower. His team has just lost to the Celtics, and, while they'll go on to be victorious again, it won't be shown here. "Not the ending that we had in mind. But nothing but gratitude and love," creator Max Borenstein posted on X in response to the news. (For the record, Meredith Hobbs Coons expressed a similar sentiment in her review of the season finale for The A.V. Club, "Winning Time can't go out like that, can it?" she wrote. "They've gotta give this thing another season.")
Director and Executive Producer Salli Richardson-Whitfield also chimed in, posting the following statement on Instagram: "When you give it everything you've got, you can have no regrets. I hope you enjoy the last episode of @winningtimehbo I am sure I will do many more hours of TV and hopefully many features in my future, but I can say that at this moment in time I am most proud of the work we did on this masterful show."
Winning Time joins the ranks of other gone-too-soon gems across multiple streamers. The Great just got the ax from Hulu, while A League Of Their Own, was recently canceled by Amazon despite already receiving a second-season order.