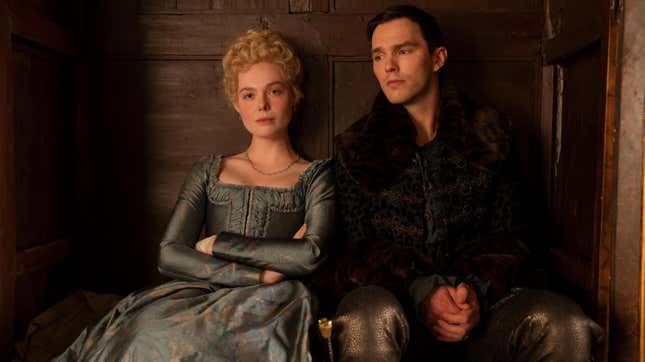 So long, The Great. You were, well... really, really great.
After three stellar seasons, Hulu announced today that the reign of Elle Fanning's satirized Catherine The Great would be coming to an end, reports Deadline. The show, which also starred a pitch-perfect Nicholas Hoult as Catherine's husband Emperor Peter III, just aired what will now be its series finale this past May.
Taylor Swift went on a date with an NFL player and is now both cheer captain and on the bleachers
Over its run, The Great played a little fast and loose with history to create a bloody, horny, boisterous, and always hilarious riff on the early reign of Catherine, Empress of All Russia. "I like the stakes of the era, the life and death stakes of the court world," said creator Tony McNamara in a 2021 interview with The Guardian. "I also like that they're dealing with stuff we're still freakin' dealing with… We're still dealing with privilege, and how to give people equality, and all that kind of stuff. I'm interested in the parallels... In my head I'm kind of making a contemporary show that feeds off an era in history."
While the show's cancellation may come as a shock to fans, the writers at least didn't leave the court with any sort of devastating cliffhanger or unfinished shock twist. In the words of The A.V. Club's Saloni Gajjar in her season three review:
The Great wraps its third season with a certain degree of finality. It could potentially go on because Catherine's reign continues for years, but even if it doesn't, the show goes out in a blaze of glory here. Fanning's daring performance in the season finale is a stellar goodbye encapsulating why McNamara's series works. It's unhinged, potent, and charismatic while being laugh-out-loud funny.
Let's all raise our glasses (and then smash them on the floor) and say one final Huzzah! to a great show.