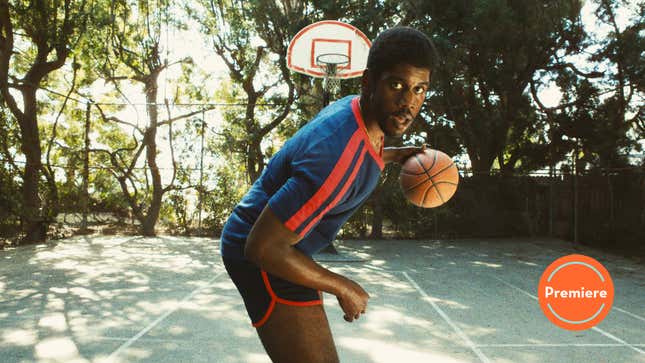 It becomes clear early on in Winning Time's season-two premiere, "One Ring Don't Make A Dynasty," that this batch will zero in more on the dynastic aspect of the Lakers franchise—in both sports terms and fancy-ruling-family terms—and a bit less on butts shaking all around (a big focus last season, with the Lakers famously bringing on the Laker Girls). In fact, except for those of two bikini babes, the butts are gone from the title-sequence montage. Instead, we see a lot more cops beating up some guys, so it stands to reason that season two is going to get a little heavier.

Why Robert Rodriguez still loves "Spy Kids"
And we see this immediately, in an ominous flash-forward to 1984's game one of the NBA Finals against the Boston Celtics on their home turf. Charismatic Lakers owner, Jerry Buss (John C. Reilly) smiles from the stands like some pleb before being roughly tossed out by Boston security. Then, once the Lakers have claimed victory and boarded their bus, Coach Pat Riley, now with slicked-back (not pushed-back) hair, leads his team in yelling, "We want their fucking hearts!" before disgruntled Bostonians run up to the vehicle and throw splattery things at them that slop up all the windows. Then, up pops some text that points out that the name emblazoned on the bus, "White Bus," is the actual name of the bus company. Lots to unpack. Where is Coach Paul Westhead (Jason Segel)? Why is everyone so aggro now? Has 1984 Pat Riley begun to live for New Years Eve? My how things seem to have escalated since their first Buss-helmed victory at the end of season one.
Before we get into the metaphorical significance of the majority Black players on the Lakers being taken around on the "White Bus," let's deal with the dynasty thing. We're back in 1980, where this season's arc will actually begin. Our rookie friend Earvin "Magic" Johnson Jr. has gotten someone pregnant—not his ex-girlfriend and favorite person Cookie—and while his lawyer and management encourage Magic to provide for this woman, they want him to keep his distance. This kid will be born at a crucial time in the season, and they want him to focus on the game. Also, they really do not want the baby to "carry the Johnson name." Magic thinks that's "cold," but nevertheless ponders this question for the remainder of the episode. Meanwhile, Kareem Abdul-Jabbar is going to be a daddy again imminently. Yes, both Lakers heroes had babies that season. See? Dynasties—the family kind!
Lest we forget, Buss is also a daddy, to daughter and protégé Jeanie as well as two sons, and he's having some issues of his own. This episode finds him searching for ways to foster loyalty from his players and his heirs (both kinds of dynasties!). His approach is pretty uniform, too. He wants his kids to move into his newly acquired mansion with him and to give them financial prizes; he wants to give his players more money to retain greats like Magic and Abdul-Jabbar and attract new talent, too. Remember, Jeanie is the only kid he really likes in this portrayal of Buss, because she is a very good people-pleaser as well as genuinely business-savvy and eager to learn her dad's ways, so his reunion with his sons falls apart pretty quickly. By the end of the episode, though he has given each of his kids some expensive thing—a tennis team for Jeanie, investments for the other kids related to whatever their hobbies are (their mom had to tell him; he didn't actually know)—it all falls apart during a game of Monopoly at the mansion, simply because the boys are bad at capitalism and like the idea of helping each other during the game. (Also because they chose to play Monopoly as a family). Oh well, if their little investments don't pan out, Buss can simply use those ventures as tax write-offs, getting him more money for his team, his favorite family. (That is, besides his hot ex-girlfriends in his creepy photo album he loves to ogle alone...actually, it's kind of moving the way they show these photos come to life as slow-motion videos of Buss at his happiest during the photo-album scene. I'll allow it.) I'll see how this plan plays out as the season unfolds. (It might have something to do with him ending up in those stands during that '84 Finals game.)
Now back to the metaphorical "White Bus" stuff. The team is beginning to sense some inequalities when it comes to leadership, looking mainly at captain Abdul-Jabbar as he's been out a lot, recovering from injury and preparing for the arrival of his baby. However, as we're shown, the real inequalities are between the players and the owners. And we see this most starkly after something happens to Magic.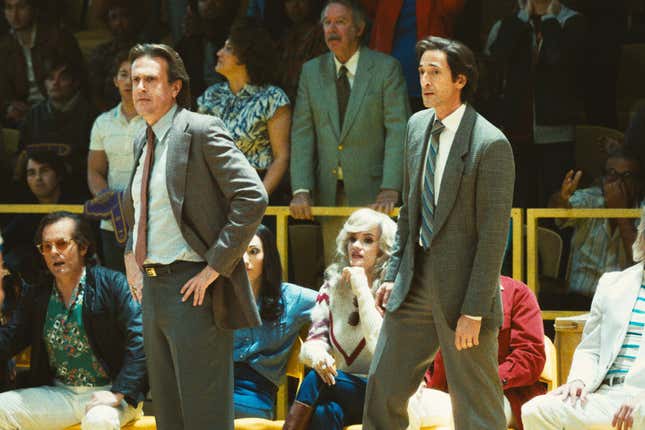 In a surreal scene from Magic's point of view, we watch him play basketball, but it's just darkness (only he and the hoop are illuminated) until we hear his leg snap and the lights come on, revealing the reality of the situation. The all-white owners surround him in the doctor's office as they're given the bad news that he can't play for a while, and these pasty potatoes are furious about what this means for the season. Magic, the injured one, ends up trying to reassure them. It's ghoulish to see these white men so angry about the fate of a young Black man's body purely as it relates to their pocketbooks, under gross eighties fluorescent lights, and that is the point. We later get a line from a player about how Coach Westhead's system (a.k.a. "The System") of having players constantly shoot the ball sets them up for bad personal stats and for "the auction block" as people profit from their pain and hard work. As Magic recovers, we see a woman stop grinding on him because his cast is rubbing her weird, then call his place a pig sty, before she plants a lipstick mark on his bandaged leg and bails. (Of course, in the heavily stylized nature of this show, the lipstick mark then talks to Magic for a while about how knee injuries ruin careers.) "You're just gonna leave me like this?" he says, and she is. His team did. The owners did. No one is really helping him.
And that brings us to the final theme set up in this episode: "the team" versus "the star." Magic is definitely not considering "the team" meaning both sexual partners, as he casually (as Cookie puts it) "sticks his dick in somebody" without thinking about pregnancy a possible outcome. He could see no one else on the court in the moments leading to his injury. Magic learns a lesson this time. "Team" seems to win for now, but we'll see. We know they all get a little meaner as the "winning time" continues.
So. There are some big themes going on, a lot of characters, a lot of sports and business talk, and some major swings for style points. (They still lean heavily on breaking the fourth wall this season, the text-on-the-screen device, and the fantastical scenes, like the solo basketball thing and the lipstick pep talk.) Does all of this work for me? Mostly. Packing so much in conceptually seems to take away from making the characters feeling real (though they're all supposed to represent real people). The wheeling-and-dealing talk can come fast and not quite land, but the show seems determined to include it all. The stylistic stuff can feel, well, slick and contrived. But nostalgia is a powerful thing: It's fun to see this time and place rendered for fans, and watching rival sports dynasties go at it is one of our best-loved and messiest pastimes, even when it's fictionalized. And so we end this episode right back where we began, with some classic Celtics/Lakers tension. Magic, in seeing Larry Bird, breaks the fourth wall in true Winning Time fashion to remind us: "I really don't like that motherfucker." Let's see how far they go with that.
Stray observations
Boots Riley, the filmmaker behind Sorry To Bother You and I'm A Virgo, and frontman of The Coup (the band who penned the show's theme, "My Favorite Mutiny") makes an appearance during the new opening montage, tiled and in silhouette, as he raps, "My name's Boots Riley." Cool! Yay Boots Riley! I like you.
Buss tells someone to "go sit on a fucking turnip," and that is a fun insult. Is it cooked and squishy? Raw and pokey? Are we trying to hatch it like an egg? Are we devastated?
Abdul-Jabbar's wife answers the phone and then her water breaks immediately. That's why pregnant people should never answer phones! (Or answer every phone if their goal is to induce labor.)
As Riley reads the team the motivational poem "Invictus" by William Ernest Henley (the "I am the captain of my soul" one), Westhead mouths the words like he's Roy Kent watching Rebecca sing "Let It Go" in Ted Lasso season one. What a nerd.
Speaking of Ted Lasso, between that series and this one, casual sports people like me are learning a lot about team strategy names (Total Football, The System)...and using team strategies as narrative devices in sports shows.

During the big family Monopoly fight, Jeanie tries to defuse some tension by saying, "Let's break out the Baskin-Robbins!"—a very normal thing people say all the time and definitely not product placement.