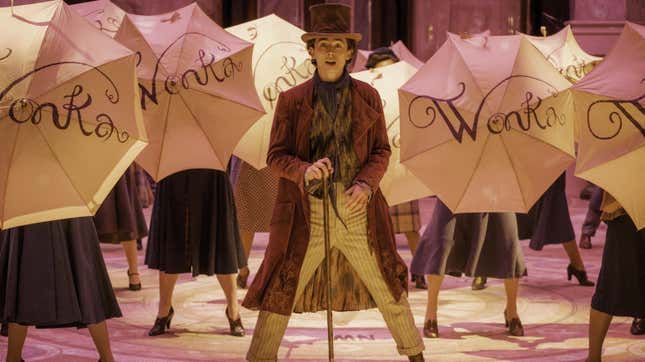 Left with the unfortunate task of promoting his upcoming Willy Wonka prequel after we've all seen what Hugh Grant looks like, Wonka director Paul King is doing what anyone else in his situation would do: Heaping praise upon Timothée Chalamet's abilities as a song-and-dance man. Speaking with Total Film, King says that Chalamet has a "beautiful singing voice" that he'll presumably use to teach children about selfishness in the film. "The person it reminded me of was Bing Crosby," King said. "There's quite a range because it does go from a couple of bigger, showstopper-y sort of things to moments of real, pure emotion, and he can do it all. I'm going to sound like a crazed fan."
Unlike Chalamet's other major Warner Bros. project, Dune: Part Two, Wonka is still slated for release this December. Warner Bros. Discovery recently moved Dune: Part Two to the ides of March (March 15, 2024), which we presume will go better for Paul Atredis than Julius Caesar, but we won't know for sure until Warners releases the freaking movie. Of course, the studio's reason for the push is the SAG-AFTRA strike, which seems destined to continue into the fall despite the AMPTP's power to end it immediately. Though considering the Wonka factory's history of labor law violations, it's probably not a great time for the Wonka movie anyway.
Until the strike ends, though, Mr. King will be promoting his chocolatier movie without his stars by his side. Nevertheless, he's doing his best to sell us on the movie's musicality, assuring us it won't be like one of those illogical musicals where people burst into song for no reason. "The Oompa Loompas sing a lot in the book, and Dahl always uses poetry," King explained. "But I didn't want it to just become a musical where people are singing dialogue to each other for no discernible reason. I felt like it was more like a movie with songs than a musical."
As we know, Mr. King is doing way too much work. We've all seen Lil' Timmy Tim, which King says got Chalamet the job in the first place. Just send the video to any haters and enjoy the boffo B.O. Lil' Timmy Tim's got it from here.