It is finished.
Carter Wilkerson, the 16-year-old Reno native who brought a nation together by demanding free food, now holds the Guinness World Records title for "most retweeted message on Twitter." In April, Carter asked the Wendy's Twitter account how many retweets it would take to get free chicken nuggets for a year. Wendy's, a chain that's proven themselves to be quite good at Twitter, responded with "18 million."
As of May 9 at 10:37 a.m. Eastern, his initial tweet was retweeted 3,435,067 times, surpassing the previous record holder: Ellen DeGeneres' celeb-studded Oscar selfie.
Despite not reaching his lofty goal of 18 million, Carter will receive his year's worth of "nuggs." Wendy's will also donate $100,000 to the Dave Thomas Foundation For Adoption, as #NuggsforCarter was eventually turned into a fundraising campaign for the foundation. That's a good thing, too, because otherwise people would be asking why we're giving a financially secure teenager a year's worth of free food when there are people starving to death.
G/O Media may get a commission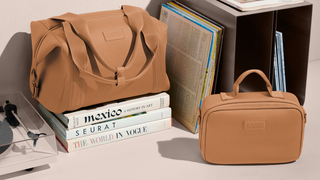 15% off
Dagne Dover Travel Kits
It's been quite the ride for young Carter, whose antics won him more than 100,000 followers, a coveted verification check, a free TV from his guest appearance on The Ellen Degeneres Show, and loads of celebrity interest.
He even had his own scandal, with countless Twitter users decrying Carter's appeal to a "meninist" Twitter account.
For now, however, it is finished. Enjoy your nuggets. The people have willed them to be yours.