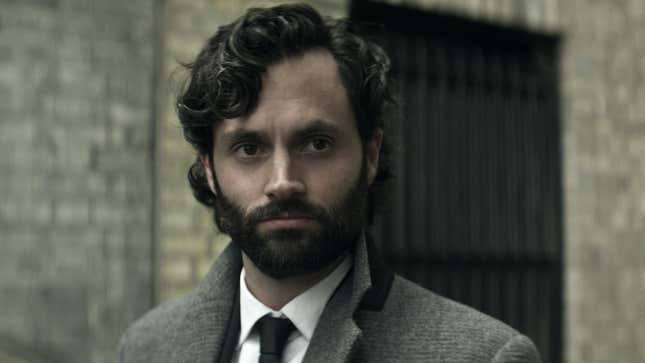 Nothing will prepare audiences for how You tackles Joe Goldberg's unraveling as the Netflix show concludes its fourth season. It's a moment the psychological thriller has been building toward since it began on Lifetime in 2018 (remember that?). Penn Badgley's Joe has done despicable things throughout the show's run, including but not limited to stalking, kidnapping, and murdering multiple people, and series co-creators Sera Gamble and Greg Berlanti have never romanticized Joe's inner monologues or rationalized his actions. Thankfully that doesn't change in this season's final batch of episodes, in which Joe is forced to reckon with his tumultuous past.
These five new installments, which arrive on March 9, are wildly entertaining and packed with nail-biting twists that unfold splendidly. But they're also rooted with an emotional gravity that makes You shine in a way it hasn't previously. Joe has no choice but to reflect on his horrible crimes and their impact as he faces off against his biggest enemy yet. Despite a few pacing missteps, especially an overlong finale that sets up another season, the show pulls off a massive storytelling swing. Not surprisingly, the main reason for the triumph is Badgley himself, who delivers a career-defining performance that's grounded yet scary and turns these episodes into the show's best phase since season one. It's a relief because the initial episodes of this season were middling.
When You returned last month for the first half of season four—which never should have been split, by the way—it morphed into a subpar but still engaging whodunit. The episodes saw Joe move to London under the identity of Jonathan Moore and start working as a university professor. He hoped to create a murder-free life to win back the trust of Marienne (Tati Gabrielle) after she rejected him because, you know, Joe did just kill his wife and abandon his child, the latter being the only wise choice he's made. He then mingled with the U.K. elite, including his new love interest, Kate Galvin (Charlotte Ritchie), and became the target of an anonymous serial killer, who framed Joe after his wealthy pals started to drop dead. Someone was using Joe's dark history to their advantage by manipulating him.
Admittedly, You needed a narrative shift and a host of new faces (mostly rich assholes who don't care about the world beyond their bubble) in a different country to explain Joe's ongoing crime spree. You also changed its format to keep the show fresh, becoming a sort of mashup of Knives Out and Pretty Little Liars. Mostly, though, the first half ended up being a mild gateway into part two's complex and shocking journey. Now the real fun begins.
Spoiler alert: Part two picks up after mayoral candidate Rhys Montrose (Ed Speleers) is unmasked as both Joe's stalker and the "Eat the Rich" killer. Montrose wants them to join up, hoping they can be a lean, mean, killing team. While Joe met his romantic match with Love (Victoria Pedretti), who was equally deranged and ready to slaughter, their marriage was toxic and dangerous—pride and narcissism can do that—but deep down, it was at least born out of a twisted feeling of belonging. Rhys is far more sinister and challenging, wielding his knowledge of Joe's skills to heighten the stakes.
Joe's predicament worsens when Kate's affluent, all-knowing father, Tom (Greg Kinnear), finally rolls into town. By episode eight—"Where Are You Going, Where Have You Been?" expertly directed by Rachel Leiterman—Joe is caught up in the long-standing, chaotic rivalry between Tom and Rhys. It's the series' riskiest yet most rewarding outing, as it captures Joe in the throes of significant reveals, like what Marienne has been up to since she left London, what Rhys is planning, and who else finds out about it. (Reader: It's a bonkers episode).
Speleers is no Pedretti (who squeezes in an appearance), but he's a good match for Badgley and fleshes out a more ominous side to Rhys. You dwells much more on Joe's student, Nadia (Amy-Leigh Hickman), who makes a shocking discovery about her professor early on in part two. The rest of season four also sheds more light on the relationship between Lady Phoebe (Tilly Keeper) and Adam (Lukas Gage), giving Keeper another chance to shine.
All these subplots are fine, but the second half of You's season four is the Joe Goldberg show. It works because the focus is tightly on Joe's declining mental health as Rhys becomes the devil on his shoulder. Their dynamic is so frenzied and keeps you on the edge of your seat. It's also fascinating way to unpack the trauma of Joe's upbringing and the pain he's inflicted on others—Beck, Candice, Ellie, Marienne, and everyone in between. (The list of women he hurts increases by the time season four wraps.) Once again, the show tackles whether or not Joe should be redeemed or whether he can pay enough for his many, many sins. The final outcome further proves that You's creatives know precisely the strong message they're sending, and they've crafted an equally strong batch of episodes around that message.
---
The last five episodes of You's fourth season drop March 9 on Netflix