Chuck Lorre and Steven Molaro likely didn't have to give much of a pitch to Warner Bros. and CBS to get Young Sheldon, their new Big Bang Theory spin-off, off the ground. The words "Big Bang Theory spin-off" probably did the trick just fine. As the story goes, the idea was birthed by Older Sheldon himself, Jim Parsons, who narrates the home and school lives of his 9-year-old counterpart, played by erstwhile Big Little Lies playground pariah Iain Armitage. The presumption is that Big Bang's still-astronomical audience is clamoring to see more of the upbringing that resulted in Parson's persnickety intellectual, the details of which Young Sheldon begins filling in with its premiere episode. That episode also, in not particularly subtle fashion, hints at deeper causes of Sheldon's behavior that The Big Bang Theory and its producers have typically passed on addressing.

As is the case with Parsons on the Big Bang mothership, Armitage's rendering of the character they now share is the brightest spot of Young Sheldon. He's picked up Parsons' speech patterns, but he also gets to play Sheldon at an age before the things that set him apart from other people were also the things that cause him to close off to and withdraw from those people. (On those speech patterns: The series' voiceover swiftly lampshades why he's speaking in a different accent than his fellow East Texans.) He's precocious, but not cloying, and conveys Sheldon's devotion to and affection for his mother in tender fashion. As Mary Cooper, Zoe Perry has a genetic leg up in mimicking her predecessor: Perry is the daughter of Laurie Metcalf, who originated the Mary role on The Big Bang Theory. For as often as Armitage recalls Parsons, the manner in which Perry hits the same notes as Metcalf is downright uncanny.
The remaining family members are more of a mixed bag. (Annie Potts, absent from the premiere, cannot arrive soon enough in the guise of Sheldon's beloved Meemaw.) Twin sister Missy (Raegan Revord) is a pistol with a deceptive smile; an Axl Rose poster and a football-practice meltdown do all the talking for older brother George Jr. (Montana Jordan) and his feelings of inadequacy, accelerated by the fact that he's walking the same high school halls as his kid sibling. As George Sr., Lance Barber is the spitting image (and all the hard-earned tough love) of Dan Lauria in The Wonder Years, which will help distract from the fact that he previously showed up on Big Bang as Leonard's high-school bully.
G/O Media may get a commission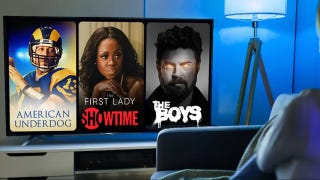 UNDER $1
99¢ Prime Video Channels
What it amounts to is a knockoff Wonder Years with a Chuck Lorre pedigree (and notes of Smart Guy) that feels like it could've run opposite Kevin Arnold's coming-of-age series. Every shot of the premiere is ringed by a golden, nostalgic hue, but certain stylistic choices—like the mechanical disturbances that menace Sheldon when he steps into the family's front yard—feel like they've been in mothballs since that late-'80s/early-'90s period when primetime comedy was reacquainting itself with a broader cinematic palette. The premiere feels old-fashioned, but not in a way that the producers would want to take pride in. (Maybe you can chalk it up to the direction of Jon Favreau, who also worked on The Orville's aesthetic time warp of a pilot episode?) This isn't the type of story that should be told in front of the distancing laughter of a live studio audience, but the Young Sheldon producers (and the network that's broadcasting their show) are still getting the hang of the single-camera setup.
That's amplified by the way the show dramatizes Sheldon's sensitivities to the outside world, one reading of which is simply "Bright kid fails to understand world that doesn't understand him back." Read another way, it's a tacit acknowledgment of Sheldon's place on the autism spectrum—and a clumsy one, at that. The people behind the scenes at The Big Bang Theory have skirted this topic for nearly a decade; to delve into it so deeply here would be a seemingly progressive step that retroactively makes the parent show's sense of humor—so frequently pegged to Sheldon's difficult nature—look inordinately cruel. Should Young Sheldon go down the path already treaded by The Good Doctor, Atypical, and The A Word, it'll need to do more than insert a few jarring POV shots.
Which raises the question of whether or not this show is the blockbuster that its pedigree suggests it could be. The premiere doesn't pack the joke-telling punch to satisfy regular Big Bang Theory viewers, and it's too treacly to lure in the stubborn ranks who turn their noses up at multi-camera fare. Like young Sheldon—neither as adult as his intellect nor as childlike as his stature—Young Sheldon is caught in an in-between place, destined to flummox those who'd love it the most. Perhaps this wasn't such a gimme after all.