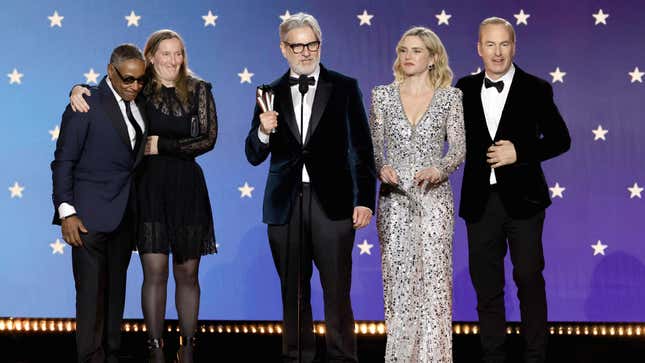 People just aren't interested in watching beautiful celebrities accept shiny awards like they used to be. The 2023 Critics Choice Awards, which aired Sunday night on the CW, is the latest awards show to post record-low ratings, according to Deadline. Early Nielsen numbers indicated an audience of around 900,000 viewers, the ceremony's smallest audience for an in-person show. It tops only the 2021 virtual broadcast, which drew a dismal 365,000 viewers.
One might be tempted to tack blame on the host network, the CW, as Seth Rogen did during the actual ceremony. "That was weird. Why do they do that?" he asked about the show's time-saving measure of bringing up two winners at once. "Are we crunched for time? Get another hour! It can't be that expensive. You know how I know that? This show airs at 4 p.m. on the CW. That cannot be a pricey timeslot, from my understanding of how this all works."
Before presenting, Rogen continued his roast, saying, "I'm not saying the CW is bad. What I will say is that it is the one network to receive zero Critics Choice nominations. You are saying it's bad! We're on your least favorite network. How did that happen?"
In fairness to the CW, the network actually received a larger portion of viewers than it did the year prior when the ceremony was simulcast on TBS. (Per Deadline, the 2022 show garnered an audience of 1.1 million viewers between the two networks.) Still, a drop is a drop.
But the Critics Choice is far from the only award-season flop. The triumphant return of the Golden Globes turned out to be less than triumphant with another set of record-low ratings (and that includes the 2021 virtual pandemic edition). Generally speaking, awards show ratings are down across the board.
Setting aside the fact that Nielsen is in itself an imperfect system (the company tracks only a small sample of households in the United States, not to mention its accreditation has been suspended by the Media Ratings Council since 2021), television, as we know, simply ain't what it used to be. Audiences are way more segmented, streamers still reign supreme, et cetera, et cetera. Deadline reports that pro football is "just about the only thing that can pull in huge numbers for any broadcast network," so once again, the jocks come out on top. How are a bunch of theater kids patting themselves on the back supposed to compete?