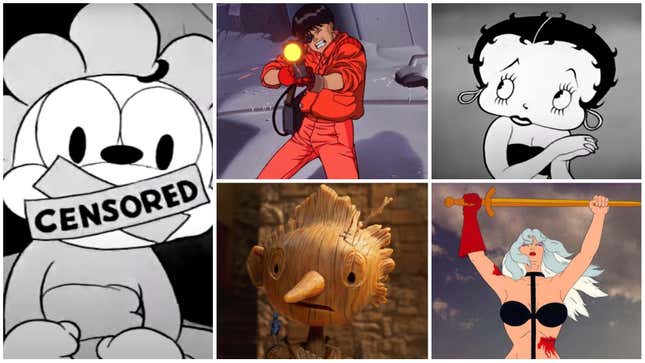 In the Disney and Pixar era, most American moviegoers have come to define animation as candy-colored kiddie fare that traffics in facile, rugrat-ready themes about family and finding yourself. But according to Oscar-winning director Guillermo del Toro, that definition is not only limiting, it's insulting. His Oscar-nominated, anti-fascist Pinocchio, for instance, operates at a darker and more challenging, adult-oriented remove that feels light years away from the antics of Toy Story's Buzz Lightyear who once told Woody, "We need to figure out what's best for everyone!"

Judy Garland's previously missing Wizard of Oz dress to be auctioned off
Del Toro clearly chafes against such sentiments, especially in animation; while accepting the Golden Globe award last month for Best Animated Motion Picture for Pinocchio, he proclaimed that "animation is not just a medium for kids." This comes after telling journalists at last year's Toronto Film Festival that "animation is not a fucking genre for kids," which further suggests how deeply held his beliefs are. Del Toro, of course, shouldn't have to fight this hard to make his point. Because he is very right. Animation isn't just for kids, and it never has been.
Meet Eveready Harton, a cartoon superhero from 1928. Eveready is the dictionary definition of "not safe for work." In fact, his debut—and sole—cartoon short, Eveready Harton in 'Buried Treasure,' might be the single most pornographic movie ever made. The first minute alone includes flies landing on an erect penis that gets blown off a body by a pistol before reattaching itself with a backflip, at least five sex acts, including several by "funny animals," and a naked woman cheerfully pleasuring herself.

Eveready matters because he isn't a work of crazed fan art. His alleged creators are a who's who of early animation legends, who supposedly wanted to liven up a dinner honoring the inventor of screen animation, Windsor McKay. There is no greater pedigree than that. Eveready is an extreme manifestation of a general tendency in studio short animation that lasted until 1934. With no production code in place, the "kiddie" cartoon stars slipped the leash all the time.
Animated Jazz Age flapper makes grown men flip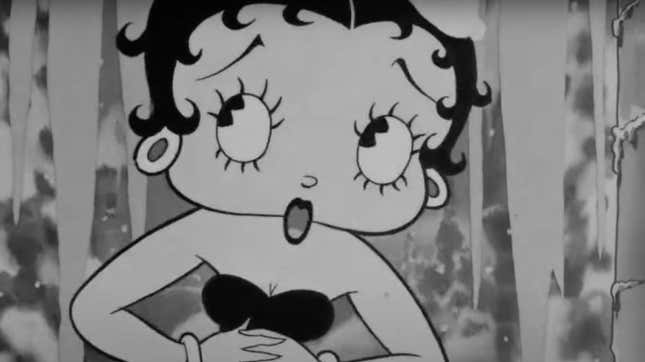 Betty Boop was a repeat offender, whose over-sexed antics may have brought censorship down on everyone else. Two of many examples: Betty as a dog-eared sex worker in the amazingly brassy Barnacle Bill The Sailor (1930), and Betty as the bikini-clad victim of workplace sexual assault in the truly disturbing Boop-Oop-A-Doop, where virtue is restored after a suggested offscreen sex crime when Betty cheerfully tells Koko the Clown, "He couldn't take my Boop-Oop-a-Doop away!"

Progress toward a more sophisticated kind of commercial storytelling found its first great champions in the post-war cartoonists at United Productions of America, or UPA. The UPA artists chafed at the volume-based realism of the Disney house style, and they despised Disney's bread-and-butter focus on stories for children. Each UPA cartoon had a bespoke visual palette based on modern art; satirists like Dr. Seuss and James Thurber provided the urbane material. UPA's modernist break with Disneyisms made space for innovations like the Pop Art-derived Beatles cartoon Yellow Submarine a generation later. The UPA masterpiece is a subjective camera Tell-Tale Heart that marries Salvador Dali with Edgar Allan Poe, one of the great mid-century examples of how animation often does a better job than live-action cinema in rendering complex inner states.
Full-length animation took its own turn toward grown-up topics in the 1950s, thanks to an unlikely funding source. A sober animated feature based on George Orwell's anti-communist fable Animal Farm materialized in 1954, courtesy of the CIA. You read that right: the CIA produced a full-length anti-communist cartoon during the Cold War—secretly, because secrecy is how they roll. The Agency actually changed Orwell's ending to make it more uplifting, so we know they'd gone Hollywood. Fun fact: Animal Farm was the most financially successful animated film of that year.
(Rated) X marks the spot for animated Fritz The Cat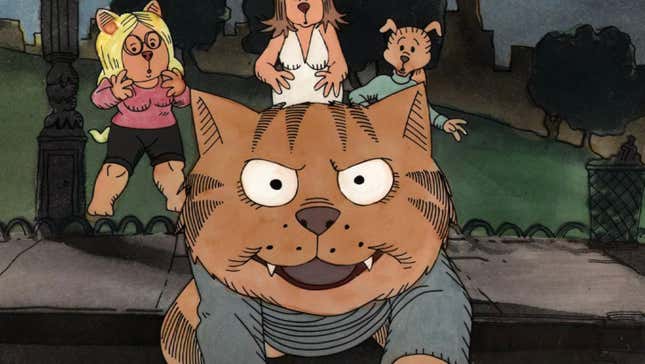 Meanwhile, the legacy of Eveready Harton persisted. The second great chronicler of cartoon sex (plus drug use and disturbing violence) was Ralph Bakshi. A pioneer of boomer TV faves like Spider-Man, Bakshi went rogue in the late 1960s, because hey, who didn't? His pornographic R. Crumb adaptation Fritz The Cat (1972) upset Crumb so deeply that he killed Fritz off with an ice pick in a comic called Fritz The Cat, Superstar, as an act of protest. But the film grossed an astounding $90 million globally, and Bakshi went on to a long, significant career as an animation provoc-auteur.

Both Bakshi and a Mobius-driven 1981 anthology flick based on the erotic sci-fi comics magazine Heavy Metal had a measurable influence on the fantasy-driven aspects of Japanese anime. But anime encompasses every conceivable tone and genre; it's a wonderland of great animation too intricate and vast to do justice to in a survey. Still, if you want to see a seminal work of "adult" cyberpunk futurism, Katsuhiro Otomo's Blade Runner-esque Akira (1988) is a stunning place to start.
Animation tackles adult themes and Oscar takes notice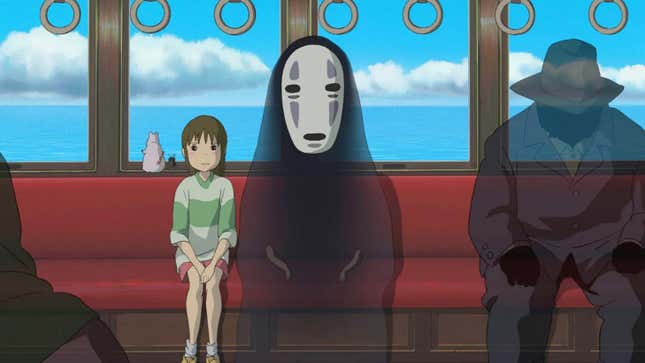 In our own period, the "grown-up" material has come thick and fast, especially since the Academy created a Best Animated Feature category, something it (shamefully) resisted until 2002. Oscar's siren song draws in "art films" and indie projects, including this year's A24 charmer Marcel The Shell With Shoes On, plus all the expected box office juggernauts from Disney, Pixar, and DreamWorks. The Best Animated Feature nominations are a literal battleground between studio animation's focus on children's entertainment and an internationalist trend toward more adventurous fare.

Miyazaki's classic fantasy Spirited Away (2001) won the second Best Animated Feature Oscar (partly because it was distributed in the U.S. by Disney). Even deeper cuts among past nominees include Sylvain Chomet's surreal The Triplets Of Bellville (2003), Tono Errando's operatic love story Chico And Rita (2010), and two devastating biographies about Middle Eastern refugees: Marjane Satrapi and Vincent Paronnaud's tale of the Iranian revolution Persepolis (2007), and the adult animated documentary Flee (2021), which managed to get Oscar nominations for Best Animated Feature, Best International Feature, and Best Documentary, all in the same year.
Weirdly, Flee seems directly inspired by an animated masterpiece the Academy failed to nominate for Best Animated Feature: Ari Folman's Israeli documentary/combat memoir Waltz With Bashir (2008). Like Persepolis and Flee, Bashir uses animation as a tool to create an enclosed subjective reality, colored by loss and memory. Animation informs every detail in these films with a depth and resonance a live-action film could never match.
Mumblecore Hollywood renegades like Wes Anderson (Fantastic Mr. Fox) and Charlie Kaufman (Anomalisa) have bitten their nails as the Academy tore open its Animated Feature envelope at Oscar time, too. Del Toro is nominated for this year's Best Animated Feature Oscar, and given the recent woes at Disney, he may even be the front-runner to receive it—in a category Disney releases have carried 16 out of 21 times. If Del Toro's rebel Pinocchio grabs the gold, it'll be a grand historical rebuff to the old Disney formulas, underscoring how "animation is not a fucking genre for kids" once and for all.