Motown 101
In January of 1959, Detroit songwriter Berry Gordy founded Tamla Records, launching its sister label Motown that fall. Though Gordy no doubt had high hopes for his venture, he probably didn't realize he'd change the course of popular music, turning out era-defining hits via an everything-under-one-roof talent cultivation, songwriting, and producing system. Motown looked to the assembly lines of the city's auto industry for inspiration, but it was the label's artists that won the hearts of listeners, creating irresistible music that won over audiences across color lines.
Gordy enjoyed his first hit as a label head the year he founded Motown with Barrett Strong's "Money (That's What I Want)." It was Strong's only significant hit as an artist—he remained onboard as a highly successful songwriter—but one-offs were a rarity for a label that thrived on spotting and cultivating talent. Among the first acts signed to the label were The Miracles, led by Smokey Robinson.
When Robinson first met Gordy, he immediately recognized Gordy's name from the labels of all the Jackie Wilson hits he wrote; and Gordy was reportedly impressed because Robinson already had notebooks full of his own songs. The two bonded over their craft, and shortly thereafter, Robinson's group, The Miracles, became one of the first acts Gordy signed to Motown. While some Motown artists became big because of their sound, The Miracles were defined more by their songs: "Shop Around" (Motown's first million-selling single), "Mickey's Monkey," "Ooh Baby Baby," "The Tracks Of My Tears," "Tears Of A Clown," and more. The Miracles were always one of Motown's more pop-savvy acts—even after Robinson went solo, the band scored a hit with the proto-disco "Love Machine"—and with Gordy and Robinson bouncing ideas off of each other like a couple of music geeks, The Miracles were able to shift easily between styles, their songs unified by their brightness and by Robinson's high, sweet voice. Robinson was a team player, too, penning songs for other Motown acts (and recording other writers' songs if he thought he could do something with them), and serving as one of Gordy's most trusted advisers.
Motown's history can be viewed as a series of waves, the first being the rush of hits that defined the label's sound in its early years. Some artists' hit-making years, like those of The Miracles, extended beyond the wave that brought them up; others did not. And while Martha And The Vandellas (later to be called Martha Reeves And The Vandellas) saw some chart action after the mid-'60s, the group will forever be associated with its early hits, which helped define the early Motown sound: a chugging rhythm section, honeyed vocals, and inescapable hooks. (Even the group's last smashes, 1967's "Jimmy Mack" and "Honey Chile," sounded like throwbacks.) In the group's early years, the Vandellas benefited from receiving the full attention of the Motown machine, which groomed their image, promoted them aggressively, and handed them hits by the songwriting and producing team of Brian Holland, Edward Holland, and Lamont Dozier (the source of many of the label's biggest songs and collectively known as Holland-Dozier-Holland) and others. These propulsive tracks included "(Love Is Like A) Heat Wave," "Dancing In The Street" (written by Marvin Gaye, Mickey Stevenson, and Ivy Jo Hunter), and "I'm Ready For Love." By decade's end the group was troubled by internal tension, the departure of Holland-Dozier-Holland and other supporters, and Gordy's decision to focus on other acts. But its catalog is quintessential early Motown and rewards those who explore beyond the biggest hits to uncover gems like "You've Been In Love Too Long" and "In My Lonely Room."
G/O Media may get a commission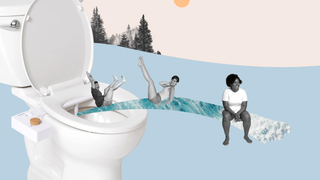 17% off
Tushy 3.0 Warm Water Spa Bidet Attachment
Few acts benefited from the Motown combine—the etiquette lessons, the style consultations, the teams of skilled songwriters and session men—as much as The Supremes. And few exemplified so clearly how difficult it became over time for Gordy to control his employees. Diana Ross, Mary Wilson, and Florence Ballard first caught Gordy's attention when they auditioned for him as teenagers, though he made them keep re-auditioning before he finally signed them. Then Gordy pushed them to try out different styles, and to tour incessantly (and on the cheap) before the group finally came up with a hit, "Where Did Our Love Go?" With Gordy pushing Ross as the lead, The Supremes got on a roll in the '60s, scoring with a string of offbeat "Love" songs: "Baby Love," "You Can't Hurry Love," "Love Child," and more. But Ross' rise to prominence irritated Wilson and Ballard, who were used to sharing the spotlight; and her closeness with Gordy didn't exactly endear her to her labelmates, either. She was known to steal bits of other Motowners' acts, and to passive-aggressively manipulate people to get the songs and attention she wanted. But that was all behind the scenes; the public only saw the results: catchy, heartfelt songs like "Come See About Me" and "Reflections." And whatever Ross' personal failings, she was a dynamic performer who adapted well to the changing times. Her 1980 solo album Diana—with its disco-inflected hits "Upside Down" and "I'm Coming Out"—was one of the best of her entire Motown stint.
One of the label's biggest acts came from the merger of two Detroit groups, The Primes and The Distants, which manifested first as The Elgins, then The Temptations. But while the name stayed the same, the group never really stopped turning over its membership or changing its sound. For a while, though, the tumult led to creative and commercial success. David Ruffin joined The Temptations in 1964 after original lead singer Elbridge Bryant flamed out. And the hits started rolling in for what became known as the "Classic Five" lineup (known for its songs, snappy outfits, and even snappier choreography): Ruffin, Melvin Franklin, Eddie Kendricks, Paul Williams, and Otis Williams. Kendricks lent his voice to the early hit "The Way You Do The Things You Do," but it was Ruffin's at the fore on "My Girl," "Ain't Too Proud To Beg," "I Wish It Would Rain," "(I Know) I'm Losing You," and most other charting songs from that period. That success brought problems of its own, however, leading to internal tension and the dismissal of Ruffin—whose behavior had become erratic as his drug habit became more of an issue—and the hiring of Dennis Edwards in 1968. It also allowed producer and songwriter Norman Whitfield, who'd already started to favor a harder-edged sound, to push the group in a new direction. Taking cues from Sly And The Family Stone, Temps singles like "Cloud Nine" and "Ball Of Confusion (That's What The World Is Today)" started to address the ills of the day while incorporating the sounds of psychedelic rock. The "psychedelic soul" era gave the group a second wind and proved hugely influential on the label's output. Under Whitfield, the Temptations enjoyed a run of hits that stretched into the early '70s, even as health problems and internal strife led to more personnel shake-ups. The Temptations' success started to wane after Whitfield's departure in 1974, but, like a lot of classic Motown groups, they just kind of hung around. One version or another has carried on through the present day, with Otis Williams remaining the only constant.
Formed by four high-school friends, The Four Tops, on the other hand, enjoyed a stable membership for decades until death and infirmity started to force lineup changes in the '90s. Consistence defined the group in other ways, as well. The way lead singer Levi Stubbs' deep, pleading voice plays against a foundation provided by the Funk Brothers—classic Motown's ace, often overlooked, and for years uncredited house band—on "Bernadette," "I Can't Help Myself (Sugar Pie, Honey Bunch)," "Reach Out, I'll Be There," and "It's The Same Old Song" is Motown to the bone, creating transcendent songs by pairing high emotion and musical efficiency. After the Holland-Dozier-Holland team's departure, the Tops had more sporadic success and left the company entirely when Motown packed up for Los Angeles in 1972. But the group carried on, enjoyed some further hits, eventually reunited with Motown in the '80s, and stayed on the road with the same lineup until Lawrence Payton's death in 1997. (Stubbs, who left the group following a stroke in 2000, died in 2008. Renaldo "Obie" Benson died in 2005, leaving only Abdul "Duke" Fakir from the original lineup.)
The career of Stevie Wonder, like that of Marvin Gaye (covered below), provides a history of Motown in miniature. Signed to the label at age 11 and billed as "Little Stevie Wonder," the blind musical prodigy first made a name for himself with the 1963 song "Fingertips (Pt. 2)," the explosive second half of a live performance of a mostly instrumental song that Wonder turned into a showcase for his musical talent and boundless charisma. He might have seemed like a novelty act at first, but the proof was in the music, and the rest of the decade saw him flooding the charts with sophisticated hits like "Signed, Sealed, Delivered I'm Yours" and "For Once In My Life." As he grew up, Wonder wanted to assume more creative control, a source of tension between the artist and the label. During the '70s, Gordy eventually relented, and the result was a flood of classic albums: Music Of My Mind, Talking Book, Innervisions, and the double-length Songs In The Key Of Life. They won him acclaim, an even bigger following, and Grammys. And though Wonder wanted to wrest control in part to make albums that worked as discrete artistic statements—as opposed to the label's haphazard singles-and-other-stuff approach to LPs in the '60s—each of these albums also sent singles up the pop charts. They're dense, ambitious masterpieces that also double as great pop albums. Wonder's output slowed as the decade drew to a close—in part because of time spent trying to establish a national holiday to recognize Martin Luther King, Jr.—and the '80s found him successful but also out of sync with the times. His output slowed even more in the '90s and '00s, though he's continued to tour.
As the '60s became the '70s, Motown found it harder than before to break new acts with one major exception: The Jackson 5. A brother act from Gary, Indiana, The Jackson 5 had some regional success before joining the label, where they received the full Motown publicity push. The group's debut was entitled Diana Ross Presents The Jackson 5 and Gordy's hands-on involvement didn't stop with the blessing of his biggest star, even forming a songwriting and producing group—The Corporation—specifically to create material for the band. (The group, which included Gordy himself, went unbilled so as to avoid another Holland-Dozier-Holland situation in which the writers became stars in their own right.) It worked; powered by songs like "ABC," "I Want You Back," and "I'll Be There," The Jackson 5 became musical superstars and a merchandizing machine shortly after their public unveiling in 1969. Things were changing behind the scenes, however. Most of the Jacksons' hits were recorded in Los Angeles, where Gordy had started to shift the bulk of his operations. In mid-1972, L.A. became Motown's official home, making The Jackson 5 the last superstars produced in the classic era. It's fitting, then, that their songs sound like transitional works—part classic-'60s Motown, part teen-appealing '70s pop—and with subsequent releases, the group put down even stronger '70s roots, anticipating disco, for instance, with "Dancing Machine." In the meantime, both Michael and Jermaine Jackson launched successful solo careers, and in 1975 the group's father took The Jackson 5 to CBS Records, where they became simply The Jacksons. (Jermaine, married to Gordy's daughter, stayed behind.)
For all the joyous music Motown produced, it didn't produce that many happy stories, and Marvin Gaye's is one of the unhappiest, including years of substance abuse, two divorces (one from Gordy's sister Anna), financial woes, and Gaye's death at the hands of his own father in 1984. Yet through it all, Gaye always made it look easy. He defined smooth as he rolled out winning song after winning song in the '60s, breaking through with "How Sweet It Is (To Be Loved By You)" after working as a songwriter for the label and never looking back. Gaye's voice made despair sound seductive with "I Heard It Through The Grapevine" and lent drama to songs like "I'll Be Doggone" that might have sounded like trifles when performed by other artists. And, like Wonder, he found even greater ambition in the '70s, turning out a series of concepts initiated by 1971's What's Going On, a stunning cri de coeur inspired by the troubled times. Its sequels included the self-explanatory Let's Get It On and Here, My Dear, a wrenching album inspired by his fractured marriage (and recorded with the knowledge that half the royalties would go to his wife as part of the divorce settlement). After parting ways with Motown, Gaye had restarted his career at Columbia at the time of his death, and found new success in the form of "Sexual Healing," but where Gaye might have gone from there remains one of music's great unanswered questions.
Gordy went through some major financial trouble after the label's heyday, and though Motown continued to exist, it wasn't the tightly controlled show-business megalith it once was. Motown still had hit records, though, with some of the biggest coming courtesy of Boyz II Men, a '90s combination of classic R&B boy bands and the hip-hop-informed dance-pop known as "New Jack Swing." Boyz II Men even overtly connected the old and the new with the single "Motownphilly," though by the time the song was released, the "Motown" side of the equation seemed more like a respectful nod to the past than a statement about the hip, modern sound. Still, the Motown of the '90s tried its best to capitalize on what was popular in R&B at the time, promoting acts like Johnny Gill and Another Bad Creation alongside Boyz II Men.
[pagebreak]
Intermediate Work
Another first-wave Motown act, and the first to prove the label could have just as much success with female artists as with men, The Marvelettes began as a bunch of high-school glee-club pals. The group enjoyed considerable success out of the gate with "Please Mr. Postman" in 1961 and "Beechwood 4-5789" the following year, but struggled to replicate it as the lineup changed due to health and personal issues. It also didn't help that the group remained third in line among Motown's girl groups, overshadowed by Martha And The Vandellas and The Supremes. But even while having to struggle for attention and good material, they still produced late-career hits like "Don't Mess With Bill" before disbanding, and the Marvelettes' catalog is a strong one, filled with should-have-been-smashes like "Too Many Fish In The Sea" and "I'll Keep Holding On." The Motown factory system didn't always know how to promote everything it put out, but it still produced strong products.
As Motown became more successful, the label began attracting artists who already had a following. Gladys Knight And The Pips were already big on the R&B charts when Gordy lured them to Motown, where Knight reached an even wider audience for her gospel-tinged, deeply Southern soul, heard in songs like "That's The Way Love Is" and "I Heard It Through The Grapevine" (both later even bigger hits for Marvin Gaye). But the poaching went both ways; Knight never felt that she got the "crossover" push that Gordy's favorite Ross received, and when Buddah Records came calling in the '70s, Knight and her Pips jumped ship, and immediately scored their biggest pop hit with "Midnight Train To Georgia."
Still, having Knight on the label even for a few years bought Motown some R&B credibility with the people who'd criticized Gordy for aggressively courting a white audience. The same could be said of the label's early signing of The Isley Brothers, who were veterans of the black nightclub circuit when they joined the Motown roster. Unlike The Pips, though, the Isleys were absorbed into the Motown system. Known for fiery call-and-response anthems like "Shout," "Twist And Shout," and "Nobody But Me," the Isleys softened on Motown, turning out covers of songs that had already been hits on the label, and having their own smash with the relatively tame "This Old Heart Of Mine."
The classic Motown brand included sophistication among its key elements, which made Jr. Walker And The All-Stars an awkward fit. Awkward but welcome. A saxophonist and vocalist, the Arkansas-born Walker played gutbucket R&B driven in turn by growling vocals and a squawking sax. The group's first hit single, 1965's "Shotgun," announces itself with the sound effect of a gun blast, and from there it's a three-minute party. Subsequent efforts like "Shoot Your Shot" and "(I'm A) Road Runner" didn't vary the formula too much, and when the group didn't know what else to do, it covered Motown hits from other artists. Walker even found ways to fit into changing tastes, scoring a big hit with the smoother-sounding "What Does It Take (To Win Your Love)" in 1969. Walker struggled to find a foothold in the '70s but ended up exerting a considerable influence on the sound of '80s rock by contributing to Foreigner's "Urgent" in 1981, helping to usher in a new era of dramatic sax solos.
The Jackson 5 were one of the last groups to be a "Motown act" in the traditional sense of being nurtured and developed within a well-established system, but even as Motown evolved in the '70s—allowing their established acts more creative freedom, and signing new acts that had their own, not-always-Motown-like sounds—the label continued its commercial winning streak. One of the most successful bands in Motown history was The Commodores, originally signed to the more rock-oriented MoWest imprint before moving over to the main label. The Commodores explored a sound as much country-influenced as R&B; for every hard, funky Commodores number like "Machine Gun" and "Brick House," frontman Lionel Richie delivered mellifluous, twangy ballads like "Sail On," "Easy," "Still," and the 10-million-selling single "Three Times A Lady."
Motown also rode the wild stallion that was Rick James about as far as he could go. A veteran of the '60s rock scenes in upstate New York, Canada (where he worked with a pre-Buffalo Springfield Neil Young), and California, James reinvented himself as a Prince-like impresario for Motown in the late '70s and early '80s, recording rubbery funk workouts like "Give It To Me Baby" and "Super Freak," while also serving as a songwriter, producer, and mastermind behind the career of The Mary Jane Girls.
And while the classic Motown system had more or less broken down by the time Gordy personally got involved with the sibling act DeBarge, the band's extraordinary run of hits in the '80s (including the solo smash "Who's Johnny" from El DeBarge) briefly made it seem like Motown had another Jackson family on its hands. Instead, DeBarge was just another fleeting '80s success, able to produce solid, radio-ready ballads and dance tracks, very few of which were as timeless as Motown's best. The one major exception: the exultant, Latin-tinged "Rhythm Of The Night," a catchy tune that likely would've been just as big a hit in the '60s and '70s.
Advanced Studies
Marvin Gaye also excelled as a duet artist, recording albums with Mary Wells, Kim Weston, and Diana Ross. But his most frequent duet partner was Tammi Terrell, with whom he found a chemistry he never duplicated with anyone else. Terrell, who'd previously recorded as Tammy Montgomery and toured with James Brown, had some success as a solo artist but was never better than when playing against Gaye. "Ain't No Mountain High Enough," written by Nickolas Ashford and Valerie Simpson, kicked off a run that included "You're All I Need To Get By," "Ain't Nothing Like The Real Thing," and other enduring favorites. The team recorded three albums together, but Terrell's health cut their partnership short. She died of brain cancer at the age of 24.
Gaye's first duet partner, Mary Wells, was briefly one of Motown's biggest stars, lending her beguiling voice to early-'60s hits like "You Beat Me To The Punch" and "Two Lovers." The biggest hit of her career occurred in 1964 with "My Guy." The Beatles sang her praises and invited her to open for the group the same year. Then Wells, sensing she might be better off elsewhere and feeling there might not be room for her as The Supremes' star ascended, left the label to seek her fortune elsewhere. It never really worked out, and her relationship with Motown remained bitter until her death in 1992. The songs, however, are some of the brightest from the first phase of the label's existence.
Gordy's insistence on making Diana Ross the unchallengeable queen of Motown hampered the careers of Mary Wells and Martha Reeves, but in an odd turn of events, Ross owes at least some of her fame to minor Motown starlet Brenda Holloway. Holloway's stunning ballad "Every Little Bit Hurts" found a fan in Dick Clark, who asked for Holloway to be a part of his touring show "Caravan Of Stars." Gordy agreed, with the condition that Clark take The Supremes, whose song "Where Did Our Love Go" was just about to break, Gordy felt. By the end of the tour, The Supremes were huge, and while Holloway was asked to open for The Beatles the following year, she was never given Motown's best material, and her career floundered (as did that of her younger sister Patrice, who was also under contract to Motown but couldn't catch a break from her bosses). Before she left the label, Holloway co-wrote and recorded one of Motown's enduring classics: "You've Made Me So Very Happy," which was minor hit in Holloway's version and then a smash when Blood, Sweat & Tears covered it two years later.
The talented singer-songwriter Syreeta Wright also had a hard time catching on with record buyers and radio programmers, though not for lack of trying on Motown's part. With the help of Stevie Wonder (to whom Wright was briefly married), Motown tried selling Wright as both a pop diva and a soulful hippie, as "Rita Wright" and as just "Syreeta," and as a star on the more adventurous MoWest label as well as a mainstream Motown hit-maker. As a result, Wright's '70s output—much of it in collaboration with Wonder—is some of Motown's most eclectic and undervalued. Even Wright's biggest hit, her 1979 duet with Billy Preston "With You I'm Born Again," in unusually beautiful.
[pagebreak]
Edwin Starr had already enjoyed a couple of R&B hits, including "Agent Double-O-Soul," before he came to Motown when Gordy purchased his contract, and the Nashville-born star's rough vocals didn't really sound like they belonged on the label. But he arrived in time to take advantage of producer Norman Whitfield's taste for harder-edged sounds and enjoyed success there in the late '60s. All of which was overshadowed by his biggest success, the protest anthem "War." He never topped it, but kept busy recording through the disco era and recording in the UK, where he found great popularity with Northern Soul. (Worth seeking out: Just We Two, a 1969 duet album with the sweet-voiced, unfortunately named, virtually forgotten Blinky.)
Motown had always diversified beyond the soul music that made it famous, putting out pop vocalists and country artists alongside its more famous artists, even if it didn't push them that hard. The label invested heavily in one rock act, however, Detroit's Rare Earth. Though it sounded closer to Iron Butterfly than Smokey Robinson, the group clearly knew and loved Motown, concluding its first album for the label with a 21-minute version of The Temps' "Get Ready." Cut down to the length of a single, it gave the act a hit in 1970, and for a few years it looked like Motown might have some genuine rock stars on its hands, though Rare Earth turned out to be more of a fuzzy oddity than a game-changer.
The short, eventful career of Thelma Houston on Motown pretty well exemplified the label's dysfunction in the '70s. Having gotten some attention working with Jimmy Webb in the late '60s, Houston signed with Motown in 1971 and promptly stalled, a victim of singles that didn't catch on and film and TV projects that occupied her time. She was also, like many other Motown women, hamstrung by Diana Ross, who claimed the surefire Top 10-er "Do You Know Where You're Going To?" for her film Mahogany before Houston could release her version. But as happened with a few Motown acts in the '70s and '80s, Houston finally broke through almost in spite of her bosses, recording a discofied version of Harold Melvin's Philly-soul anthem "Don't Leave Me This Way" that became one of Motown's biggest hits, and one of the label's first successful forays into what was becoming the most important market for R&B artists in the mid-'70s.
It's also a shame that a weakened Motown couldn't make a bigger star out of Teena Marie, though that was as much a case of Marie being a musical and cultural misfit as Motown being in disarray. At a time when the R&B market was angling toward electro-funk and hip-hop, Marie was an old-fashioned soul woman—and white, to boot—without much of a market for her skills. After Rick James became one of Motown's biggest moneymakers, he took on Marie as a project, and had some success fitting her into his more fluid fusion of rock, soul, disco, and new wave. But someone with Marie's voice and passion could've been huge in a different context. In the early days of Motown, the label got its records onto pop radio by disguising the race of its artists. It initially tried a similar gambit for Marie, but couldn't keep her under wraps forever in the era of Soul Train and MTV.
Times change, though, and it's fitting that one of the last major artists to sign to Motown was Erykah Badu, a proponent of what came to be known in the late '90s and early '00s as "neo-soul." Influenced more by '70s experimenters like Stevie Wonder, Marvin Gaye, and Syreeta Wright than by the more synthesized R&B of the era, the neo-soul acts found an audience among both nostalgic old-timers and young people who'd never heard R&B sound so warm and lush. By and large, Badu's material hasn't been up to the standard that her idols had set, but someone as steeped in the past as Badu would've been crushed by the music business a decade earlier—and lost in the shuffle at Motown back then—which makes her popularity heartening.
Miscellany
Some of Motown's best singles came from artists like The Velvelettes and The Dazz Band, who didn't have lengthy or otherwise significant careers. And some of the label's most unusual music came via its various imprints, some of which were fairly mainstream (like Tamla and V.I.P.), and some of which were more bizarre (like Motown's two country labels, Mel-o-dy and Hitsville). That's why, as formidable as many of the Motown artists and their albums are, the various catchall Motown compilations out there are useful for filling in the gaps in the label's story. The two four-disc Hitsville USA box sets cover a lot of ground—and will be a boon to those who really want a copy of "Let It Whip" but don't necessarily want to buy a whole Dazz Band album—but even more valuable are the occasional anthologies that consider Motown's more unusual detours. The recent Motown's MoWest Story is a good example, gathering decidedly non-Motown-esque tracks by the likes of country-rockers Lodi and the spacey soul act Odyssey that were recorded for Motown's more experimental West Coast venture. Another set worth tracking down: The double-disc A Cellarful Of Motown collects some of the many songs that Motown recorded but never released, usually because Gordy rejected them during the label's weekly listening sessions in the '60s. Some of Motown's most under-utilized artists—like the Holloway sisters—get more of their story told via A Cellarful Of Motown.
One of the reasons why Motown faltered financially in the '70s and '80s was because Gordy poured a lot of the label's resources into producing movies, without much in the way of return. Most often, Motown produced kitsch classics like the disco musical Thank God It's Friday and the martial-arts fantasy The Last Dragon. And naturally, Diana Ross found her way into multiple Motown films, including the critical and commercial disasters Lady Sings The Blues and Mahogany, and the adaptation of the Broadway hit The Wiz, for which Ross insisted on playing the lead role of Dorothy despite being about twice the character's age.
Motown would never have had the success it did without The Funk Brothers, the forces of nature that backed the label's artists on track after track during its Detroit incarnation. Sadly, they were overlooked for years, thanks to Motown's policy of not crediting its musicians. Without the creative basslines of James Jamerson, the guitar work of Joe Messina, or the insistent drum of Benny Benjamin, we'd be talking about a very different Motown sound, if we talked about the Motown sound at all. Though it was too late for many of them to enjoy the return to the limelight, The Funk Brothers started to get some belated recognition with the release of Paul Justman's 2002 documentary Standing In The Shadows Of Motown, which features live performances from the surviving Funk Brothers and recounts, sometimes quite movingly, the band's contributions and the ways in which the members' anonymity haunted them.
Gordy also spent a lot of money on Motown-themed TV specials, though those did reasonably well for the company, if only by showing the show-business establishment that Motown's roster had star quality even outside the recording studio. And it was a TV special that helped keep the label afloat at a difficult time. Motown 25: Yesterday, Today, Forever, broadcast on NBC in 1983, brought back most of the stars who'd moved on from Motown, including Michael Jackson, whose "moonwalk" during his performance of his new (non-Motown) song "Billie Jean" stunned TV audiences, and helped propel his new (non-Motown) album Thriller to international success. But while Jackson may have gotten the biggest boost, the 25th-anniversary special also helped revive interest in classic Motown, spurring a boom in repackaging the back catalog, and a run of Motown songs on movie soundtracks and in TV commercials.
The Essentials: 10 songs that defined Motown
1. Marvin Gaye, "I Heard It Through The Grapevine"
Norman Whitfield and Barrett Strong's infidelity exposé had a long life at Motown, initially recorded by The Miracles (and subsequently rejected by Gordy at the weekly meeting) before Gladys Knight And The Pips did a Southern-funk version that hit No. 1 on the R&B charts and No. 2 on the pop charts in 1967. But even before Knight took on "Grapevine," Marvin Gaye had recorded what Whitfield felt was the definitive take, complete with a dramatic string arrangement and softly cooing background singers. Whitfield finally persuaded Gordy to release Gaye's "Grapevine" in 1968, where it promptly became the singer's breakout hit, and the biggest-selling single in Motown's history to that point.
2. The Supremes, "Come See About Me"
There were stronger singers in the Motown stable than Diana Ross, starting with Ross' overshadowed bandmate Mary Wilson. But the reasons she became a star extend beyond careerism and the attention of Berry Gordy. She knew how to make her limitations fit the song. Here, on one of The Supremes' signature hits, she coos until the song forces her to give just a little bit more. The way she has to push herself just to the limits of breaking sounds a lot like love.
3. The Miracles, "The Tracks Of My Tears"
That Bob Dylan once called Smokey Robinson America's greatest living poet has been repeated to wearying effect, but the claim makes sense. Just listen to the words to "The Tracks Of My Tears." Sure, it gets literary bonus points for referencing Ruggero Leoncavallo's most famous creation, but is there any poem that captures the anguish of smiling through heartbreak quite as well? Or any poet who could convey that feeling so smoothly?
4. The Four Tops, "It's The Same Old Song"
Born of commercial circumstance and a not-so-sly in-joke, The Four Tops' "It's The Same Old Song" was reportedly written and recorded (by the Holland-Dozier-Holland team in both cases) in less that 24 hours, in reaction to the Tops' former label re-releasing one of the band's pre-Motown non-hits. HDH essentially re-wrote The Four Tops' previous smash "I Can't Help Myself (Sugar Pie, Honey Bunch)," keeping the basic chord changes intact. The rushed circumstances bring a little more urgency to the sequel, and the lyrics about "the different meaning" to a familiar tune give the writers' self-plagiarism a purpose.
5. Stevie Wonder, "I Was Made To Love Her"
Wonder was already a reliable hit-maker by the time he recorded "I Was Made To Love Her" in 1967, and in just a couple of years he'd be hailed as one of Motown's true auteurs, once he started writing, producing, and performing almost as a one-man band. "I Was Made To Love Her" is a just-about-perfect "bridge" song between Wonder's '60s and '70s work, relying on the brightness of his harmonica and the joyous abandon of his voice to turn a simple love song into something ecstatic.
6. The Jackson 5, "ABC"
Though it shares almost the exact same structure and melody as the Jacksons' first hit single "I Want You Back," there's something special about "ABC"—from its Sly And The Family Stone-style vocal exchanges to the way the youthful Michael Jackson is fully in his element singing a love song with a grammar-school metaphor. Even before The Jackson 5 became a Saturday-morning cartoon, they were fully animated.
7. Martha Reeves And The Vandellas, "Nowhere To Run"
Motown recorded explicit songs throughout its existence. Then there were the incidental protest songs, like this horn-heavy hit that got a lot of play by soldiers in Vietnam. It's justifiable paranoia with a beat, the sound of being trapped in a dead end and needing to let others know what that feels like.
8. Jr. Walker & The All Stars, "Shotgun"
Accented by bleating sax and roller-rink organ—and driven by the single funkiest rhythm track in Motown's history—Jr. Walker & The All Stars' "Shotgun" is a concentrated dose of dance music, Motown-style, with fevered, near-stream-of-consciousness imagery to match the blisteringly hot music.
9. Eddie Holland, "Leaving Here"
One of the more frenetic and "hard" songs in the Motown catalog, this Holland-Dozier-Holland composition has proved especially popular with rock bands, including The Who, Motörhead, and Pearl Jam, all of whom have recorded raging covers of "Leaving Here." (The Who's hit "Magic Bus" also incorporates some melodic elements from the song.) Holland's original doesn't "rock" per se, but it rolls forward like a speeding train, giving Holland's lyrics about fed-up, fleeing women a sense of desperate inevitability.
10. Brenda Holloway, "Every Little Bit Hurts"
Brenda Holloway had already recorded "Every Little Bit Hurts" once before cutting it for Motown in 1964, but the second version both showcases the importance of getting songs right and what early Motown did so well. Holloway and the band take the title seriously, singing and playing as if their life depended on getting the song's desperate sentiment across.