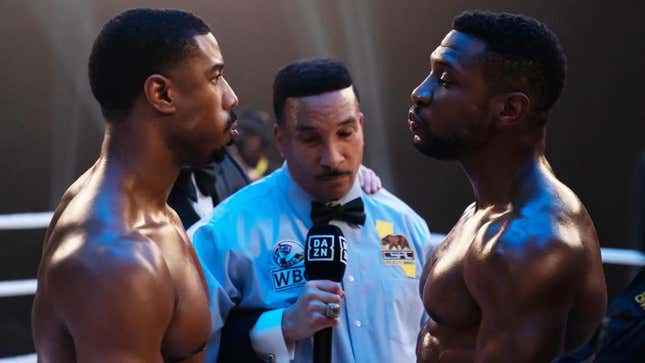 At the beginning of Creed III, Adonis Creed (Michael B. Jordan) has retired from boxing at the top of his career, as heavyweight champion of the world. Now he's a mentor and promoter living in bliss with his wife Bianca (Tessa Thompson) and their daughter, Amara (Mila Davis-Kent). However, there's no doubt, even for a second, that he'll be back in the ring. Otherwise there wouldn't be a third installment of this successful spinoff of the Rocky franchise. The catalyst for Creed's unretirement is old friend, Damian "Dame" Anderson (Jonathan Majors). Anderson used to be an aspiring boxer himself, before committing a crime that sent him to prison for two decades, one that Creed was somewhat involved in.

Wanda Sykes, Mike Epps, and Kim Fields on the working class roots of The Upshaws
As with the other Creed and Rocky stories, this film adds a personal dimension to jumpstart the rivalry and tension in the ring. In Creed II (2018), the rival was Ivan Drago—Rocky's old foe—training his son to avenge his long-ago defeat at Rocky's hands. This time it's the guilt that Creed feels for what happened to Anderson. That backstory is obvious from the beginning but is unveiled slowly via flashbacks throughout the film. By the time the full story is revealed, though, it has lost most of its significance and the psychological payoff for the character is less impactful. It's just one of the underwhelming choices made by screenwriters Keegan Coogler and Zach Baylin.
Jordan makes an assured debut as a director. He knows how to make the story entertaining, though he's unconcerned with making it his own. Why change something that has worked for decades across two film series? Here he uses some aesthetic flourishes in the boxing scenes, but he mostly sticks to what has worked in previous iterations. That is, he retains the series' visceral feel for the boxing scenes. While the story of getting Creed and Anderson into the ring might suffer from too many easy narrative beats, once they get there, the film kicks into a second, better gear. Jordan and cinematographer Kramer Morgenthau (Creed II, Respect) film the boxing scenes with an intimacy that gives the audience a real sense of the arena and the athletes inside it. It's all there in dazzling closeup: muscles flexing, teeth falling out, and blood flowing in slow motion. But it's not all about the punches; the close-ups of the fighters add dimensionality and emotion to the charged atmosphere.
G/O Media may get a commission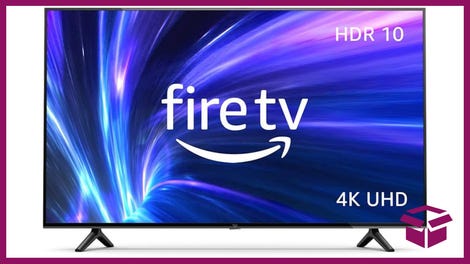 42% Off
Amazon Fire TV 50" 4K Smart TV
A lot of the intensity in Creed III comes courtesy of Majors. He's having a big 2023 with Creed III, Ant-Man and the Wasp: Quantumania and his much talked-about performance in Magazine Dreams, which premiered at January's Sundance Film Festival. Here, he brings passionate commitment to his performance, rising above the obviousness of his character's backstory. Anderson is a big and blustery personality, just what a boxing movie needs in an antagonist. If he's written with broad strokes and pat psychology, Majors still manages to make Anderson the main attraction. There's a scene about halfway through the film where Anderson reveals his true colors to Creed. It's a grand piece of showmanship, with Majors strutting around and speechifying. The scene is a tad cartoonish but also highly entertaining with shades of comic book villainy. Majors takes it and gives the audience a memorable movie moment. And Jordan cedes it completely to Majors, showing his generosity as a performer and a director. The scene encapsulates their onscreen dynamic. Creed might be the eponymous character but it's hard to look at anyone else when Majors is onscreen.
Elsewhere, Jordan has good chemistry with Thompson. In the early scenes they sell the blissful existence of the Creeds, something that could've quickly become cloying. Thompson is so relaxed that she helps sell Creed's knotty psychology as he deals with guilt and loss. However she's saddled with the most uninteresting aspects of the marriage subplot and the script offers her character nothing beyond supportive wife clichés. All the more impressive that she's able to convey so much with only a few lines that hint at where Bianca is at this stage in her life. There's also good character work from Wood Harris, returning as Creed's trainer, and Selenis Leyva as a young boxer's momager that give the scenes set at the gym a realistic sheen.
Creed III captures the spectacle and ceremony of boxing, providing the audience with an entertaining thrill ride. It doesn't reinvent the wheel, owing much to its predecessors in the Rocky and Creed series in story structure and character development. The film announces Jordan as a serious filmmaker who will hopefully challenge himself with more distinct material for his next outing.