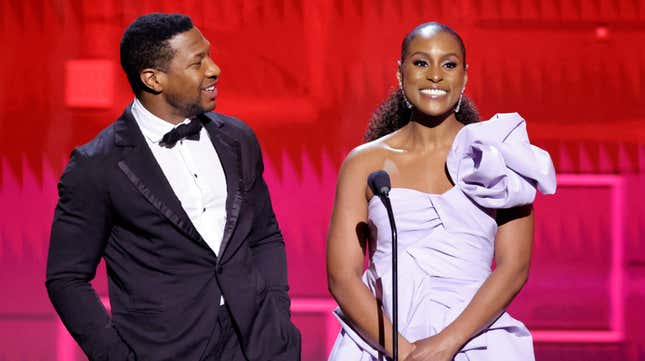 We here at The A.V. Club are enthusiastic about getting new blood in the romantic comedy genre, so when one of the biggest stars of the moment pitches himself as a rom-com hero, we pay attention. One can only hope Hollywood is listening, because Jonathan Majors is handing out free ideas for a film to star himself and Issa Rae, and they might as well start printing money.
Tyler Posey talks "Teen Wolf" drama and rom-com dreams
The romantic Majors motion picture push actually began some weeks ago, when he indicated to The Cut that he'd like to star in a rom-com and listed some of his favorite romances, including The Notebook, Love Jones, Blue Valentine, and Love & Basketball. (He added, at this time, that he "[falls] in love every day" and "[cries] probably a few times a week," demonstrating the emotional sensitivity that makes a great rom-com hero.)
Majors' adoring public heard him loud and clear, so when he shared some playful banter with Issa Rae (an established rom-com queen of film and television) at the NAACP Image Awards, the requests started rolling in. "Somebody write the script," demanded the Image Awards' own official Instagram page.
Speaking later with Variety, Majors himself took up the torch and shared exactly what kind of tropes he'd like to see in the duo's potential rom-com. "I think we should definitely do, like, the 'We grew up together.' And then I come back home, and it's like 'Oh, okay.' We can start with that," he pitched. "And then we gotta do, like… I want to do a run through Central Park. You know what I mean? A run through Central Park. Chasing her to the airport. Trying to beat her to the airport. She says she's gone to the airport, and I book it."
Majors has been so good as to begin charting his course for a grand romantic gesture. "Say we live in Harlem, then we've got Central Park, going through Central Park, get the A [train], going down, and then you get to—LaGuardia. And you're running through LaGuardia trying to find her," he imagines, before concluding, "Issa, let's do it. You wanna do it?" We can only hope!